Since its inception in 1995, the Research Opportunities Program (ROP) has given second- and third-year Arts & Science students the chance to step outside the classroom and earn hands-on research experience by joining their instructor's project, while earning course credit.  
Recently, students who participated in the program over the summer presented their work to professors, friends and their fellow students at Sidney Smith Hall.
"Students really deserve to have this opportunity to show off the fantastic work they've done. ROP gives them a terrific chance to further their research and their careers and can open new doors for them," says Faculty of Arts & Science experiential learning officer Christine Ovcaric, who oversees the ROP and organized the event.
The fair included 47 presenters from 16 academic units. The projects reflected the breadth and diversity of Arts & Science and included such projects as improving segmentation performance of ultrasound image data, looking at the impact of sleep on memory, understanding infant psychology and how gamification can help quash math anxiety.
Here is just some of the research presented:
Exploration of infant persistence
Psychology specialist Anicole Tan from New College worked with the Toronto Early Cognition Lab to dive deep into infant psychology to discover whether human exploration leads to persistence. In this study, infants were given an impossible puzzle box and monitored to see how much time they would commit to solving it.
Number of students who self-reported improvements in an undergraduate math course
Mathematics can be a difficult subject for many. Sheng Zhang, a math specialist student from Innis College looked at the benefits of resubmission, offered in the MAT246 course, a process that allows students to resubmit their assignments in order to correct any errors they made. The results were overwhelmingly positive. Most students saw improvements to their proof structure and had a better understanding of course content.
Does sleep play a role in the consolidation of memorable images?
Kevin Ghajar, majoring in health and disease and minoring in immunology & physiology at Innis College, is investigating the impact of sleep on memory. In this study, two groups of participants will view 360 images and get quizzed on their memorability 12 hours later. Here's where it gets interesting: one group will view the images in the morning and another group will view the images at night.
Green streets as a flooding solution in Toronto
Toronto is prone to flooding. That's why health studies student Eileen Murray from St. Michael's College is exploring the benefits of green streets as a potential solution. Green streets are roads that incorporate green infrastructure, and their benefits extend beyond just their ecological and hydrological functions. Eileen's research revealed that green streets improve air quality, stimulate biodiversity, increase jobs, and improve overall quality of life.
Learn equivalent fractions with Match-3 game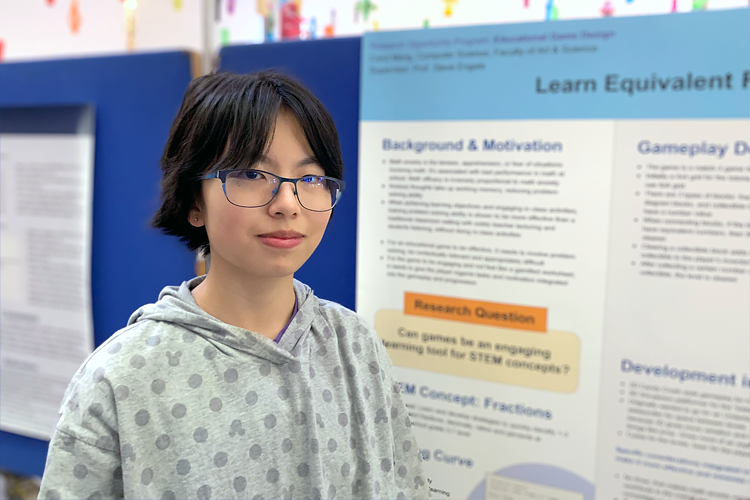 Computer science student from University College, Carol Meng, is turning to gamification to make learning fractions easy and entertaining for elementary students. In this match-3 game, players progress through levels as they match three equivalent fractions. The study received great feedback. Students found the game to be fun and engaging, concluding that games can be an effective learning tool, especially for tackling math anxiety.
Categories