Arts & Science students in first and second year can join learning communities to enrich their undergraduate experience. Learn more about First-Year Learning Communities or read below for Second-Year Learning Communities.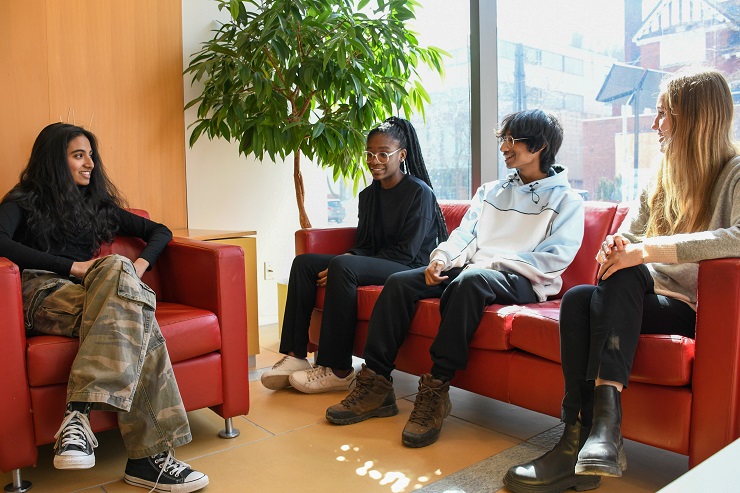 Plan for success in second year & beyond!
A second-year learning community (SLC or "slick") brings together small groups of second-year students pursuing majors or specialists within the same department to develop their academic interests and networks together.
SLCs offer interactive, interactive and social activities to grow your network and support your academic success. Activities are facilitated by senior students who serve as peer mentors, with guidance from faculty and staff advisors.
Programming includes:
Connecting with workplaces and alumni in your field
Academic skill development for second-year courses
Off-campus field trips
Social opportunities with faculty members
SLCs are free, co-curricular opportunities available to students in select academic departments and programs at the Faculty of Arts & Science.
Why Join a Second-Year Learning Community?
SLCs provide the opportunity for you to:
Build a strong academic and social network
Benefit from the knowledge and support of peer mentors, faculty and staff advisors
Engage in learning opportunities outside of the classroom and experience Toronto
Learn from expert panels in your field
Explore future career and graduate school options
Develop competencies around intercultural communication and collaborative learning
What to Expect in a SLC
SLCs meet in person and on campus. You will meet your SLC group at a welcome session during the first week of classes and then meet with them every other week. When you attend 10 of the 13 SLC sessions, you will receive a transcript notation indicating the successful completion of the SLC program.
SLCs do not count as course credit.
Applications for some SLCs are still open, while others are only accepting waitlist applications for the 2023-24 academic year. If you have any questions, contact the Student Success Programs team at SLC@utoronto.ca.
Discover Your SLC
SLCs are available to students entering a major or specialist in the following academic departments and programs:
FAQs