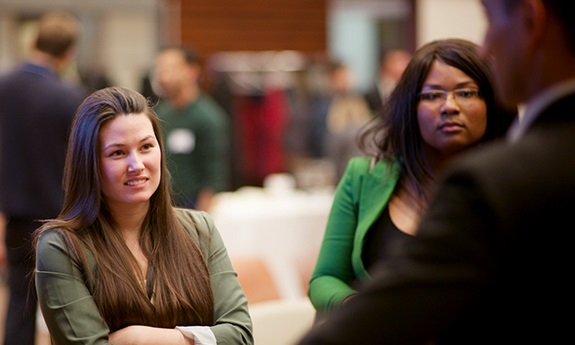 Career Launchpad
The Faculty of Arts & Science offers students a wealth of networking and career opportunities, including a vast alumni network, innovative programs and proximity to some of Canada's biggest employers. 
Networking & Career Opportunities for Students
Here are some examples of the programs, events and resources that will help you gain work experience, learn essential job skills and grow your professional network.
Arts & Science Internship Program (ASIP) 
ASIP combines 12-20 months of paid work experience with specialized professional development training. As an ASIP student, you will gain practical work experience, learn valuable career skills and build your professional network. ASIP is open to students enrolled in eligible programs entering their second year of study.
Backpack to Briefcase (b2B) 
Backpack to Briefcase (b2B) provides opportunities for students to meet, mingle and network with alumni and faculty members from their department or academic unit who are willing to offer guidance, career advice and encouragement. Each year, more than 1,000 students and 300 alumni volunteers, representing 44 academic units, take part in b2B events.
Career Exploration & Education 
Career Exploration & Education offers experiences to help you develop the skills you need to succeed in potential future careers. These include internships, leadership programs, on-campus work and volunteering and mentorship opportunities. Also, check out the Career Navigator website to explore the wide range of careers your degree can prepare you for.
Certificate in Business Fundamentals
Gain basic business knowledge and management skills that you can leverage in your future career by completing a certificate in business fundamentals. This certificate is an option for all non-Rotman Commerce Arts & Science students and is composed of four management courses (2.0 credits total) that can be taken as elective courses. Learn more about certificate programs in the Arts & Science Academic Calendar.
Mentorship Programs
Explore mentorship programs offered to the entire University community by visiting the Student Life website. Mentorship programs are also offered specifically for Faculty of Arts & Science students through the various Colleges and within many academic units. With so many options available, there is sure to be something for you!
Next Steps Conference  
The annual Next Steps Conference is part career exploration, part preparation for life after graduation and a great way for students and young alumni to start building their professional networks. 
Ten Thousand Coffees 
Arts & Science students can access the U of T hub on Ten Thousand Coffees, a university-wide online networking community. This digital tool connects U of T students and recent grads with alumni over coffee, by phone or online. 
Alumni Network
Our network of over 276,000 alumni worldwide will tell you that their education was about more than textbooks. They learned how to build a network of peers and mentors and create rewarding experiences. Read some of our alumni profiles to learn how their time at the Faculty of Arts & Science shaped their journeys and contributed to their successes.
Read more alumni stories on our admission categories pages.