Arts & Science students have access to different types of research opportunities both inside and outside of the classroom. Some students participate in research courses while others go abroad. Learn more below.
Research Opportunities Program
The Research Opportunities Program enables you to work on a research project with a professor at the second-year level for course credit. Research projects are available in all areas of study — you may find yourself researching the lives of ancient Athenians (Classics) or examining the root causes of memory loss in amnesia (Psychology), to name just a few projects.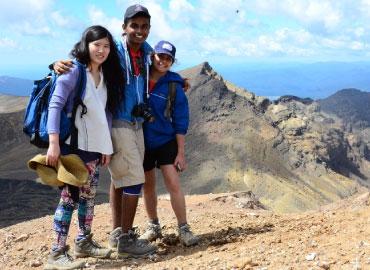 Research Excursions Program
Research excursions allow you to participate in a practical or experiential off-campus research activity under the supervision of a faculty member in your third year. Conduct research in archives, laboratories, libraries, or in a field camps — but not in a classroom. Examples include:
Collecting Late Cretaceous fossils in the badlands of Alberta, Canada (Ecology and Evolutionary Biology)
Excavating the ancient Minoan harbour town of Palaikastro, Crete, Greece (Art History)
Using ground probing radar to explore how Earlier Stone Age hominins lived in Kathu, South Africa (Earth Sciences)
Using forensic geophysics to find the hidden graves of the gold rush in Yukon, Canada (Earth Sciences)
Upper-Year Opportunities
Many departments offer summer research programs for undergraduate students. In addition, the teaching hospitals near campus also offer summer research opportunities for Arts & Science students. Connect with your department or the hospitals for details on summer research opportunities.