In Arts & Science, you are encouraged to exercise your curiosity and uncover new interests and abilities.
From Indigenous to cinema studies, and forest conservation to geophysics, you can combine programs in widely different areas to diversify your knowledge and skills. 
Explore the full list of 330+ undergraduate programs or browse programs by admission category.
What you need to know about programs in A&S
You are admitted into an Arts & Science admission category
On your Arts & Science application you will select an admission category. It is important to do your research ahead of time so you know the high school subjects you will need to take (found on each admission category webpage) in order to enrol in specific courses in your first year of study, or for entry into your program(s) of study in your second year. 
Something to keep in mind: some programs of study that you can enrol in at the end of your first year fall within both the Humanities and Social Sciences admission categories ― any program of study with a (J) listed next to it on the corresponding Humanities and Social Sciences admission category webpages. This means that on your application, you can apply to either the Humanities or the Social Sciences admission category. 
Below are our six admission categories:
You apply to your program of study at the end of your first year
Program refers to a group of courses that you take in a specific subject area (e.g., History, Computer Science, Economics). You will have to fulfill all of the requirements of the program to graduate. 
You will apply to your program, or programs, of study at the end of first year, which means you will have the opportunity to explore a variety of interests in your first year before you begin your program(s) of study in second year. 
 
Check the Arts & Science Academic Calendar to ensure you are enrolling in the necessary first-year prerequisite courses for your intended program(s) of study. Some programs of study have limited enrolment. 
You can combine programs of study from one or more admission categories
Students can be very creative with their program combinations to build a uniquely personalized degree. To complete your degree in Arts & Science, you will complete 20 credits in a variety of subjects. Students typically complete five credits per year. Hear some of our students talk about their program combinations: 
Cara, major in genome biology, minor in book and media studies
Zoe, major in chemistry, double minors in astronomy and astrophysics and science and society
Harsh, double major in actuarial science and economics, minor in French
The degree you graduate with can take many forms
In Arts & Science, programs of study are offered as one or several of the following types:
Specialist: This program type is the greatest concentration on one subject area. More than half of the credits taken (10+) will be in this academic area.
Major: A major consists of around one third (6-8) of the total credits.
Minor: This is the smallest program type at just 4 credits.
Programs of study can be combined provided that students meet the program requirements. In order to graduate, students must present a minimum of one of the following combinations of programs:
One Specialist
Total: 20 credits
Two Majors
Total: 20 credits
One Major + Two Minors
Total: 20 credits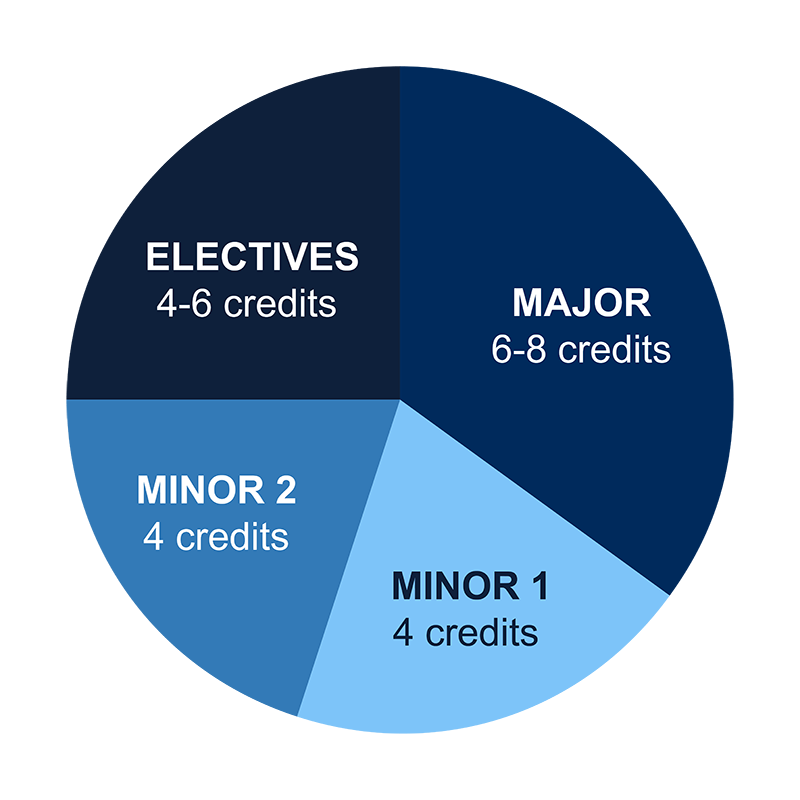 Note that the program breakdowns shown above reflect the minimum program requirements to graduate. Students have the option to use their elective course credits to complete additional majors or minors. Learn more about degree requirements in the Arts & Science Calendar. 
Some programs offer focuses – a special cluster of courses on a particular theme or topic that you can take in conjunction with a Specialist or Major. Explore focuses in the Arts & Science Calendar.
In addition to your programs of study, you can also complete a certificate 
 
Certificates are composed of a sequence of 2.0-3.0 credits relating to an identified topic or theme that may complement a degree program. The Faculty of Ats & Science offers certificates in:  
Black Canadian Studies 
Business Fundamentals 
Global German Studies 
International Affairs 
Sustainability 
Psychology of Economics and Management 
A completed certificate will appear on your transcript. Certificates do not offer any kind of professional certification, nor will they contribute toward the programs required to complete your degree.  
Learn more about certificates in the Arts & Science Calendar.