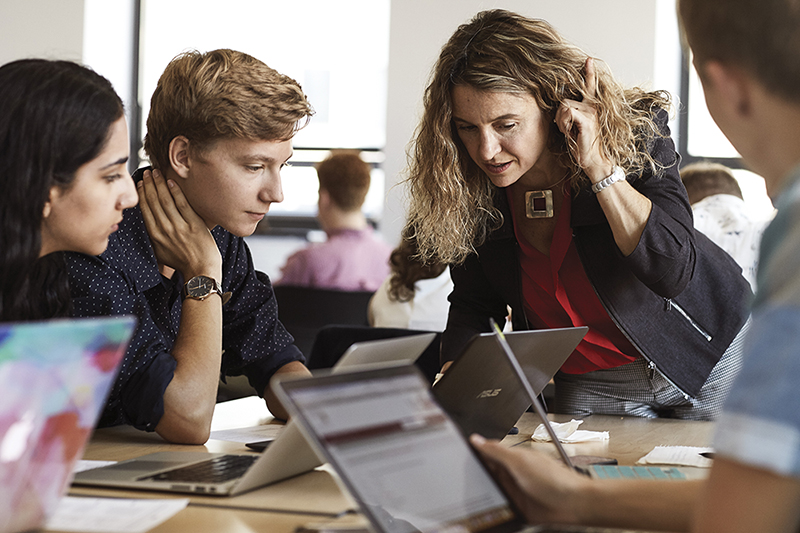 Arts & Science is here to support your teaching. Explore the links below to learn about the many supports and resources available to you. 
We also recommend you familiarize yourself with the undergraduate teaching policies outlined in the Arts & Science Academic Handbook and other resources below:
Pedagogical Consultations: Arts & Science instructors are welcome to reach out to the Teaching & Learning Office for pedagogical consultations with Faculty Liaisons on any aspect of their course design, including online teaching, assignment and assessment design, and other pedagogical issues. Our team works in close collaboration with the Online Learning Academy & Teaching Technology Support team to provide resources and consultation to instructors.
To consult a Faculty Liaison, Pedagogical Support, please email teachinglearning.artsci@utoronto.ca.
Support for Academic Units & Instructors
Academic Retreats
On/off-campus retreats that provide an academic unit with dedicated time for collective discussion and/or planning. The retreat may focus on: UTQAP processes, curriculum planning, faculty development, pedagogical exploration, and/or short/long-term planning exercises.
English Language Learning (ELL)
ELL supports students whose first language is not English (multi-lingual students), as well as native speakers seeking to improve their English language ability.
Experiential Learning Initiatives
Experiential learning is a successful and well-proven teaching practice that allows students to create more deliberate and explicit connections between their educational experiences in and outside the classroom.
Teaching Awards
The Teaching & Learning Office provides support for a range of teaching awards and manages the award processes for the A&S Outstanding Teaching Award and Superior Teaching Award.
Writing-Integrated Teaching (WIT)
WIT supports embedded, discipline-specific writing initiatives within academic units.
Support for Graduate Students
Milestones and Pathways
Milestones and Pathways is a Faculty of Arts & Science initiative supported by the School of Graduate Studies Innovation Fund. The initiative aims to support graduate students as they progress through their studies and prepare for their careers.
Funding Opportunities
The Faculty of Arts & Science and the Provost's Office administer several funds to support teaching and learning initiatives.
The Teaching & Learning Support team can guide instructors and units in selecting the best funding opportunity for projects and help to develop proposals and related budgets. Please note that all applications for institutional grants require review by the Teaching & Learning Support team on behalf of the Dean's Office.
International Student Experience Fund (ISEF)
The Office of the Vice-President, International established ISEF to support academic and non-academic initiatives that are aimed at enhancing the experience of international students and fostering intercultural exchanges between domestic and international students.
Learning and Education Advancement Fund (LEAF)
The Office of the Vice-Provost, Innovations in Undergraduate Education established LEAF to support projects that anticipate, leverage, and create positive changes in undergraduate education.
Online Undergraduate Course Initiative (OUCI)
The Office of the Vice-Provost, Innovations in Undergraduate Education provides funding for the development of online and hybrid courses. Instructors with continuing appointment status can access up to $12,000 to develop a fully online and up to $6,000 for hybrid course.
Pedagogical Innovation and Experimentation (PIE) Fund
This funding mechanism supports innovative undergraduate teaching and learning in academic units. Funds are allocated directly to each unit to support unit-level priorities that enhance undergraduate education. 
Pedagogical Research Grant
The Pedagogical Research Grant provides funds to support instructor-led projects that focus on inquiry or research into teaching, pedagogical approaches or student learning; and/or dissemination of pedagogical research findings.
Undergraduate Course Development Fund (UCDF)
The Provost established the UCDF fund in 2011-12 to foster ongoing, mutually beneficial teaching relationships between graduate-only divisions and divisions that offer undergraduate degree programs. UCDF funding is provided to the graduate division in support of their instructor teaching a course in the undergraduate division.
Events & Programming
The Faculty of Arts & Science hosts sessions and events throughout the year to share teaching practices and strategies, as well as projects.
Online Learning Academy (OLA)
Teaching & Learning Faculty Liaisons and the Teaching Technology Support team members offer workshops and monthly virtual drop-in sessions for faculty and instructors.
Teaching & Learning Community of Practice (CoP)
This is a collegial forum for instructors to meet and share teaching practices and strategies across disciplines. Sessions are typically held once a month during the academic year.
Institutional Resources
U of T Centre for Teaching Support & Innovation
CTSI provides many resources to instructors around effective teaching practices and classroom management, including guides, workshops, consultations and more.
U of T Teaching Assistants' Training Program
TATP provides teaching job training and professional development workshops and certificate programs to teaching assistants and graduate student course instructors, as well as any graduate student who wants to pursue teaching.
Contact Information
Teaching & Learning provides advice regarding the design, research, development, implementation, evaluation and organization of undergraduate and graduate teaching and learning initiatives and events. The Office also supports the creation, evaluation and implementation of Faculty programs designed to support academic administrators in their roles and more generally improve the academic life of faculty.
Please review the Teaching & Learning directory page for contact information.