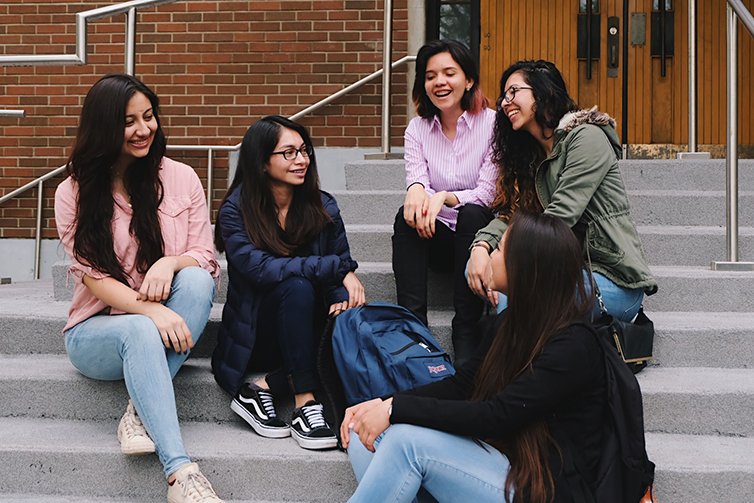 Every student becomes a member of a college upon admission to the Faculty of Arts & Science. If you are interested in a particular college or colleges, you can indicate up to three college preferences on your Arts & Science application. 
Learn more about selecting your college preferences, additional application requirements and when your college membership will be confirmed.  
Selecting Your College Preferences
You can select up to three colleges in order of preference on your Ontario Universities' Application Centre (OUAC) application, or you can select "no preference." The "no preference" option will be available for choice one, two and three, allowing you to combine your college preferences with "no preference" for the remaining slot(s). You can change your college preferences on your OUAC application until the January application deadline. 
All of the colleges provide similar core services and they are all good choices. There is no right or wrong way to choose, however, you may want to consider the following factors:
Each college provides student housing. If you plan to live on campus, you should learn about the housing options provided by each college and consider the following:
Do you require an a-la-carte or all-you-can-eat meal plan or would you prefer a kitchen to cook your own meals? 
Do you want to live in a suite with several roommates or would you prefer dorm-style accommodations with single or double rooms? 
What is your budget for accommodations and food? 
Do you prefer modern architecture or do you want to live in a historic residence building? 
You can compare housing options and take a tour of each residence on the College Residence page. 
You must apply for residence separately through StarRez by March 31 to maintain the first-year residence guarantee. When making residence assignments, some colleges will prioritize students who select them first on their OUAC application. If you have a strong preference for a particular residence, you should select the affiliated college as your first choice on your OUAC application. 
College membership numbers range from approximately 2,000 to 6,000 students. You may prefer a smaller, more intimate community or you may prefer a large community with lots of opportunities to meet new people. 
College membership numbers as of 2023: 
Innis College: 2,100
New College: 6,300
St. Michael's College: 5,300
Trinity College: 2,100
University College: 5,500
Victoria College: 3,900
Woodsworth College: 5,400
In addition to scholarships and awards offered by U of T and the Faculty of Arts & Science, each college offers scholarships and awards for new and upper-year students. Visit each college's website for information about their scholarship opportunities:
You can also use Award Explorer to search for college scholarships. 
When you apply to Arts & Science, you will apply to a general admission category based on what you plan to study. Your admission category does not impact college membership, as each college takes in similar percentages of students from each admission category.  
After you complete 4.0 credits, you will apply to a program or a combination of programs. Each college sponsors one or more academic programs within the Faculty of Arts & Science. You do not need to be a member of a particular college to access their programs. 
There may be some benefit to selecting a college affiliated with your intended program, depending on your personal preferences and goals. For example, you may want to maximize opportunities to connect with students and faculty in the program and learn about related events and opportunities. 
On the other hand, you may want to expand your horizons by meeting students from other programs and exploring a variety of opportunities in a college not affiliated with your intended program.
Whatever your preference, rest assured that your college membership will not impact your eligibility to access courses and programs offered by the Faculty of Arts & Science.
College-Sponsored Programs
College
Programs
Innis College

Cinema Studies
Urban Studies
Writing & Rhetoric

New College

African Studies 
Buddhism, Psychology & Mental Health
Caribbean Studies
Critical Studies in Equity & Solidarity
Human Biology
Women & Gender Studies

St. Michael's College

Book & Media Studies
Celtic Studies
Christianity & Culture 
Mediaeval Studies

Trinity College

Ethics, Society & Law
International Relations
Immunology

University College

Canadian Studies
Cognitive Science
Health Studies

Victoria College

Creativity & Society
Education & Society
Literature & Critical Theory
Material Culture & Semiotics
Renaissance Studies
Science, Technology & Society

Woodsworth College
Whether you live in residence or commute to campus, you may choose to spend a lot of your time outside of class at your college, for example, at your college's library or student centre. The map below shows where each college is located on campus, as well as nearby neighbourhoods like Bloor-Yorkville, The Annex, Kensington Market, Chinatown and Church-Wellesley Village. If you want to be near a certain neighbourhood or area of campus, you may want to consider location when indicating your college preferences.
You can learn more about each college campus by taking a virtual tour of the colleges or booking an in-person tour.
All seven colleges offer the following student clubs, organizations and co-curricular opportunities:
Student societies
Residence councils
Commuter student support
New student orientation
Mentorship opportunities
Student clubs
Intramural sports
For specific information about each college's clubs and student life, visit the college websites:
In addition to researching online, you can also speak to family and friends who are current or former Arts & Science students to ask about their experiences with their colleges.
Note for U.S. students: If you will be receiving funding through the U.S. Direct Loan Program or a 529 College Savings plan, you must join one of the four non-federated colleges to maintain your eligibility for funding. The non-federated colleges are Innis College, New College, University College and Woodsworth College.
Additional Application Requirements
The following colleges have further application requirements you may want to consider when selecting your college preferences:
Innis College
All applicants must indicate Innis College as their first college preference
Trinity College
Victoria College
Domestic applicants must indicate Victoria College as their first college preference and must complete a Victoria College applicant profile for admission.
International applicants will be considered if Vic is ranked as first, second or third on their application. International students are encouraged to complete an applicant profile to be considered for certain scholarships.
New College, St. Michael's College, University College and Woodsworth College do not have additional college application requirements.
College Membership Confirmation
All students will become members of a college, including those who select "no preference" on their OUAC application. Students who indicate their college preferences on their application will be prioritized for membership in those colleges.
Your college membership will be confirmed when you receive your offer of admission. Once college membership has been confirmed, we typically do not facilitate membership changes (with a few exceptions). Though you are not guaranteed your preferred college(s), you will feel at home in whichever college community you are a member of.