The lush green walking path that sits between the ROM and the Royal Conservatory of Music is arguably one of the most picturesque parts of the University of Toronto's St. George campus. But did you know it used to be home to Taddle Creek?
Before Toronto became the big city it is today, numerous rivers and creeks used to wind through it. Many of these no longer exist, having been buried or built over. Taddle Creek once ran through U of T's St. George campus where Philosopher's Walk and Back Campus now lie.
When Andrea Most, an English professor in U of T's Faculty of Arts & Science, learned about the history of the buried waterway, she was intrigued.
"These sites are at the heart of the campus," said Most. "I figured students would be familiar with these sites but know little about their history."
Last winter, Most taught a fourth-year ecocriticism course. Students taking this course usually read literary texts through a theoretical lens. However, Most decided to have her students use ecocriticism, the study of literature and the environment, to examine and tell stories about U of T's most well-known walking paths.
"I thought it would be interesting to give a piece of land the same level of attention we usually reserve for human-created texts," said Most. "I chose Back Campus and Philosopher's Walk because they have rich, complex and troubling stories, which raise intertwined questions about environmental stewardship and decolonization."
Early in the semester, Most invited Helen Mills, founder of Lost River Walks, to speak to her class. Lost River Walks focuses on connecting people with the social and environmental history of the city. Mills gave the class a tour of the buried Taddle Creek, sharing its history and showing the students where the creek runs under parts of the St. George campus.
Most tries to include experiential elements into her courses whenever possible. This course was no exception. For the final project, she asked her students to share their interpretations of Philosopher's Walk and Back Campus using the many stories, facts and issues they had explored over the course of the term through storytelling.
On the last day of class, they followed the trail of the old creek, and each of the 17 students shared their perspective of the sites' political, cultural and botanical history, incorporating topics ranging from environmental justice and ecofeminism to indigeneity.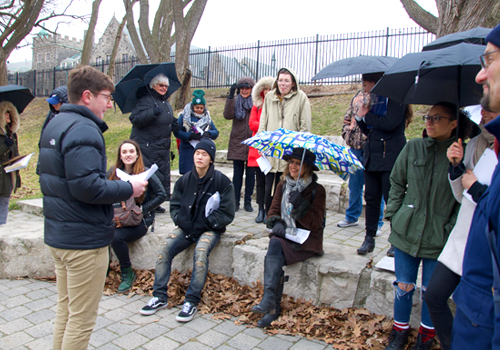 "Before taking this class, I had never really thought about the way we talk about and tell stories about nature," said student Rhiannon Ness. "This course really reminded me to get in touch with my creative side."
Student Margo Vartanian liked that the course's evaluation component went beyond the typical essay project.
"We know how to write essays; we've been doing it for so many years. You can hone and showcase more skills by doing different types of projects: visual, group and creative writing. This class gave me a new tool — storytelling."
But for Most, it's about more than storytelling.
"I want them to feel connected to the land on which they live and study, and I hope this connection inspires them to consider carefully the ways in which they interact with the nonhuman world."