From award-winning and shortlisted works of fiction, to scholarly and historical inquiry and analysis, to engaging personal memoirs, women faculty and alumni from Arts & Science published exciting new books this past year.
A few titles to inform, educate and inspire you:
---
Connecting Cold War history with today's conflicts
With rising fears that Russia might turn to nuclear weapons if the invasion of Ukraine escalates, a new generation is being exposed to the same threats of Armageddon that defined the 1980s.
Arts & Science alum and author Susan Colbourn shares some history lessons with a younger generation, who prior to now, have never had to contend with the fear of nuclear war through her new book, Euromissiles — The Nuclear Weapons That Nearly Destroyed NATO.
Colbourn, now associate director of the Program in American Grand Strategy at Duke University, believes younger audiences will benefit from understanding how and why the Cold War ended.
A new collection of Black Canadian history stories meant to disrupt
Funké Aladejebi has co-edited a new book she believes lives up to its name.
Unsettling the Great White North: Black Canadian History is meant to push boundaries or at least force readers to think about those boundaries. And according to Aladejebi, an assistant professor in the Department of History, she hopes readers will find it disruptive and a little surprising.
The book consists of 21 essays from a variety of scholars who explore the diverse, oppressive and often violent experiences of persons of African descent across Canada's history.
The essays extend from the historical to the contemporary, and shows how the history connects to and influences current patterns of Black settlement and belonging in Canada.
A recovery journey that highlights the need for inclusion
In the summer of 1995, Arts & Science alum Susan Mockler was a passenger in a car driving between Ottawa and Montreal that slammed into a moose. The driver walked away with minor injuries, but the accident left Mockler unsure if she'd walk again.
In fact, doctors later told her she would have been killed instantly had her spinal injury been just a few millimetres in another direction. Mockler would eventually walk and live on her own with minor assistance, but it was a difficult journey.
More than 25 years after the accident, she is using her memoir Fractured to change the way society thinks about — and treats people with — disabilities. Her book recounts her recovery journey and raises awareness about obstacles in the built environment that continue to exclude people today.
Why did Greek athletes compete in the buff?
For more than a thousand years, ancient Greek athletes skilled in running, long jump, discus, javelin and other events trained and competed in the nude. But why?
What was so important about nudity that turned it into the standard uniform for athletic competition? Sarah Murray, an assistant professor with the Department of Classics, seeks to uncover this mystery in her new book, Male Nudity in the Greek Iron Age.
As there are few historical texts that offer insights into the origins of Greeks' fascination with the nude male, Murray believes some answers can be found through studying small bronze figurines that date from the final phase of the Bronze Age (1200–1050 BCE) and the first phases of the Iron Age (1050–700 BCE).
Women writers' love affairs with the printing press
Claire Battershill sees the cast iron printing press as so much more than a relic of a bygone era of printing. For many women writers and printers, letterpress printing gave them freedom and artistic control, and that quality still draws and inspires artists and writers today.
Capturing this romance, Battershill, an assistant professor cross-appointed to the Department of English and the Faculty of Information wrote Women and Letterpress Printing 1920–2020: Gendered Impressions.
The book examines the relationship between gender and literary letterpress printing from the early 20th century to the beginning of the 21st, as well as the ongoing presence, and even revival, of the letterpress in today's digital age.
Victorian era justice wasn't always fair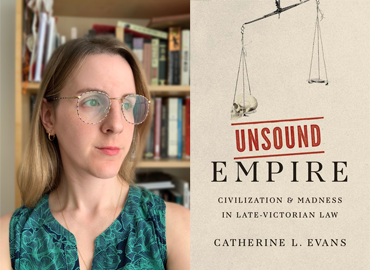 In 1885, three Cree men were sentenced to death in Manitoba for the murder of an elderly woman from their community during the conflict known as the North-West Resistance.
Despite the expected severity of colonial justice, the three men were imprisoned but never hanged.
Catherine L. Evans, an assistant professor at the Centre for Criminology & Sociolegal Studies, uses the fate of the three men to examine British imperial justice in the late 19th century in her book, Unsound Empire: Civilization & Madness in Late-Victorian Law.
She explores how the justice system reflected the treatment of citizens within the Empire — a system that used race and gender as a factor when determining whether an accused person was deemed criminally responsible for their actions.
Alum's historical fiction debut puts her in elite company
When Amita Parikh was an Arts & Science student, she recalls seeing one of Margaret Atwood's novels on the Toronto Star's bestselling books in Canada list. Fast forward to last year, and it was Parikh's book appearing on the same list.
Parikh, who earned her honours bachelor of science from U of T in 2006, wrote The Circus Train last spring and it became an instant national bestseller.
The book tells the story of Lena Papadopoulos, the daughter of an illusionist at the World of Wonders, a travelling circus that tours around Europe during World War II. Fascinated by science, Lena feels out of place at the circus — until her life is turned upside down when she rescues a mysterious runaway.
There are several links to U of T throughout the novel, including the main character's visits to anatomy museums that were inspired by Parikh's time in Grant's Museum of anatomy in U of T's Medical Sciences building.
Disability performers and art take centre stage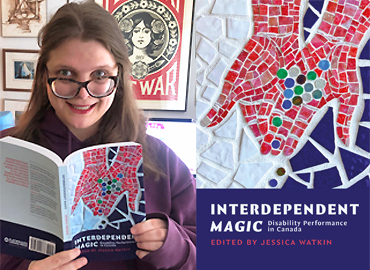 Jessica Watkin is on a mission to show there's an "abundance of amazing Disability art to be discovered, shared and taught." That lead the PhD candidate with the Centre for Drama, Theatre & Performance Studies to edit Interdependent Magic: Disability Performance in Canada.
Written for educators and theatre practitioners, the book consists of four plays and interviews by, for and about Disabled theatre artists, giving readers a backstage pass into this world of of arts and culture.
The book was created in large part because of Watkin's personal experiences as an undergrad student with visual impairment, with her noticing a surprising lack of representation.
Categories