"When your classroom turns into a battlefield, your major becomes bravery."
That's the powerful tagline for Unissued Diplomas, an art exhibit organized by Ukrainian students across Canada — including several from the National University of Kyiv-Mohyla Academy (KMA) who are currently studying at the University of Toronto as part of an exchange program with the Faculty of Arts & Science.
Organized in partnership with the Ukrainian Canadian Students' Union, the exhibit is presented in two parts — Unissued Diplomas, which features stark black-and-white plaques displaying the photos and stories of 36 Ukrainian students killed during the current war in Ukraine; and Traces of War, a collection of illustrations and text by Ukrainian youth. Works from both parts of the exhibit are currently on display at Hart House on St. George campus until March 16.
Two of the lead organizers, KMA exchange students Sofiia Kekuh and Daryna Zavhorodnia, have been working with fellow Ukrainian students across multiple time zones — holding virtual meetings and exchanging online messages around the clock — to coordinate the exhibit, which launched on Feb. 24, the one-year anniversary of the Russian invasion of Ukraine.
"Nearly every one of us on the team, we have a friend or a friend of a friend, or an acquaintance, classmate or roommate who has died," Zavhorodnia said. "So we felt that we needed to do something to spread awareness — these are actually people like us: students who were just living their lives."
Unissued Diplomas is being displayed at 45 universities around the world, including U of T. In Toronto, it is also being shown at St. Volodymyr Institute on Spadina Ave. until March 11 and at the KUMF Gallery in Etobicoke until March 12. Other participating Canadian universities include Carleton University, St. Mary's University and the University of Alberta.
Kekuh, a second-year student from Kiev majoring in English and Ukrainian studies, and Zavhorodnia, who is from Rohatyn in western Ukraine and is in her third year of sociology with a focus on gender studies, are part of a group of students from KMA who were welcomed by the Faculty of Arts & Science when their studies were disrupted by the war.
"The Faculty of Arts & Science has always been proud of the strong relationship we have with Ukraine's academic community. Over the years, we have hosted many students from Ukrainian universities, and it's wonderful to see these partnerships continue to flourish," said Melanie Woodin, dean of the Faculty of Arts & Science.
"This exhibit truly brings into focus the permanent, irreversible impact that war has on a nation and its people. Amid the turmoil they have faced throughout the past year, the students who put this exhibit together have honoured their peers in a manner that enables the U of T community to bear further witness to what has been lost."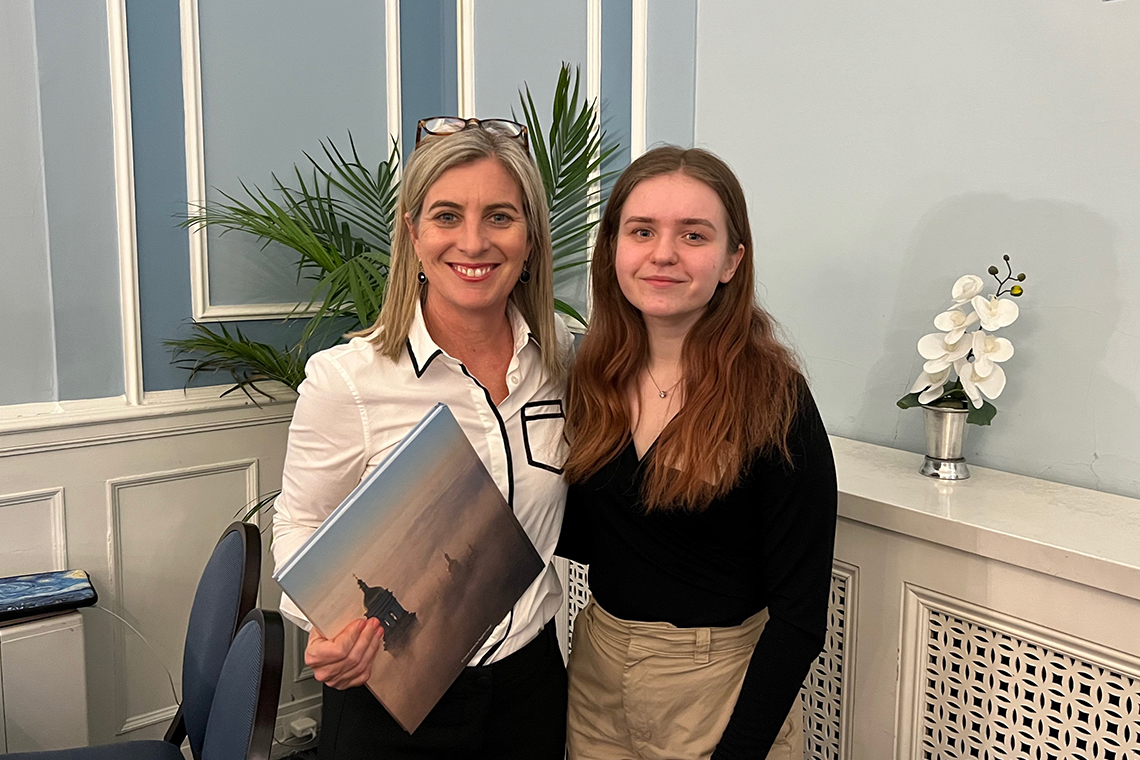 Adapting to "a completely new environment" at first proved challenging, Zavhorodnia said, "but in terms of community, there are a lot of Ukrainians here in Toronto and Canada in general — we could feel the power of that in the way they keep the traditions and language alive. And there was a sense of community here at the university as well."
Drawing on that close-knit network, the pair began discussing with other Ukrainian students what they could do to bring more attention to the conflict — especially at their new campuses, where many of their peers didn't seem to be fully aware of the human cost of the war.
"It's so far away, and they don't know what it's like to live there and experience it — to get up every day and still have to try to go to work and school in the middle of this war," Kekuh said. "The main goal is to remind viewers that the war is not over. It's an exhibit that never should have existed — but now it's something to keep the memory alive of the students who were killed."
Since January, Kekuh and Zavhorodnia and their fellow organizers have been reaching out to family and friends of students who died in combat or in attacks on their cities to compile their stories for the Unissued Diplomas plaques, as well as curating the artwork, poems and messages from young Ukrainians that make up the Traces of War exhibit.
Those efforts come between their everyday studies and worriedly trying to reach their parents and loved ones amid the conflict and sustained power outages back home — Kekuh notes that Ukrainians now joke about how much they can get done in the brief blocks of time between blackouts.
"You never know if it's a missile, or whether they just don't have electricity or what's happening," Zavhorodnia said. "Physically, I'm here [in Toronto] and it's safe. But mentally and emotionally, I'm still there — so the struggle is being in two environments at the same time."
Working on the Unissued Diplomas project allowed the KMA students to channel their fear and concern into something productive — in addition to the exhibit, they also partnered with U of T's Centre for European, Russian and Eurasian Studies (CERES) at the Munk School of Global Affairs and Public Policy for a panel discussion on Feb. 23 to mark the one-year anniversary of the invasion, which examined the resilience of Ukrainians during the war. The group also hosted a film screening of the documentary War Note at Innis Town Hall on Feb. 26 with director Roman Liubyi in attendance, and are collecting donations to buy medical supplies and camera drones for students fighting on the frontlines in Ukraine.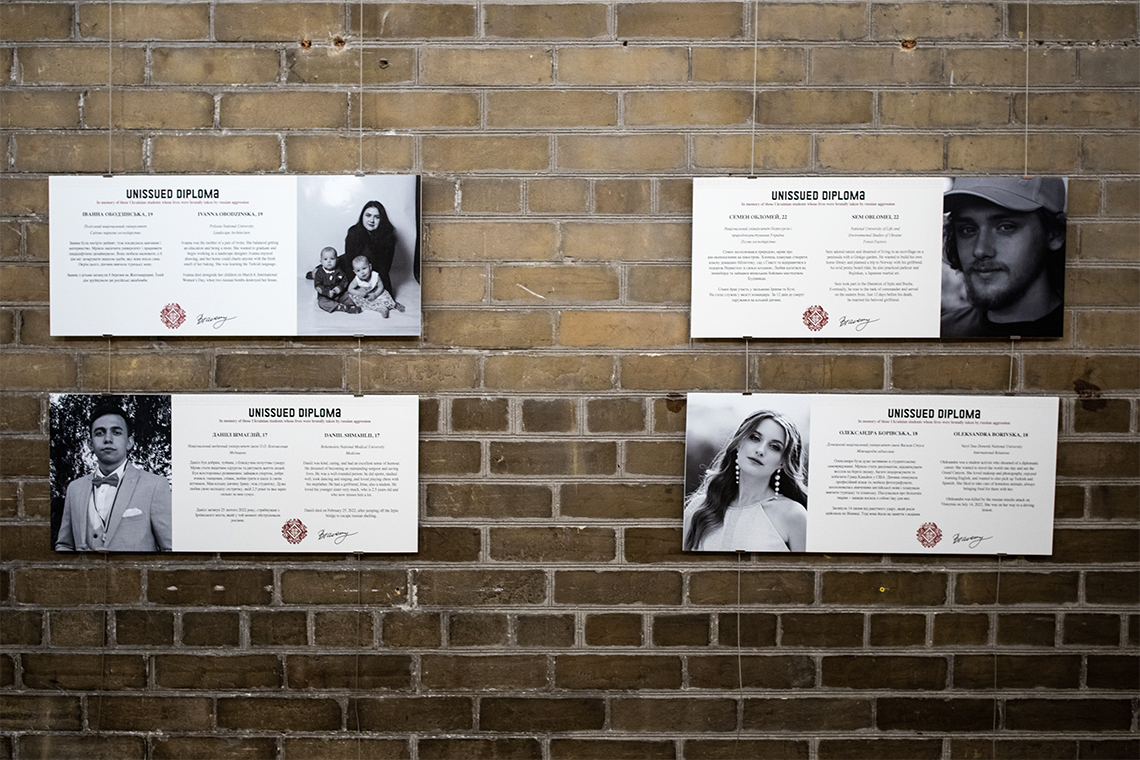 At Hart House, in the main floor hallway where the exhibit is currently displayed, the portraits of the Ukrainian students who never got a chance to graduate stop passerby in their tracks.
"Viewing this series of photos of Ukrainian students killed in the war — some as soldiers, most as civilians — it is a painful experience to see these young faces and to know their fate," said Lynne Viola, University Professor emerita in the department of history in the Faculty of Arts & Science — with a cross-appointment to the Munk School of Global Affairs & Public Policy — who is a specialist in 20th-century Russian history and has worked with many Ukrainian students and scholars over the years.
Kekuh and Zavhorodnia, who plan to return to Ukraine to help rebuild their country when their exchange term wraps up in April, hope the exhibit inspires U of T students to reflect on a conflict that may seem distant but has a global impact.
"We hope the biggest takeaway will be that the war is not just numbers — that those are names, those are personal stories and those are real people," Zavhorodnia said. "And there is a high price to pay for freedom — that's the price we are paying, and that's why the world has to remember that it's not only about Ukraine, but about larger, greater ideas about freedom and democracy."
---
U of T is reminding students, faculty and staff affected by the war in Ukraine that services are available at each of the three campuses for those who need support.
The following services are available to students:
For staff and faculty:
Categories