On a chilly Saturday afternoon in February, about 30 people are meeting in a student lounge at Victoria College. Half of them are newcomers to Canada — young adults who have come as refugees from Syria. The rest are U of T students — volunteers who are here to teach English, practice Arabic, and generally be what every newcomer needs: a Canadian friend.
Newcomers and volunteers break up into pairs and practice conversation — some in English, some in Arabic, or a combination of the two. The teaching here goes both ways.
They are part of NMC-CESI, the Cultural Exchange and Support Initiative, founded by students at U of T's Department of Near and Middle Eastern Civilizations (NMC). The group started as a response to the influx of Syrian refugees in the winter of 2016. And its weekly workshops have been wildly successful, attracting more than 200 newcomers, another 200 volunteers, and now a major gift from a U of T alumnus.
"We saw a niche where we could help," says NMC-CESI co-founder Rob Martin, a PhD student who was then president of the NMC Graduate Students' Union. "We didn't have money, we didn't have a lot of resources, but what we did have was a lot of Arabic speakers."
Most importantly, they had one particular Arabic speaker: a PhD student named Rasha Elendari, who became the prime mover behind the project and the key to its success.
Elendari grew up in Syria, in a family that was deeply opposed to the regime of president Bashar al-Assad. Shortly before the Syrian civil war began, she left to pursue graduate studies in archeology.
At the University of Toronto, Elendari founded the Syria Solidarity Collective to raise awareness about the war in her country. The group would organize talks by visiting scholars, stage protests, and collect clothes and medicine to send to refugee camps.
And then the newly elected Liberal government announced that 25,000 Syrian refugees would be coming to Canada. Martin decided that NMC graduate students should get involved in the welcoming effort, and he turned to the department's resident Syrian activist for ideas.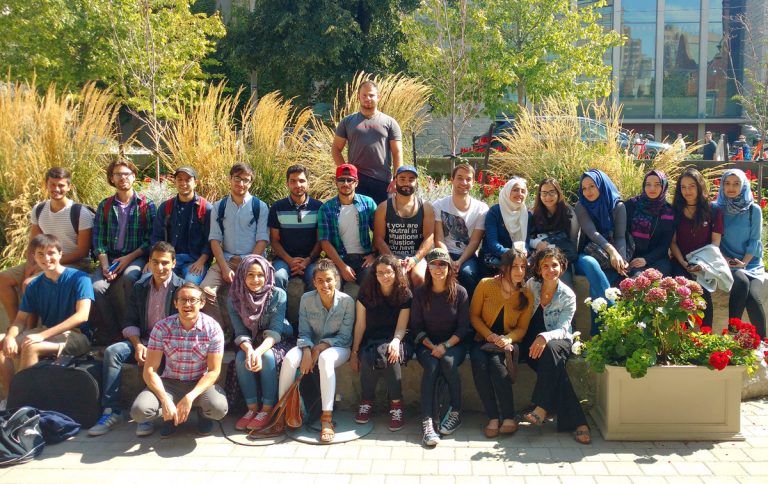 Elendari started by leading small groups of volunteers on trips to the North York hotel that was the first stop for hundreds of newly arrived Syrians. What she found was dozens of young people looking lost.
"There were programs for kids, the older people managed to talk to each other, but the hardest situation was for the teenagers and young adults — they were just standing around. It's hard for them at this critical age. They need friends."
Elendari, a charismatic woman who shared their culture and many of their experiences, was ready to be their friend. "A lot of them needed someone to talk to, and she became their confidant — she was like family," says Martin. "I love the kids and I'd do anything for them, but Rasha has a very special connection with them."
Once they had found young people who needed help, it was time to put the U of T community to work.
"The idea about a language and culture exchange came because I TA Arabic classes at my department," says Elendari, "so I know how much students want to speak the language. But it's so hard to find a place where they can practice speaking."
What they didn't realize was just how many Arabic speakers there were at the University of Toronto who were eager to get involved. They put out a call for help, and within a week they had 75 volunteers from virtually every corner of the University, a number that soon grew to more than 200. Many were immigrants themselves, or children of Arabic-speaking immigrants, who wanted to practice their neglected mother tongue. Others had no personal connection, and just wanted to help.
Soon, dozens of Syrian newcomers were travelling to the University every Saturday for a language workshop followed by a Syrian meal, paid for by donations from departments, colleges and faculty, along with $20,000 from the Faculty of Arts & Science Annual Fund.
The volunteers took the newcomers on outings to everything from sporting events to the Syrian collection at the Royal Ontario Museum — anything to help them feel more at home in Toronto.
Among the newcomers was Hanen Nanaa, who came to Canada with her parents, her grandmother and five siblings. The first time she and her sister came to the workshop, they were so nervous about getting downtown from their new home in Scarborough, Elendari sent a taxi to pick them up.
"We didn't have family here; we didn't have any friends here," says Nanaa. "It was a really different environment. But when I started to go to the workshops, I found I could get part of my culture, mixed with Canadian culture."
Two years later, Nanaa is finishing her Canadian high school diploma, and looking forward to applying to university, a step that a few other NMC-CESI newcomers have already taken.
"The workshops give you motivation to work on yourself and improve," says Sarah Lazakani, now a secondyear student at the University of Toronto Scarborough and NMC-CESI's new vice-president. "You see people in your situation getting into college or university and making something of their life, and you know that nothing is impossible — it just takes time."
The organization never had trouble raising money—the community proved exceptionally generous, says cofounder Martin. But still, keeping up with expenses — TTC fare for the newcomers and the weekly meal—has been tough. So when Engineering alumnus and long-time donor Nick Lo offered a $100,000 gift to fund NMCCESI for the next five years, the group was ecstatic.
"I never expected it to get as big as it did," says Martin. "And once that happened, our commitment just got deeper and deeper. It's a beautiful thing to look at something that we've worked together to make, and to know that it's going to continue even after we're gone."
Categories