While in-person events have been shut down due to COVID-19, the pandemic didn't put a stop to the Canada National Japanese Speech Contest — it was livestreamed on YouTube with 200 live viewers and more than 3,300 views to date.
Twenty-six participants from across Canada competed in the experiential learning opportunity, established in 1989 by the Japanese Embassy in Ottawa to promote Japanese language education in Canada.
"Our hope is that by participating, students will not only improve their Japanese skills further, but also become more motivated through interaction with other likeminded learners of Japanese," said Jotaro Arimori, an associate professor, teaching stream in the Department of East Asian Studies who currently serves on the organizing committees for both the Canada National Japanese Speech Contest and the Ontario Japanese Speech Contest (OJSC). "We were so pleased that they could present, as this is the only opportunity for Japanese language learners from all over Canada to gather together."
And due to the livestream, this year's national contest reached well beyond Canada.
"To our pleasant surprise, we received viewers' comments not only from Canada, but from around the world during the livestream," said Arimori. "I am absolutely delighted that the 31st Canada National Japanese Speech Contest helped foster a spirit of camaraderie among Japanese learners around the globe." 
Arimori also noted that going virtual "provided an opportunity for the top students who participated in the regional Ontario Japanese Speech Contest to advance to the national level." 
First-place regional winners from each category — beginners, intermediate, advanced and open — advance to the national level. This year the Ontario regional contest was held on February 29 at U of T's Medical Sciences Building. Thirty-five students from nine institutions — including eight from the University of Toronto — competed.
Both the regional and national contests provide an opportunity for people to connect, test their Japanese proficiency and showcase their public speaking skills. 
Strong showing for A&S, UTM at regional contest
"This was our 38th annual regional contest and we are very grateful that there are so many young people who are passionate about learning Japanese and so many other people behind them who are willing to support them," said Ikuko Komuro-Lee, an associate professor, teaching stream in East Asian Studies, who served as this year's contest chair. 
"The contest is for the learners to express themselves in the language they're learning, but it's also an invaluable opportunity for the audience, and not just Japanese language educators, to be reminded of how great people are, what is beautiful in life and how powerful the language is, through listening to the speeches in person and sharing the same moment together."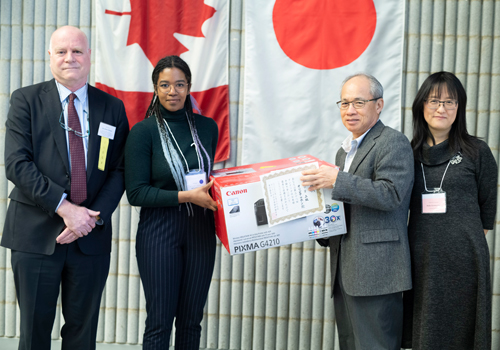 Arts & Science's Peng Yu, a second-year East Asian Studies master's student, won the second place "NGK Spark Plugs" prize in the intermediate category at this year's OJSC.
Yuhan Michael Cheng, a third-year economics and history student at the University of Toronto Mississauga won the second place "Yamaha Canada Music" prize in the advanced category; and Olivia Mahon, a third-year East Asian Studies and global health student and St. Michael's College member, won the Canon Canada Humour Prize. 
This year's Canada National Japanese Speech Contest was sponsored by Mitsui Canada Foundation, ShowFlex International, Toyota Canada, Yamaha Canada Music, Japan Communications, the Prince Takamado Japan Center for Teaching and Research, the Japan Foundation, Toronto Shokokai and the Department of East Asian Studies.
Categories