Congratulations to Andrea Benoit who has won the National Business Book Award and the $30,000 prize for her book, VIVA MˑAˑC: AIDS, Fashion, and the Philanthropic Practices of MˑAˑC Cosmetics. The announcement was made today at the virtual Award Ceremony, presented by co-sponsors Bennett Jones and Miles S. Nadal. Benoit, an academic review officer in the University of Toronto's Faculty of Arts and Science, was recognized at a virtual awards ceremony on Wednesday.
This story was originally published on June 20, 2019.
---
New book on MˑAˑC Cosmetics' HIV/AIDS awareness and fundraising shows corporate philanthropy done right
A new book from University of Toronto Press uncovers the origins of MˑAˑC Cosmetics' corporate philanthropy around HIV/AIDS awareness and fundraising in the early 1990s.
Viva MˑAˑC: AIDS, Fashion, and the Philanthropic Practices of MˑAˑC Cosmetics traces the history of the MˑAˑC AIDS Fund, a charity established in 1994 to support people living with HIV/AIDS worldwide.
The book is written by Andrea Benoit, academic review officer in U of T's Faculty of Arts & Science and adjunct assistant professor of media studies in the Faculty of Information & Media Studies at Western University. Benoit received her BA and MA degrees from U of T in English before completing her PhD in media studies at Western.
Arts & Science News spoke with Benoit about MˑAˑC's corporate philanthropy, the reasons why it was unique, and the historical conditions out of which it emerged.
MˑAˑC has always catered to a wider variety of customers — such as the LGBTQ community and people of colour — than other brands. How do you think this is related to the brand's genesis in Toronto, such a diverse city?
MˑAˑC started its philanthropy in the early 1990s within a sort of perfect storm. The founders and its employees wanted to help their friends and the people around them as the AIDS epidemic was unfolding in Toronto. There was some activism already in place, along with a slightly more progressive political moment.
At the same time, we had the revitalization of the creative industries in the 1980s — in music and in the fashion scene. Toronto really felt like it might be a fashion capital, along the same lines as New York, and everybody was excited about it. There was lots of expansive thinking in that time. Creative people weren't necessarily concerned with making a lot of money, although certainly one has to make a livelihood.
You write in your book that taking a stand like MˑAˑC did to spotlight AIDS was "defiant." What do you think it takes for brands to take such a risk?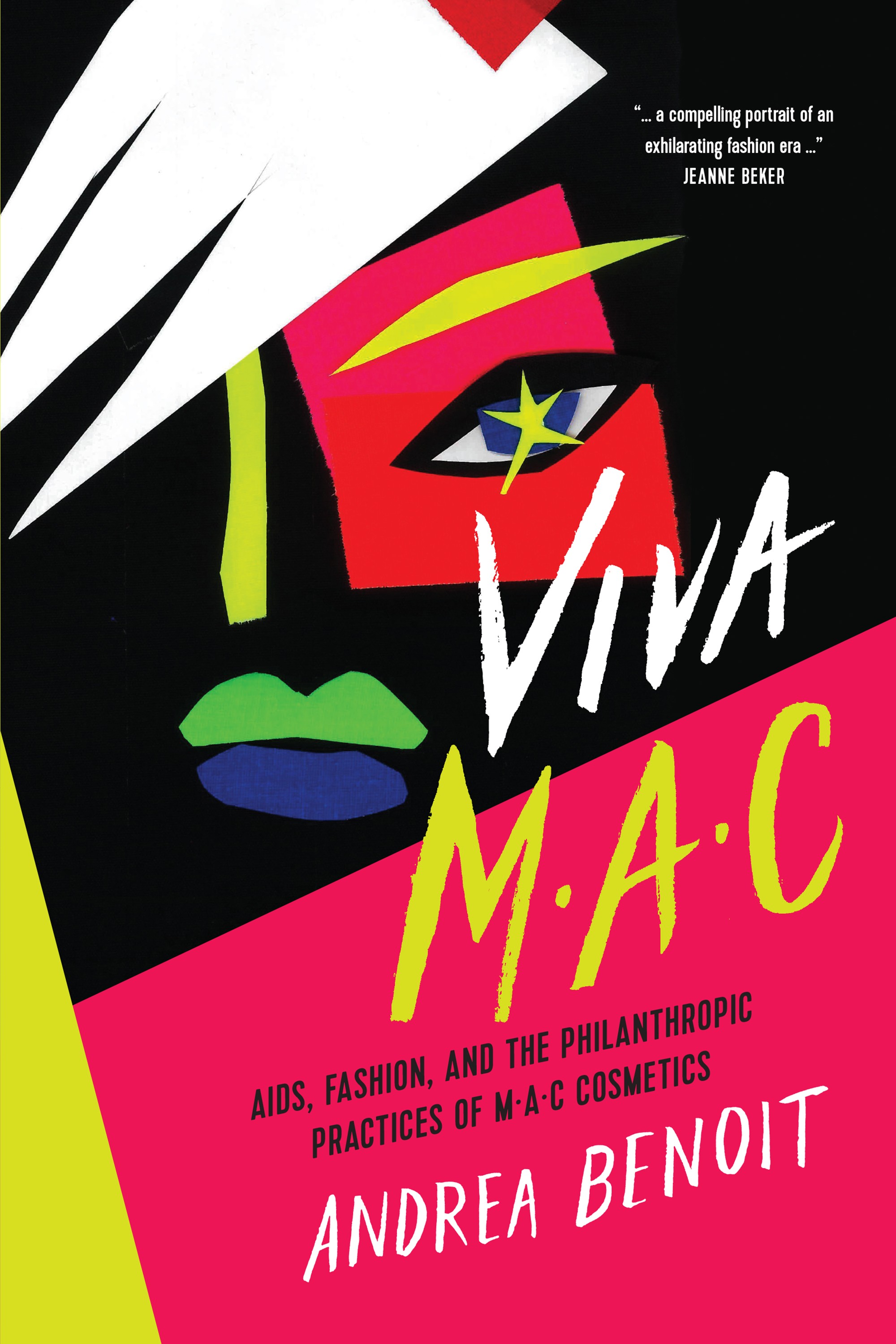 Well, "cause marketing" is, first of all, marketing. So, for cause marketing to be successful, it has to benefit the company. As a result, a lot of corporations probably aren't interested in being too risky. And, of course, the consumer base and the cause have to overlap in order for it to work.
There's a tendency to play it safe — unless you're a big company, in which case we see something like Dove's "Campaign for Real Beauty". There was a certain amount of risk in that but, at the same time, that brand was so stale that they could take that chance. And they touched a social nerve — and did it in a really interesting and imaginative way that changed that conversation.
However, what MˑAˑC did had nothing to do with marketing. They weren't interested in that kind of promotional activity. They just did what they felt was right, and they did it according to their own logic, their own sets of practices. They didn't really care what people thought.
There's no question that the brand and the AIDS advocacy have become mutually beneficial since then, and they would say there's nothing wrong with that. But they have maintained their position that the MˑAˑC AIDS Fund is not a promotional activity writ large, and they still don't really advertise it all that much.
How did you get interested in corporate philanthropy as a research area? And could you talk to us about some contemporary examples?
Generally, I've been interested in the commodification of social causes, mostly because I find it objectionable. The intersection of social justice with consumer culture is pretty disingenuous, especially since capitalism itself is founded so clearly on social inequity and exploitation.
But corporations rely on consumers thinking that they're doing good things. So as an intellectual inquiry, I wanted to try to understand these things better. When I started to explore this topic, I couldn't find anything good to say about it — which can be distressing and discouraging, to think that everything's terrible. But when I started to investigate MˑAˑC, I realized that something very different was happening. Their story didn't follow along the same patterns I was seeing with other corporations. So that was the basis of this project.
Gillette, for instance, is actually doing something pretty controversial and risking a pretty solid consumer base by talking about issues like "toxic masculinity" that are uncomfortable for people. They're trying to change this conversation in a substantial way.
Whether it will be successful or not remains to be seen. That's why advertising history is so interesting, because you can't always assess the impact in the moment.
It's Pride month and, here in Toronto, we have one of the biggest Pride celebrations in the world. What does Pride mean to you and how will you celebrate?
 I've always considered myself an ally. And I'm thrilled that my book came out during Pride month at the Glad Day Bookshop, the oldest independent LGBTQ bookstore in Toronto.
It's interesting to see how Pride has become so all-encompassing. I used to live in the village, and Pride really did start as something very small and very determined. I think it's important for younger people to understand the history of Pride — it's not just a month of partying. It comes from a long history of people living and working and dying to achieve equality and safety in their lives and on the streets. That gets missed when you go to the mall and every store has rainbows and Pride t-shirts.
So, I'm hopeful that my book offers a little bit of information about people who were trying to do something at a time when it was risky, when their friends were dying, when people were very antagonistic and aggressively against advocacy for LGBTQ folks and terrified of AIDS. I'm glad that my book might help people understand that history a little bit. History is important.
Categories