Kind, genuine and incredibly modest, Arts & Science alumnus David B. Fraser was more interested in lifting up the next generation of scientists and researchers than focusing on his many accomplishments, including securing more than 75 U.S. patents.
The outpouring of affection from friends and colleagues after his passing reflected a universal admiration for Fraser's selfless mentorship of young colleagues and students while working as a cutting-edge research physicist at Bell Labs and Intel.
"I remember at his retirement dinner when he left Intel, every one of the scientists in his research group got up and talked about him in an almost fatherly way," says Fraser's daughter Sharon Holt.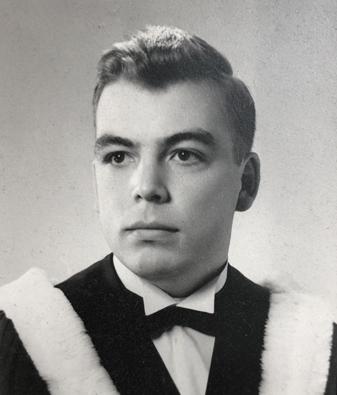 "He really took them under his wing and coached them, not only about their work and their careers but also little life lessons."
Fraser also established a strong intern program at Intel to attract grad students.
"He was very committed to making sure young students had opportunities to experience industrial research because that was such a big thing for him," says Holt.
Gratitude for the opportunities and education he got was a driving force for the father of six with a strong love of family, who graduated from U of T with a master of arts in 1955 and a PhD in physics in 1958.
After growing up in 1930s Winnipeg and becoming the first in his family to graduate from university, her father felt a responsibility to help others, says Holt.
Fraser donated to U of T for more than 30 years and was in the process of setting up a bequest for the David and Louise Fraser Scholarship in the Department of Physics when he passed away on December 2, 2020.
"The Department of Physics is honoured to receive this generous bequest from our alumnus Dr. David Fraser," says Chair Kim Strong.
"Dr. Fraser has been a steadfast supporter of the department through a series of donations over the past 30 years. We are deeply grateful for his long record of commitment and for this wonderful gift, which will enable us to provide new scholarships for our undergraduate students."
Support the David and Louise Fraser Scholarship and make your gift today.
At the time of his passing, Fraser was also establishing a scholarship at the University of Manitoba, where he graduated in 1954 with a bachelor of science before attending U of T, says Holt. A retired technology executive, she has taken over management of both of her father's gifts.
"His family didn't have a lot of money. When he went away to school, it was very much a struggle, and he and my mom got married very young. I think he was extremely grateful for the opportunity to go to university at all," Holt says.
"I think it was important to him to make sure he was reaching into the future to help young people, perhaps people like himself, who didn't come from families where everybody went to university."
A proud Canadian, Fraser made the difficult decision to move his young family to New Jersey in 1959 to work at Bell Labs, then a mecca of research.
Fraser was fascinated by lab research on quartz and helped make breakthrough discoveries in holographic information storage, capturing the esteemed C. B. Sawyer Memorial Award in 1968 and generating more than 40 patents before leaving Bell Labs after 25 years to join Intel in 1985.
In an era when women faced open discrimination in academia and the workplace, Fraser stood out as someone who treated everyone with the same respect regardless of gender, says Olga Mitchell, a family friend who graduated from U of T with a PhD in 1962 as Olga Mary Mracek Mitchell after obtaining a master of science in physics from U of T in 1958 and a bachelor of arts in physics in 1955 as a member of Victoria College.
"He was a wonderful person and very well respected," says Mitchell, who worked with Fraser at Bell Labs. "And when it came to working with women, he didn't see any differences. There was absolutely no male-female discrimination."
A financial supporter of Victoria College and the physics department, Mitchell says she's inspired by Fraser funding a scholarship.
Passionate about education and devoted to his children, Fraser encouraged them to think about what they might like to learn about, while ensuring they all received the financial assistance they needed to pursue their academic goals.
Holt says she and her siblings had a deep pride in their soft-spoken father and were influenced by his appreciation for education, but she laughs about the fun-loving debates they had after she pursued electrical engineering instead of scientific research.
"We joked a lot about the fact that we both ended up in the same industry, just in very different types of roles."
One of her sisters became a software engineer and both of her brothers followed in their father's footsteps by attending U of T.
Dr. Grant Fraser fondly recalls his days at U of T, where he met his wife.
"U of T is a very good university with an extremely broad range of subject areas that it covers very well. It was an excellent place to attend university," says Fraser, who graduated with his doctor of medicine in 1980 after earning a bachelor of science in 1977 as a member of St. Michael's College.
"The St. George campus is a beautiful setting in the heart of one of North America's best cities."
Categories