Speaking Latin while hiking with friends, a self-employed teacher and translator, publishing papers in German and Italian as fluidly as his native English as he crossed Europe: A&S alum John Lundon was "a modern wandering scholar," his family says.
Armed with scholarships and resourcefulness, Lundon travelled widely during the early years of a distinguished career studying ancient literature and papyrology, eventually settling in Milan and Florence after he earned a bachelor of arts in 1984 as a member of Trinity College and a master of arts from U of T in 1986.
"At that age, the support for John's education was completely self-driven," says his sister Katie Lundon, who has established the John Lundon Memorial Fellowship along with her mother Alice in memory of John, who passed away in 2017.
"His years at Trinity College at U of T were inspirational and paved the way for scholarships. We felt the fellowship might inspire others to donate to the Department of Classics, which sometimes gets overlooked despite its importance to understanding the world and humanity at large."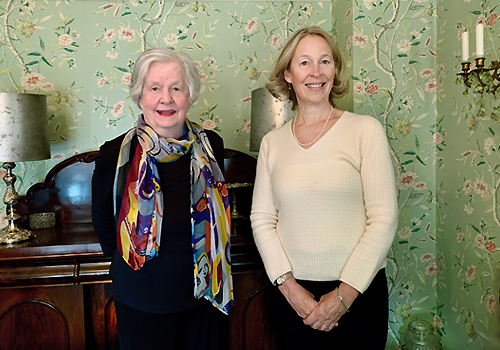 The first recipient of the fellowship didn't waste any time proving that point. PhD student Donald McCarthy helped make important discoveries during one of the most thorough ever excavations of the mysterious Roman town of Falerii Novi in the summer of 2022, and the project is ongoing. The town was inhabited until at least the mid-6th century CE.
McCarthy shared his experiences with pictures and an email he sent to Katie and Alice and says it was gratifying the fellowship allowed him to start contributing to the field at an early stage in his career.
"Most students can't self-fund these kinds of projects and so it would never happen if not for donors like the John Lundon Fellowship," says McCarthy.
"And in terms of the importance of a project like this, I think it's huge. We're in the beginning stages of it and there are still a lot of unanswered questions. Our hope is that we will help resolve some of the mystery of what happened to Falerii Novi."
Katie Lundon hopes it's the kind of passing-the-torch story that will inspire others as well.
"It really lifted our spirits when we saw he was really making the most of it, and then drawing us into the story. It was it was very heartwarming," says Katie, who has been associated with the Faculty of Medicine at U of T for over 35 years.
"If others see these initiatives such as the John Lundon Fellowship having great outcomes, perhaps it can be an inspiration to those with means, no matter at what level, to donate to Classics."
Making donations that have an impact is within the reach of many people, she adds.
"It's incredibly fulfilling to see the next generation of students benefiting from scholarships and being able to continue to study in areas they may not have otherwise been able to," says Katie.
"I don't think there's a better investment out there."
Lundon earned degrees on scholarship at universities in Pavia and Salerno — two of the oldest in the world — worked as a research fellow at Harvard University and the University of Oxford and joined the University of Cologne as a Humbolt Scholar. In 2013, he was appointed Professore Associate di Papirologia at the University of Turin.
Renowned for his ability to identify new insights into ancient writings about Homer's epic works recorded on papyri, Lundon spent the last weeks of his life working on a commentary on the Greek poet, determined it would be finished in time for publication.
Beside Homer, he also dedicated his attention to Plutarch and had a great interest in Egyptian culture as well.
Although Lundon's work doesn't intersect much with McCarthy's current research, that might soon change.
"I've become a lot more interested in epigraphy and I've got a few projects on the go related to that. I can see myself using his kind of expertise in the near future," says McCarthy.
Categories