Today, A&S News revisits the stories of five women in the A&S community making a significant impact at U of T and beyond.
---
Sharla Alegria
Sharla Alegria is working on work. The sociologist joined the Department of Sociology last fall as an assistant professor. With research focusing on racial and gender inequality, Alegria evaluates how, why and in what form inequalities persist — and what the implications are for workers' lives, specifically in the technology sector.
"Work is a huge part of our lives, of how we think about ourselves and compare ourselves to others. It's also a driver of inequality because your job determines whether you can feed yourself and live a nice life," says Alegria.
Sarah Mayes-Tang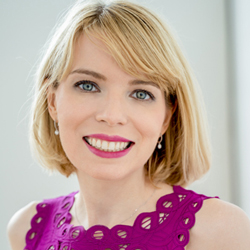 What does a mathematician look like? It's a stereotype Sarah Mayes-Tang is trying to change. The assistant professor, teaching stream in the Department of Mathematics is telling women's stories in the classroom as a way to introduce students to diverse role models in mathematics.
"Women's stories often tell of struggle with mathematics, or an early dislike of the subject, defying the 'genius' myth. They also often include aspects of lives outside of mathematics: caring for family and the social side of the mathematical community," says Mayes-Tang.
Gwen Benaway
Gwen Benaway — an Indigenous scholar, artist and PhD candidate in the Women & Gender Studies Institute — has forged an accomplished career as an award-winning poet, essayist and advocate.
Her essay, "A Body Like A Home," which tells the story of her gender confirmation surgery, took home the top prize in the Personal Journalism category at the 2019 National Magazine Awards.
"Trans women are intensely dehumanized and objectified. My work is about reimagining trans life in connection with other forms of life — and as a site of pleasure, power and transformation. Resisting the objectification of the trans body is necessary to imagining trans liberation," says Benaway.
Gwen Eadie
Gwen Eadie is a rare breed of scientist. As an astrostatistician, she has one foot firmly in astronomy and the other in statistics. And as an assistant professor jointly appointed to the David A. Dunlap Department of Astronomy & Astrophysics and the Department of Statistical Sciences, she's ready to take on the age of big data in astronomy with her statistical background.
"When it comes to data analysis in astronomy in the era of big data, we will advance knowledge more effectively when we step out of our disciplinary silos and work with people in areas such as statistics, applied mathematics and computer science," says Eadie.
Michelle Cho
Michelle Cho is captivating students with her courses on Korean film, media and pop culture — and yes, K-pop darlings BTS. The assistant professor in the Department of East Asian Studies allows students to bring their own expertise as fans to the classroom — something she says has been useful as a researcher of fandom culture.
"You see fandom culture becoming much more important in the way that people define themselves in a media landscape that can seem very fragmented. In a way, everybody has their niche little worlds online, or on media platforms," says Cho.
---
We're celebrating International Women's Day by highlighting the groundbreaking contributions and unique stories of women in A&S. All week, we'll shine a spotlight on the vibrant women of our community. 
Categories