Toronto Raptors TV Host Randy Urban credits U of T for much of his success, even though his path to a career in television wasn't traditional and his work in front of the cameras doesn't quite relate to his degree.
"This school opened my eyes to a wide range of cultures, and I'm forever grateful for that," says Urban. "It gave me a deeper understanding of diverse groups of people, where they come from, and how they grow."
Growing up on a horse farm north of Toronto, Urban always loved science and animals. He initially wanted to become a doctor, and earned his bachelor of science, majoring in life sciences and zoology as a member of New College in 2007.
He also pursued his passion for sports, which would play a prominent role in his life after U of T. In his fourth year, Urban played an important role on the Varsity Blues men's basketball team as a point guard, helping the club clinch a playoff spot that season.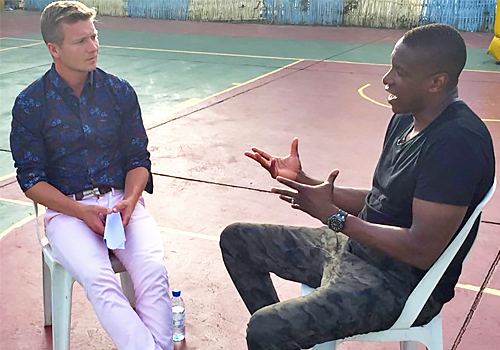 "My experience that year and playing on that team was probably the best year of my life. It was great for me academically, personally, and all the things I have in my life today are because of that year," says Urban.
After graduation, he decided against a career in medicine in favour of a job many Toronto basketball fans could only dream of; he's followed the Raptors for a decade as a host and producer with Maple Leaf Sports and Entertainment. He's provided coverage and analysis for Canada's NBA team during the franchise's most successful era.
"It's like a blur," recalls Urban, who over the years forged special bonds with some of the club's marquee players and leaders. "That finals run and championship in 2019 was one of the most amazing experiences of my life."
Professor David Lovejoy, from the Department of Cell Systems & Biology, validated Urban's desire to pursue a career outside his realm of academic study.
"During my almost 30 years as a professor, I remember having to encourage many of my students to be confident in their opinions and ideas and be free with their expression. I'm pleased to find out my approach benefitted Randy," says Lovejoy.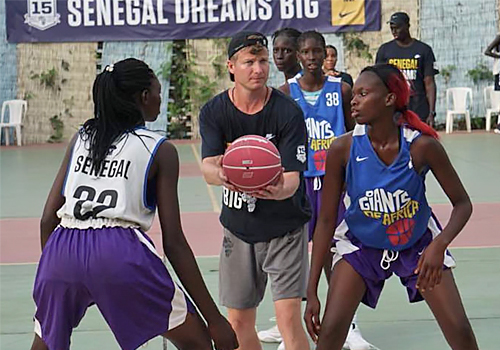 Urban feels his U of T education gave him an edge over competitors when it came to script writing and media production. Professors like Lovejoy taught him to think critically from multiple perspectives — regardless of subject matter.
"I still think about how he made me feel — like it was okay to do something not directly associated with my degree," says Urban, who always sensed that Lovejoy was pushing him to aim higher. "And it all came from one teacher just showing an interest in me."
Urban also praises the network of support that guided him through his undergraduate degree. He credits a kindly registrar and fellow students — some alumni he's still best friends with — for helping him get through it.
"At U of T, the education you get inside and outside the classroom is very difficult to replicate anywhere else," says Urban.
"And being in a school that's so entrenched in the fabric of the downtown core is so special. I've never left Toronto and the University is a big part of that."
Categories