Ellie Lutz knows more students in her tiny First-Year Foundations seminar at Innis College than in all of her other University of Toronto classes combined.
That includes her anthropology class in Convocation Hall, which has room for 1,700 students.
"I didn't go to orientation so meeting people can be very difficult, especially in classes that are lecture-style," says Lutz, a first-year student who is from a small town outside Angus, Ont.
Lutz, who attends the Innis seminar Representing Disability with her support dog, Honey, says the seminar format makes it much easier for her to interact with the teacher and other students.
"I don't just feel like a number."
There are 145 First-Year Foundations seminars offered in this year's Arts & Science calendar, 15 of which are offered by Innis College. While the seminars, each capped at 30 students, are designed to encourage students to speak their minds, get to know one another and sharpen analytical skills and curiosity, Innis hopes to put a slightly different spin on the concept with a pilot project that aims to foster connections between students, instructors and the college itself.
"There's nothing inherently wrong with large classes, but there's certain things they fundamentally can't offer students" Innis Principal Charlie Keil says. "It's much more difficult in a large class to offer community."
To that end, Innis has taken steps to ensure all the seminars take place at or near the college's building at Sussex Avenue and St. George Street, and by providing all students with access to resources including the writing centre, Innis librarians and a learning strategist.
"Students need a means of connection and often that can happen through the classroom," Keil says.
The seminars are especially important for first-year students, who haven't yet declared their subject post and many of whom are still learning their way around campus, Keil added.
"Maybe you want to go on and be a history specialist or go into the life sciences, but until then your home can be at Innis," Keil said. "Here's a way to feel connected to a community."
Katherine Williams, a professor in the Department of English in the Faculty of Arts & Science who teaches the seminar on representing disability, says the pilot project is having the intended results.
"The style of learning that they promote is so valuable in terms of encouraging students to make knowledge their own," she says.
"Especially with a topic like disability, which can hit really close to home… this [seminar] helps create a sense of community so students can ask questions and deal with difficult topics."
To help students find a course that would be the right fit, each instructor filled out a questionnaire (Williams's form is below) that lists "cool facts" about their field of study, things they want students to know and their favourite thing about teaching.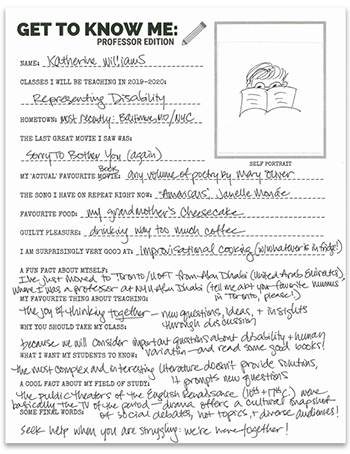 In Williams' half-year course, students learned about literary depictions of disability through critical reading of drama, fiction and poetry. One of the goals of the course, Williams says, is to push students to question their environments and communities, asking themselves who is included and excluded.
"The pay-off for critical disability studies more broadly is thinking about how to build a world in which everyone flourishes and where differences are accommodated, even celebrated," Williams says. 
The final project in the course took the students from the theoretical to the practical. Williams had her class conduct an accessibility audit of the Innis building, documenting how the entrances, elevators and signage could be improved for people with disabilities.
The catalogue of Innis First-Year Foundations seminars encompasses a broad range of subjects, including probability and luck, the psychology and history of drug use and privacy in the age of big data. Fabian Parsch, an assistant professor, teaching stream in the Department of Mathematics, introduced students to cryptology, covering breakthroughs in the field, secret codes used during the Second World War and its uses today in technologies such as blockchain.
Parsch, who has taught math classes of over 1,000 students, says the seminar course enabled him to get to know each student by name. The class size also had an effect on participation, he says.
"I think the students are much more comfortable and a benefit of that is they just blurt out an answer — in a good way."
The cryptology seminar, which was open to all students with a knowledge of high school algebra, surveyed the history of the field from the Romans to Edward Snowden. To complement a lesson on how the Allies broke the Enigma code during the Second World War, Parsch organized a screening of The Imitation Game in the Innis Town Hall Theatre.
Parsch says he feels he will have succeeded if his students come away from the course with a new appreciation for mathematics.
"Students often encounter only one specific kind of math, which is all this stuff around functions. It's always functions, functions, functions," he says. "Whereas actually I would say math is much more about logic, ideas and concepts. It's a topic so rich in all these things."
Lutz, who is actually a first-year student from Woodsworth College, says her Innis seminar on disability provided her with a much richer understanding of the topic.
"It kind of shows the social aspects of it as opposed to the medical aspect, which I appreciated because … it takes into consideration that not every barrier comes from the environment."
Categories