Adam Hammond is convinced that within the pages of a new student literary journal is the work of some of the country's next great writers — maybe even the next Margaret Atwood.
Printed by Coach House Press in March, LOAD was created by students in Literature for Our Time, taught this year by Hammond, an associate professor with the Faculty of Arts & Science's Department of English.
"It's a legendary course that Nick Mount taught for many years, so I came in this year knowing I had enormous shoes to fill," says Hammond. "So many writers and publishers who come through U of T English take this class."
In fact, Hammond attended a party hosted by Coach House Press and remembers the comments. "All these people kept coming up to me and said, 'You're teaching Literature for Our Time? That course changed my life.' And I thought, okay, no pressure."
To end the year-long course, Adam threw out the idea of a literary journal and the enthusiastic response was immediate. An editorial board was created, and different students were given tasks to bring the journal to life.
The project involved assigning editors, graphic designers and fundraisers to generate the money needed for printing costs. Hammond picked Eleanor Lindsay as the editor-in-chief.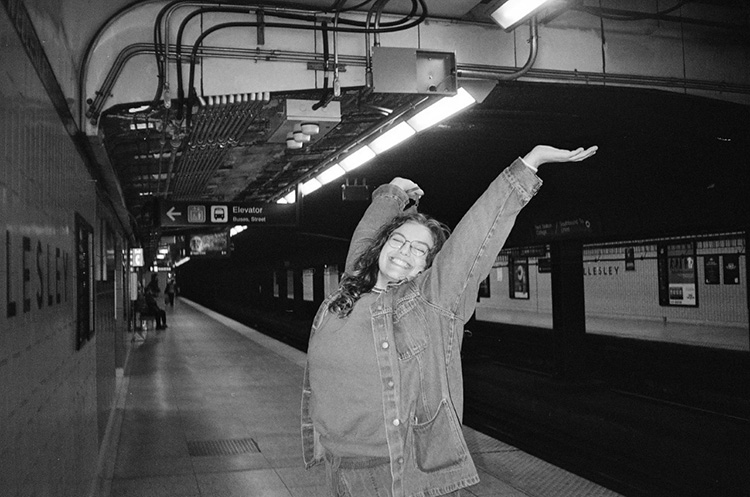 "I love DIY printing and self-publishing and I think he saw that passion and excitement in me," says Lindsay, a first-year English major with minors in critical theory and creative writing and a member of St. Michael's College.
"And more than anything, I love editing my friends' papers and essays, it gives me such genuine joy," she says. "As well, I've never led a project like this before, so this was a valuable opportunity for me to take the driver's seat."
Lindsay and her editorial board received more than 100 submissions and had the difficult task of whittling that down to 17 pieces for the journal, which includes short stories, poetry, short plays and memoir writing.
At the same time, students raised the full cost of printing 500 copies using a GoFundMe page. Well-known authors such Charles Yu, Ben Lerner and Margaret Atwood, who donated a signed copy of her latest book, also backed the project.
"The students raised $500 more than they needed to print the issue, so all the contributors even got paid," says Hammond.
When Lindsay first held a freshly printed copy of LOAD, she started to cry.
"Being able to have something like this in my hand and say, 'my friends and I made this' was really important to me," she says. "It was a fantastic experience, super emotional and phenomenal. It was incredibly gratifying and a little bit baffling to me that there's so much talent in that room."
One of those contributors was Anne Carscallen, a first-year English student and a member of University College. She submitted Questions for My Grandmother, a poem that explores the difficulties of dementia.
"I wanted to be a part of this journal because it's something very special — an opportunity for young writers to showcase their work on a smaller, yet impactful scale," she says.
"There is nothing more terrifying for aspiring writers than the faceless judgement of an unknown audience. Here, I knew the faces of the people this journal would reach, and I got the privilege of sharing my work with them."
Like Lindsay, Carscallen felt a deep connection to her fellow writers and poets through this book.
"Reading their art, which often feels intensely personal in nature, and this is cliché, but it feels like you're holding their soul for a brief moment," says Carscallen. "I feel so lucky to see my name in print alongside theirs." 
How did she feel holding a copy of LOAD in her hand?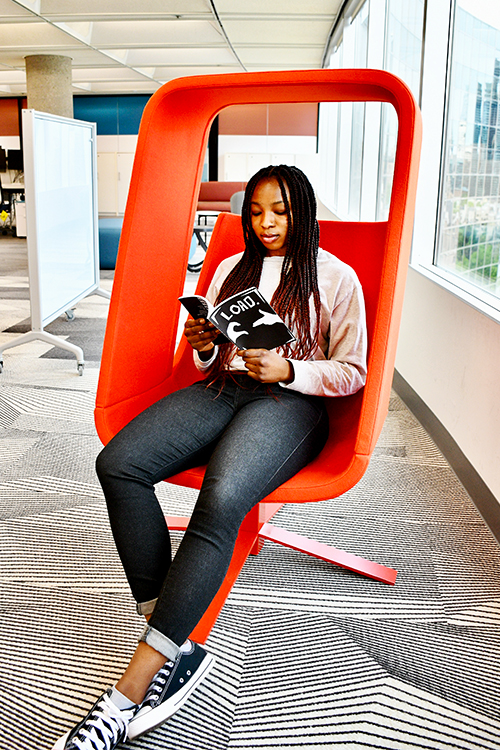 "In a word, incredible," she says. "This is my first time being published in any capacity, and there is nothing like seeing your name in print. Underground literary journals and zines have a long and rich history, and getting to be part of that history, no matter the reach, feels really gratifying."
As well, Carscallen believes literary journals like this are important for students because they allow them the space and freedom to express themselves outside of classroom assignments.
"The lack of external interference in DIY art has allowed writers to share things that are controversial and radical. I don't know if I ended up saying anything radical, but I ended up getting to say something. And that's what I think is most important."
Where did the name LOAD come from? There are two sources of inspiration. The first was a literary journal called FIRE!!, an African American literary magazine published in New York City in 1926 during the Harlem Renaissance. The magazine's title referred to burning up old ideas, and the class liked this philosophy and wanted a similar single-word name.
The other source — LOAD — is an acronym created from a line in a W. H. Auden poem, September 1, 1939, which includes the line: "Love one another or die."
Writers and publishers from Hammond's literary circles have been showing LOAD plenty of love, and he was more than happy to pass on the praise.
"You're able to tell your students their work is being regarded by some well-known writers," says Hammond. "And that was very exciting to me — just imagine what impact that kind of confidence boost could have on your career."
What's the future for LOAD? It's unclear at this time, but there's plenty of hope and wishes from both students and Hammond that the next class creates another issue.
"This is a very special course, everyone really enjoys it," says Hammond who will return to teaching it in the fall of 2024. "To leave the class with this thing in your hands that was made by this group was special. So yeah, I want to do it again."
Says Lindsay, "I'm happy with relinquishing whatever LOAD is to the next generation of people going through ENG140. It belongs to them. I always want it to be a representation of class."
Categories