One day she's answering viewers' questions on the Today Show in New York. The next day, she's giving relationship advice to a sold-out auditorium of executives in Dubai. But wherever she is, or whoever she's talking to, sex and relationship expert Jessica O'Reilly uses her Arts & Science degree to improve lives.
One of the first U of T students to major in sexual diversity studies in the early 2000s, O'Reilly says the program was groundbreaking.
"I'd never heard of a sexologist back then, but now I can draw a direct line between what I studied in my undergraduate and what I'm doing today," she says.
O'Reilly is one of Canada's most trusted experts when it comes to sexology and relationships, focusing on both the physical and emotional angles of intimacy. Her popular podcast Sex with Dr. Jess has thousands of subscribers. She's published several books and she's the go-to commentator on gender identity, sexual health and friendship for CBC and Global TV.
She earned her honours bachelor of arts in 2005 as a member of University College. O'Reilly was also the recipient of a scholarship from Mark S. Bonham, several years before the major donor's name graced the Mark S. Bonham Centre for Sexual Diversity Studies. The gift enabled her to find success.
"If it weren't for that scholarship and mentorship of my instructors, I probably wouldn't have finished," she says, remembering support from retired Professor June Larkin and Professor Pam Shime who has since joined Stanford University.
During her undergraduate, O'Reilly sourced inspiration outside the classroom as co-executive director at U of T's Sexual Education Centre, calling it an invaluable experience.
"It was really eye opening to see how much university students can struggle with shame when it comes to their sexuality and sexual health," recalls O'Reilly. "Those issues can interfere with every corner of a person's life."
But she sees signs of progress.
"That was 20 years ago, and while I can't say that we've eradicated sexual shame, U of T is doing an excellent job of chipping away at it. One antidote for shame is bringing that conversation out into the open."
O'Reilly made good friends with counselling centre co-workers, fellow alumni she's still doing dinners with 20 years later. At U of T, she finally discovered peers she identified with on multiple levels.
"We're all Caribbean-Canadian, and so we found this common interest around wanting to support people's sexual health," she says. "But I think it was important for me as a hyphenated person to find other people with similar life experiences."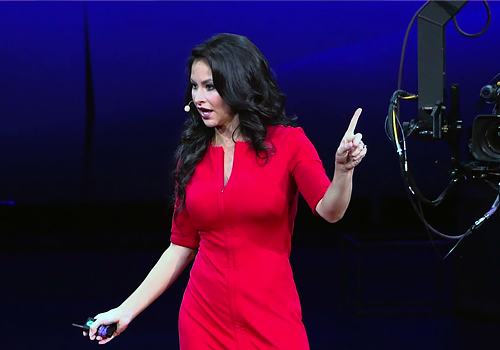 After that, O'Reilly earned her bachelor's of education from the Ontario Institute for Studies in Education and a PhD in sexual health education at another school, but still conducted much of her research alongside U of T faculty.
Her influence is international. She has run thousands of workshops in 45 countries, from Lebanon to Türkiye, the United States and Mexico. She coaches entrepreneurs and their partners who have it all figured out in the workplace — but not necessarily in the bedroom or at the kitchen table.
"Sex is the easy part," says O'Reilly. "It's all the relational elements that come with sex that we need to invest in. Relationships are the most important things in our lives. The quality of your relationships has a significant impact on your mental health and your physical health, but we don't tend to invest in our relationships until there's a problem.
"If we could approach relationships the same way we approach our careers or raising our children, we could do so much preventative work. That's what I'm trying to do in these workshops — have people talk everything out before irreparable problems have time to take hold in a marriage."
In her experience, O'Reilly says people want a balance of safety, comfort and predictability — but they also crave excitement. Her job is to help people understand that passion is something you cultivate, and not something you just stumble upon.
"There are all these myths around what romantic love should feel like or look like — or the myth of finding the one," she explains. "You might be worried that you don't feel a flutter in your stomach anymore when your partner kisses you, but that's just neuro chemistry.
"I take the research and the theory and make very simple recommendations, like altering how you talk to your partner or shaking up your daily routine. Small changes can make a big difference and it doesn't have to be complicated."
Categories