Arbours to sit and contemplate, headstones engraved with the names of children who died or went missing in residential schools and a maple tree to symbolize the country's efforts at reconciliation – those are the elements of a "reconciliation grove" designed by a U of T student.
James Bird designed Words to Form – an architectural model for a potential memorial that would put the words of reconciliation into a physical form – for his fourth-year independent study.
His model is now on display at Hart House, through May 3. It will then be transported to Ottawa where it will be showcased at the International Indigenous Architecture and Design Symposium at the Royal Architectural Institute of Canada.
Bird hopes that his "reconciliation grove" will generate interest, and one day the memorial will be built as a site where Indigenous and non-Indigenous people can come together and reflect on Canada's difficult history.
"I wanted to build a reconciliation grove," says Bird, who is Metis, Cree from Fort Smith, N.W.T., and actively involved in U of T's Indigenous community. "I wanted to create a space where you could talk about this very difficult thing – murder, missing children, this dark past – in a space that was supportive."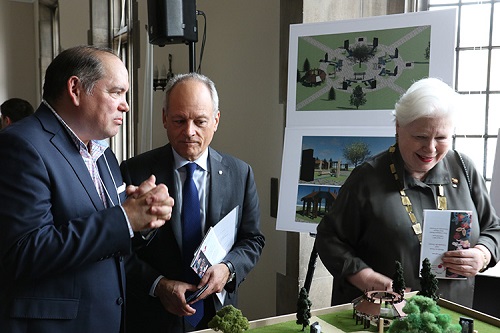 In 2015, U of T formed a Truth and Reconciliation steering committee in response to the federal TRC report, and Bird has been part of that committee. Early this year, the committee recommended 32 calls to action for the university to work towards reconciliation.
The federal TRC's call to action that inspired Bird to create Words to Formrelated to commemoration. No. 79 calls on the federal government to collaborate with survivors, Indigenous organizations and the arts community to develop a reconciliation framework for Canadian heritage and commemoration. There's another call to action for a national monument to be built in Ottawa and monuments in each province and territory.
On Thursday, Bird displayed his model at Hart House as part of the Canada By Treaty: Histories of a Negotiated Place exhibit, which will run through May 25 as part of U of T's Canada 150 initiative.
The Hart House event was attended by U of T President Meric Gertler, Munk School of Global Affairs Director Stephen Toope, who co-chaired the university's TRC steering committee, Chief Stacey Laforme of the Mississaugas of the New Credit First Nation, and Ontario Lieutenant Governor Elizabeth Dowdeswell.
The focus of Bird's design is a maple tree, which sits at the centre of the memorial and needs to be nourished with water flowing from fountains throughout the grove.
"The idea is that we can gauge the health of reconciliation by how this tree grows," he says. "In fact, reconciliation is a live, growing process."
The tree is encircled by seven headstones rich with meaning: they represent the Seven Grandfather teachings of humility, bravery, honesty, wisdom, truth, respect and love.
The back of each stone is engraved with the names of the 141 residential schools in Canada. The front has the names of all the children who went missing or died in those schools. The fountain water flows up and over the stones and toward the maple tree.
"The water flows along the children's names almost like eternal tears," says Bird.
Bird says he's included the arbours as places to sit and contemplate and lots of trees to attract songbirds which will add music to the air. He envisions big black slabs of granite in the grove to act as workspaces for Indigenous and non-Indigenous artists to come together and build projects of reconciliation on the site.
"The word reconciliation makes a huge assumption – that there was a mutual relationship that started. It was never mutual, and so I call it conciliation," he says.
"Taking reconciliation out of the colonizer's hands and reinventing it again – that's what I wanted to do."
Categories