From genetic engineering to personalized medicine to solving complex math and physics problems, Khaled Elemam has always been interested in the sciences and math. It was at U of T where Elemam — who was born and raised in Alexandria, Egypt — really found his focus. He discovered a way to blend his passions for the biosciences, computing and problem solving by pursuing his honours bachelor of science with a major in bioinformatics and computational biology.
Outside of class, Elemam, who is a member of University College, found time to play intramural sports and serve on the University College Residence Council. He devoted this past summer to building a unique search platform to support protein research. More than that, his thesis supervisor — Alan Moses, a professor in the Department of Cell & Systems Biology — says Elemam managed to "find the fun in bioinformatics."
Here, Elemam reflects on his experiences at U of T and his thoughts on graduating.
What drew you to U of T?
I've always been fascinated by advances in medical science. When it came time to apply to universities, I knew I wanted to study at one of the best schools, and I knew U of T was strong in the sciences. However, tuition was always a concern. When I heard about the Lester B. Pearson International Student Scholarships, I submitted my application and crossed my fingers. When I learned I had won one of the awards, it felt like fate. I've been very grateful every day since.
For your thesis project, you designed a search engine for proteins called FANNSI. Tell us more about it.
FANNSI stands for feature-based approximate nearest neighbour search for intrinsically disordered proteins. It's quite a mouthful.
In the Moses lab, we study intrinsically disordered proteins. Unlike normal proteins, they do not have a stable structure. The research community is interested in disordered proteins, especially in how they are involved with diseases. Though we all want to know more about them, their instability makes them hard to study.
To solve this problem, we built a search platform for researchers. The idea is that a scientist could submit the amino acid sequence for a disordered protein and the program would assess its molecular features and come back with a list of similar disordered proteins. These search results could give the scientist clues about the protein's charge, solubility, function and other attributes.
We are working with a huge database, and we wanted to make sure the platform could execute searches and retrieve accurate results quickly. The algorithm I ended up using for this project is similar to the one the music-streaming platform Spotify uses for generating music recommendations. We were able to bring the search time down from one second to 10−6 — one millionth of a second.
Our collaborators are excited to use it soon. We're working on expanding the platform's features and eventually publishing this work. I'm still with the lab, and right now I'm working on developing algorithms for designing proteins from scratch — which I think would be very cool.
What advice would you give to students who are considering U of T?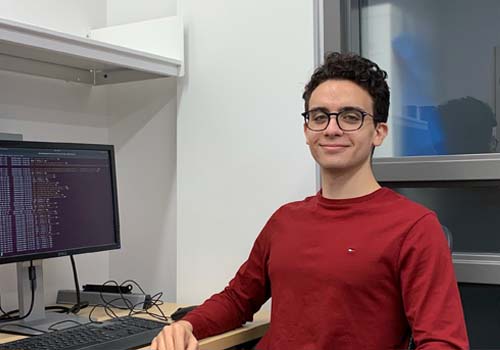 First, be kind to yourself. There will be ups and downs during your undergraduate years. Most students at U of T were top achievers in high school and come in expecting perfection. That's not realistic. You might struggle to understand certain concepts and occasionally you might fail at things. When that happens, you have to be kind to yourself. Give yourself some time; then, pick yourself up and try again.
My second piece of advice is to make sure you get to know people and make friends, especially if you're an international student. Friends can make the transition easier. Taking time to build a support system for yourself is the best investment you could make during your years at U of T. Participating in orientation week activities was the smartest decision I made as an undergraduate. I'm still close with the friends I met during that time.
What will you miss most about being a U of T student?
I'll definitely miss the community. I've had interesting conversations with people from all over the world and with people who think differently than me. U of T has lots of international students, and I've grown a lot in the last four years through meeting other students and learning about their cultures, experiences and perspectives. Those discussions have been eye opening.
What's next for you?
I'll be leaving the lab in the next month or so and joining a health care startup called NexHealth as a software engineer. The group is focused on solving a crucial problem in health care. Because every clinic and health care provider seems to use a different software platform, patients often have to sign onto multiple accounts to book appointments and retrieve test results. It's easy to lose track. This startup wants to make it easier for the patient. Imagine going to one place to book all your health care appointments and to keep track of your health plan. I'm very excited about this work — it's a messy problem and it will be a real pain to solve. That's what makes it fun.
---
Congratulations to U of T's Class of 2021!
Celebrate Fall Convocation 2021 with us and on social media by using the hashtag #UofTGrad21 and tagging @UofTArtSci in your posts.
Categories