From drawing on Indigenous ways of knowing to making space for diverse voices and perspectives, five University of Toronto professors are being recognized for their efforts to inspire students and make learning more engaging and inclusive.
The recipients of this year's University of Toronto Early Career Teaching Award — Funké Aladejebi, Keith Adamson, Angela Mashford-Pringle, Obidimma Ezezika and Sherry Fukuzawa — have worked to enhance the student experience through community-engaged, land-based and experiential learning opportunities.
The award is given to faculty in the early stages of their careers who exemplify teaching innovation, pedagogical engagement and an exceptional commitment to student learning.
"Embracing a diversity of perspectives and the innovations that flow from them is key to realizing U of T's goal of achieving inclusive excellence — and that often begins in the classroom," says Cheryl Regehr, U of T's vice-president and provost.
"By demonstrated their unwavering commitment to enriching students' academic experiences, each of this year's Early Career Teaching Award winners is helping to ensure U of T is not only delivering an unmatched educational experience but is ultimately preparing graduates to make the sort of changes our world so desperately needs."
Here's how this year's winners are innovating in the classroom and beyond:
---
Funké Aladejebi
For Aladejebi, history is not just about the past — it's about building a better future, too.
The assistant professor in the Department of History in the Faculty of Arts & Science supported efforts to create a new certificate in Black Canadian Studies in the Canadian Studies program at University College shortly after she joined the University. 
The first-of-its-kind certificate at U of T was launched last fall and fosters an interdisciplinary approach to understanding Black life in Canada. It focuses on systemic barriers through the lens of politics, judicial systems and the arts, as well as the historical and contemporary implications of anti-Black racism in Canada.
"The goal has been, and continues to be, to make interventions in the ways that we talk about Blackness in Canada and ask critical questions about how we represent the Black Canadian experience," says Aladejebi, a historian of the 20th century whose research focuses on oral histories, Canada's education system and Black Canadian history.
"There is an incredible diversity and plethora of research, scholarship and expertise of people who are doing this work in Canada. I hope this leaves students motivated to pursue it. 
In an effort to promote interdisciplinary research, students must also take courses in women and gender studies, the Department of English, and Caribbean studies, to name a few.
Foundational to the program is "Black Canadian History," a second-year course that Aladejebi created and teaches. It encapsulates 300 years of Black life, including early settlement, Black liberation, immigration and racism in Canada.
Aladejebi hopes both the certificate and course encourages representation in higher education as well as interdisciplinary collaborations — values that form the core of her teaching philosophy. 
"At times, within the academy, we represent Black Canadian history as optional, but the program legitimizes how we can do this as a primary focus of research and that it's worthy of critical scholarship and analysis," Aladejebi says. "This is one kind of intervention where students, researchers and scholars are creating spaces where racialized students can see themselves as part of U of T."
Read More:
Keith Adamson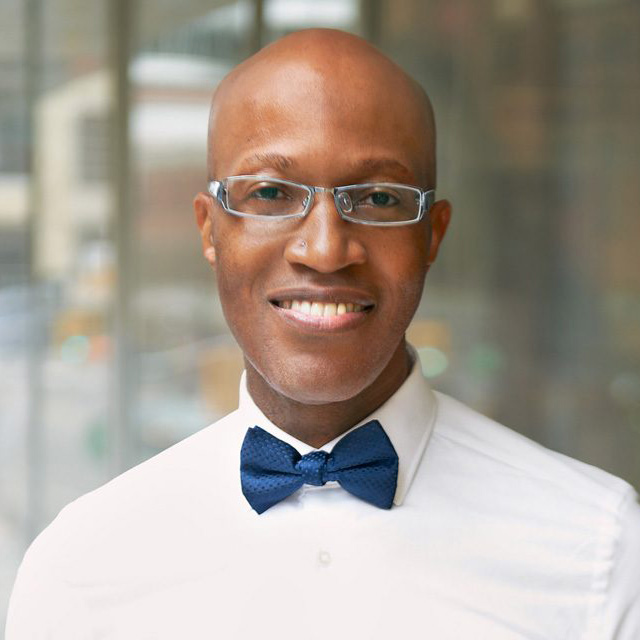 Adamson was asked in 2018 to create a course that emphasized how social workers can better support people with disabilities.
So, the assistant professor, teaching stream, in the Factor-Inwentash Faculty of Social Work, turned to his clients at Holland Bloorview Kids Rehabilitation Hospital, where he was senior director of collaborative practice.
"I wanted to create a course that honoured the voices of clients and families within the system and prepare future social workers to be sensitive to client and family needs and disability issues, and advocate for clients," he explains.
The course, "Social Work and Disability Practice: A Client and Family Centered Approach" was co-created alongside community partners, PhD students, clients and their families to ensure that their lived experiences are reflected in the course content.
Recognized as the first of its kind in Canada by the Ontario Hospital Association, the course brings in six clients or families to actively participate in the teaching process for the entire semester. Adamson says that moving away from traditional lectures highlights the contradiction or relevance of theories when applied in real life and creates an avenue for students and client and family co-teachers to co-create new knowledge and questions about care.
In the course's final class, students present a topic in disability studies that they are passionate about in a creative medium — such as poetry, music or comics. The project allows them to demonstrate their disability advocacy, which is a course objective. 
"We established a community on the very first day," Adamson says.
"The classroom has really become an arena for disability advocacy for the clients and families who come in to teach future social workers who will help people like them in the future.
"We didn't wait until students reached the clinical realm to have these conversations with clients."
Such conversations underscore Adamson's overarching philosophy: deconstruct hierarchies within health care and academic institutions through collaborations that value social justice, equality and empowerment. 
"Relationships are essential to my teaching philosophy," he says. "For me, the educational alliance is caring about your students and helping them be the best clinician possible." 
Angela Mashford-Pringle
As the first Indigenous health lead at the Dalla Lana School of Public Health, Mashford-Pringle wasted no time making changes.
Her largest project has been at the Hart House Farm in Caledon, Ont., where a facelift of the Ignatieff House included an accessibility ramp and door, a main floor wheelchair-accessible bathroom, kitchen renovation and new floors. This year, new student cabins and outdoor furniture are being added. 
The farm is the site for "Indigenous Health," U of T's first land-based learning course, a requirement for the masters in public health - Indigenous health (MPH-IH) program and the collaborative specialization in Indigenous health (CSIH) program.
The week-long intensive course is one of the first in Canada to focus on health and the land.
"I hope Indigenous and non-Indigenous faculty and students will want to visit to learn from the land — about Indigenous issues and health — by seeing what the territories were used for traditionally," says Mashford-Pringle, the course's instructor.
In addition to lectures, students spend time with Elders and knowledge keepers on nature walks and participate in fire ceremonies. They also learn about the role of the land in Indigenous culture and well-being, and how displacement affects the health of Indigenous communities.
"The Indigenous definition of health is that you have balance in your physical, emotional, mental and spiritual self in your family, community and nation," says Mashford-Pringle, adding that the course's powerful sense of community was preserved when it moved online two years ago due to the pandemic.
"Land-based learning is about getting out of the capitalism, consumerism and individualism that we're used to. It's the idea of reconnecting to the environment that we live in."
In May, the MPH-IH program will return to the farm for two courses — "Indigenous Health" and "Indigenous Food Systems Environment and Health" — for two weeks. A new course developed by Mashford-Pringle called "Indigenous Social Determinants of Health" will also launch at U of T Mississauga, where she plans to host land-based courses.
Reflecting on the award, Mashford-Pringle says she hopes others will feel encouraged to introduce different ways of knowing and teaching at U of T.
"It's important to teach from our heart, which is how I've been taught by my elders," Mashford-Pringle says. "I hope people who have ideas outside of the colonial teaching and learning process will think about trying their possibilities." 
Obidimma Ezezika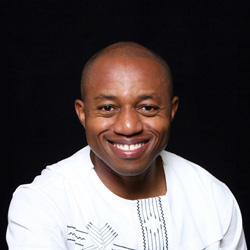 An expert on implementation science and global health, Ezezika strives to ensure that the knowledge created in his classroom can be applied to the real world in a meaningful way.
Using his work as a previous Grand Challenges Fellow and working experience in several African countries, Ezezika developed "Innovations for Global Health" in 2018. The experiential learning course focuses on developing technological and social innovations in low and middle-income countries. Notably, it links students to Toronto-based global health organizations, including Grand Challenges Canada.
"The goal of the course is to bring students into that kind of global health practice," says Ezezika, an assistant professor, teaching stream, in the Department of Health and Society at U of T Scarborough.
"I asked, 'How can I simulate my experiences? How can I leverage some of my stakeholders over the last 10 years and bring them to the classroom?'"'
Throughout the course, guest speakers talk about business models, stakeholder engagement and ethics, and offer advice on how to tap into a target audience to frame a global health problem — ranging from maternal health to sanitation and hygiene.
Key to the course is a Dragons' Den-style assignment that has students work in groups to develop and pitch a global health innovation to a panel of experts.
"Students engaged with course content with such passion in just the first few weeks," Ezezika says. "It was very fulfilling for me."
Ezezika's teaching philosophy boils down to creating experiential learning opportunities that allow his students to thrive. That includes creating work-integrated learning courses where students have gone on to receive prizes, prestigious conference presentation invitations and awards. For example, Selina Quibrantar, through her work in two of these courses, received Ontario and Canada-wide awards in work-integrated and experiential learning.
He has also created an award-winning board game that helps students digest health determinant concepts, and launched the Global Health and Innovation Lab, which has trained dozens of undergraduate and graduate students and led to multiple co-authored journal articles by students. 
"Teaching is not just about the techniques and expertise you bring to the classroom," Ezezika says. "It's about the compassion and value you have for students. You can't have an impact unless you truly care about your students' goals."
Sherry Fukuzawa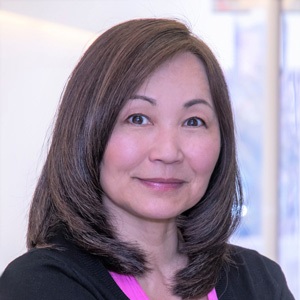 Fukuzawa believes in a holistic approach to education.
"To me, that means that there is an inclusive pedagogy, where there is an acceptance of different knowledge systems within the university," says Fukuzawa, an assistant professor, teaching stream, in the Department of Anthropology at U of T Mississauga.
Fukuzawa is a founding member of the Indigenous Action Group (IAG), an alliance of faculty and staff from U of T Mississauga and Indigenous scholars, knowledge keepers and elders from the Mississaugas of the Credit First Nation. The IAG's mission is to honour the Mississaugas of the Credit First Nation's educational goals of truth through public knowledge, recognition of their history and reconciliation by adapting Indigenous knowledge systems to the university space.
"We want to fulfill the goals of the Mississaugas of the Credit First Nation and change the post-secondary curriculum to include a respectful and equal acknowledgment of different knowledge systems and pluralistic ontologies," Fukuzawa says.
IAG has co-created a community-engaged learning course "The Anthropology and Indigenous Peoples of Turtle Island," (ANT241H) a second-year, land-based experiential learning opportunity that invites Anishinaabe scholars and Elders to teach students about the history of the land through a series of workshops and field trips.
Throughout the term, students learn about cosmology and epistemology, medicine and local plants along the Credit River and participate in an art-installation initiative called The Moccasin Identifier project. Led by Elder Carolyn King, the project acknowledges the historic sites, ancestral presence and language of First Nations, Metis and other Indigenous communities by placing stenciled moccasins on significant cultural heritage sites across the country.
Following Indigenous pedagogy, the IAG-created course is based on a critical reflexive methodology. Fukuzawa says this leaves room for students to determine their learning journey.
"It's important to remember that Western educational systems are colonial institutions based on a hierarchy," Fukuzawa says. "We want to introduce different knowledge systems and legitimize Indigenous knowledge systems and epistemologies."
Funded by a Connaught Community Partnerships Grant, established to create collaborative early-stage research partnerships between U of T and community partners, the last iteration of the course is set to run in September unless they can find additional funding to sustain it.
Staying true to her teaching philosophy, Fukuzawa says such courses are the beginning of a larger — and necessary — shift in education.
"Students can have greater power to determine how they want to learn and where their learning journey is important in their own life experience, not just in academic learning, but in personal growth and social activism," she says.
Categories