To an aspiring geologist, southern Ontario leaves something to be desired sitting astride the geologically stable Canadian Shield. Not so the Cappadocia region of central Turkey.
"For geologists, Turkey is exciting," says Russell Pysklywec, chair of the Department of Earth Sciences (ES) in the Faculty of Arts & Science. "It sits on the boundary between two tectonic plates and, as a result, is geologically very active.
"The African plate is moving northward, ramming into the Eurasia plate, and Turkey is right at that boundary where continents are colliding. And they're still moving and pushing into each other, lifting up mountains and volcanoes and other structures."
Late last year, Pysklywec and Grant Henderson — also a professor in ES — led a group of 13 students to this tectonic trove for the department's Rocks and Minerals International/Indigenous Course Module (ICM). The Faculty's ICM program gives students an opportunity to enrich their studies with a learning experience outside the country.
"In geology, we study how mountains, volcanoes and larger structures like plateaus form," says Pysklywec. "We also study and sample smaller rocks and minerals with hammers and microscopes. So, it's a challenge to give students a sense of both the macro and the micro.
"But in the field, standing at the edge of a volcano, you see the macro. And you see the micro when you're chipping away at a little bit of rock and you look at it through a magnifying lens.
"The ICM trips give students a chance to experience both."
"It can be difficult learning topics without being able to interact with them fully," says undergraduate Danielle McGill, who took part in the trip. "To learn about plate tectonics, geologic formations and mineralogy in a geologically active part of the world in this hands-on way was truly rewarding." McGill is a member of Trinity College and is enrolled in the environmental geosciences specialist program. 
A typical day for the students included hikes to various sites of geological interest. The group saw the three volcanoes — Erciyes, Hasan and Melendiz Daglari — that dominate the region; they explored monasteries carved into the walls of the Ihlara Valley; and hiked amongst the geologically iconic Fairy Chimneys of Goreme.
But students weren't in Turkey just to learn about rocks and minerals. They were also there to see how geology is reflected in the culture and history of the region and how its inhabitants have been influenced by their geological surroundings.
"We explored the region through different questions," says Pysklywec. "Why did people settle in the area? How did they interact with the land? How did the unique geology give rise to unique human habitation?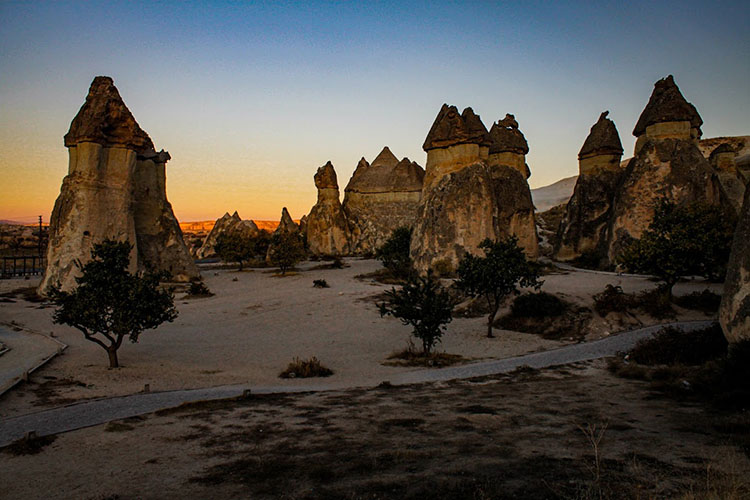 "For example, volcanoes eject ash and in time ash becomes rock. But the rock is soft, and so Cappadocia is dotted with settlements literally carved out of the volcanic layers. There are underground cities in Derinkuyu that go down eight stories, and at one time supported a population of 10,000 people. We climbed through these subterranean cities and examined how they were engineered and what it must have been like to live there."
In addition to giving students a view of the region's geology and history, the ICM gave them insight into their current and future studies.
"This trip really confirmed that I want to work outdoors and travel," says Alexander Copeland, a member of St. Michael's College enrolled in the environmental geosciences specialist program. "I'm still not sure whether I want to pursue a career in academia or industry, but I definitely want to see the world — and earth sciences is a great field for that."
Nicole Freij, a member of Victoria College studying toward a specialist degree in geology, found similar food for thought on the trip.
"My experience in Turkey definitely provided me with ideas about my future studies," she says. "It gave me the chance to explore where my interests lie within the field. And now I have more of a sense of which earth science courses to take and which research projects I might take on."
It was the same for McGill. "This experience has solidified my interest in geology," she says. "It's opened my eyes to plate tectonics and I'm now looking forward to taking a fourth-year earth science course on global tectonics."
For Pysklywec, the benefits of such an experience run even deeper than helping a student in their studies and in making academic decisions.
"Having these trips out into the field — especially early in someone's academic life — helps them form relationships with other students and helps build a strong student community. It helps them get to know faculty. 
"What's more, it's a transformative experience," he says. "If you want to create passionate students, give them experiences like this."
Categories