The Faculty of Arts & Science will educate the public and stir up a sense of wonder for Eclipse 2024, including consultations with Arts & Science expert alumni such as Ralph Chou.
As the world's leading expert on safely viewing solar eclipses, Chou has been chasing the sun for more than 40 years. He credits A&S with giving him the tools to make a difference.
"The David A. Dunlap Department of Astronomy & Astrophysics has developed many leaders in the Canadian astronomical community over the last century who've made an impact around the world," says Chou, who majored in astronomy and graduated in 1973 as a member of University College.
"I support the department with an annual contribution because I want to honour my fellow alumni, but I also hope to enhance the department's mission to prepare the next generation of astronomers to succeed. That's a very important aspect of ensuring Dunlap continues to be as influential as it has been."
After U of T, Chou earned an optometry degree from the University of Waterloo, he moved into academics and rose to the rank of associate professor before retiring in 2012, yet astronomy would always play a vital role in his life.
Chou served as president of the Royal Astronomical Society of Canada, Toronto Centre and chaired the technical committee on industrial eye and face protection at the Canadian Standards Association (CSA). One of his tasks was writing the international standard for the filters we use to view solar eclipses safely.
For example, U of T and the Trottier Family Foundation are procuring and distributing 250,000 pairs of eclipse viewers to students across Canada. Chou helped research, recommend and approve those viewers' filters for international use.
"For my safety standards work, I had to know about physical impact, radiation, biological hazards — and I put it all together to produce a specification for protective devices and how to test them for efficacy.
"U of T exposed me to many facets of scientific discovery," says Chou. "I know my classmates and I felt very prepared for whatever came after graduation."
Chou has witnessed at least 30 eclipses in his lifetime, or about an hour of total "shadow time." The first was a U of T-led excursion that didn't go according to plan.
"In July 1972, I was on an expedition of 100 people to view the total eclipse from Quebec. The road was under construction with potholes that might have been the size of the bus we were riding on. I worried our equipment would be smashed. Then, just as the eclipse was beginning, it started to downpour, and we turned our solar telescope into a makeshift shelter."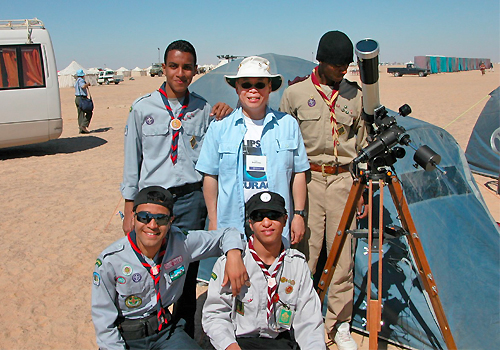 After earning his optometry degree in 1979, Chou joined the solar eclipse safety campaign as the path of totality was positioned over the skies of Manitoba. This endeavour was the subject of his first peer-reviewed publication.
"My astronomy background helped me establish my niche in the optometry world and looking at the problem of safety for solar eclipse observations," says Chou.
Over four decades, Chou carved out time to see eclipses in many countries. He witnessed farmers in South America shoot guns at the sky to scare away what they thought was a demon devouring the sun. In another memorable moment, Chou travelled to Madagascar, taking questions about the 2001 eclipse in a press conference alongside the country's president.
If the temperamental April weather cooperates, Eclipse 2024 on April 8 will be visible to millions of people across Central and Eastern Canada. This rare celestial event will present some unique challenges U of T is hoping to address with the large donation of eclipse viewers.
"This eclipse is going to happen just as school is ending, and that means the schools are not going to be able to keep kids indoors, like they tried to do in 1979," explains Chou.
"Kids who live in cities located in the path of totality in Niagara Falls, Kingston or parts of Montreal are going to see something that could affect them for the rest of their lives in a very positive way, but only if they are properly prepared."
As an undergraduate student at UC who was required to wear his academic robes to dinner 55 years ago, Chou didn't aim to become the world's leading expert on eclipse viewing — or to have an asteroid named after him — but both happened. However, even those accomplishments pale in comparison to the rush he gets every time he sees the moon block the sun.
"I know some serious scientists who lose their minds when they see a total solar eclipse. I know every one of us experiences the same cathartic release, and it's something I'll always look forward to for the rest of my life."
Interested in creating transformative opportunities for youth to participate in Eclipse 2024? Contact Emily Wilson, Associate Director, Development at emily.wilson@utoronto.ca or 416-978-4177.