Toronto residents may soon see a wave of innovative mixed-use developments with a social purpose as the School of Cities rolls out an ambitious city-building plan, thanks to a major gift from a donor who wishes to remain anonymous.
The $1.5 million gift is the catalyst for a three-pronged plan that includes a social purpose real estate accelerator to spur development that delivers community benefit, says Matti Siemiatycki, director of the school's Infrastructure Institute and professor of geography and planning.
The institute is also partnering with the city's real estate agency on public property development projects, such as fire and paramedic stations with affordable housing built above them, says Siemiatycki.
A public exhibit of artists' concepts and architectural models opens April 21 in Toronto's Regent Park as part of the institute's plan to spark interest about the exciting possibilities for Toronto and other urban centres, he says.
"The idea behind the whole project is to leverage development to ensure social purpose is being built into our communities by integrating a mix of social uses into government and for-profit buildings," says Siemiatycki.
The institute's research shows this type of development is already happening, but largely as a last resort. The need for creative real estate solutions is accelerated by economic pressures created by the pandemic and skyrocketing real estate prices, he says.
Examples cited in the research include schools and family shelters with upscale condos built above them, student housing above a recreation centre, affordable housing built on top of non-profit community spaces where social services are provided, and the co-location of schools, libraries, recreation centres and childcare into community hubs.
"There's something like 50 of these buildings in Toronto, but each one of them has a long and often painful story behind it, where essentially the partners got to the end of what they could do on their own," says Siemiatycki.
"We want to morph this into the norm rather than the exception and bring partners together intentionally, to turn it into a model of creative mixed-uses designed for a social purpose, because that's what enables growth to drive community benefit."
Siemiatycki hopes the social purpose mixed-use model might even form a significant part of the city's goal of creating 40,000 affordable housing units over 10 years.
"I'm always reluctant to make claims that sound like you're grasping at the stars. But I also think you have to set the bar high," he says.
"This is essentially about re-envisioning how we build a city. A school doesn't have to be a two-storey building with nothing above it; a recreation centre doesn't need to just be three stories with a gym and a parking lot."
The institute's work on social purpose real estate is part of the School of Cities' mission to be an incubator for innovative solutions that make cities inclusive and prosperous, says Karen Chapple, the school's director.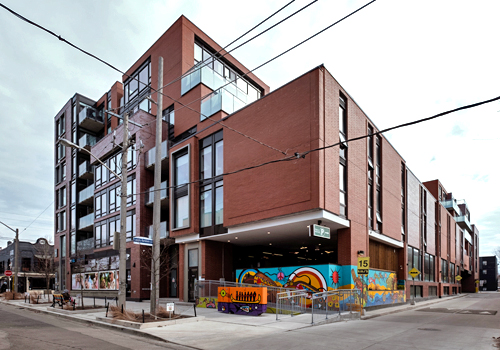 "As it leverages its real estate to serve broader social needs, Toronto is pioneering a powerful new model for infill development for other global cities to follow," she says.
The institute started a series of free training models in March for anyone interested in learning about social purpose real estate, says Siemiatycki.
Later in the spring, they'll start accepting organizations into the social purpose real estate organizational readiness program to train participants about what they need to have ready if they're serious about undertaking a real estate project, he says.
The accelerator program will formally launch in September and help organizations develop a final business plan that will attract private, philanthropic or government funding.
"Many nonprofits have legacy properties they've been running for decades. In many cases, the mortgage is paid off but the property is deteriorating for lack of money," says Siemiatycki.
"There's real opportunities through social purpose real estate for many of those organizations to leverage their assets to further the mission of their organizations and create affordable places for people to live."
A second project sparked by the gift — the Gamechanger for City Owned Facilities — may also be poised to capture social benefits from the city's extensive real estate holdings.
Siemiatycki says the city's CreateTO real estate agency is keen to explore opportunities to co-locate fire and paramedic stations with affordable housing, social services and commercial uses, working with the School of Cities team to develop a proof of concept.
"We're already working on the design of a fire station that would have housing above it," says Siemiatycki, who notes the city has more than 120 fire and paramedic stations.
"It's pretty incredible when you think of how many fire stations and paramedic hubs there are around the city. They're often one or two-storey buildings, and many of them are on arterial roads, so they're in great locations for development potential," he says.
Categories