For Beau Hayward, pursuing a degree at U of T is a dream come true — a dream born out of a life-altering event that made him reassess what matters.
In the summer of 2018, he dove off the dock of a friend's cottage in Sudbury and unexpectedly struck the bottom. Face down in the water and unable to turn over, he started to drown. Luckily, a friend found Hayward and was able to bring him to shore and revive him.
But Hayward sustained a spinal cord injury that damaged his C4 and C5 vertebrae, which caused him to become an incomplete quadriplegic — that means he still has limited function in his upper body.
A period of profound adjustment followed that involved "continuously working towards regaining my independence in any way possible." That included a new mindset to focus on what was truly important, and worthy of his time and energy.
That was studying history and archaeology at U of T.
"History has always been a point of interest for me," says Hayward, now 33, a third-year student and a member of Woodsworth College.
"As I grew up, my dad and I started watching war movies and I fell in love with the stories. As time went on my interest diverged from military history into more political and social theory."
After my accident I promised myself that whatever I ended up doing, I would do something I love. I wasn't going to spend any more time doing things that didn't bring me any joy in life.
He's especially interested in 20th century American history and wants to learn as much as he can about the U.S. civil rights movement. And his timing couldn't be better.
"I'd like to study some of the documents that are coming out now, archives being declassified because their 50-year classification limit is over," he says. "The documents include what was going on with the CIA and the FBI and all the crazy stuff going on during the Cold War. It's a pretty cool time to study that type of history."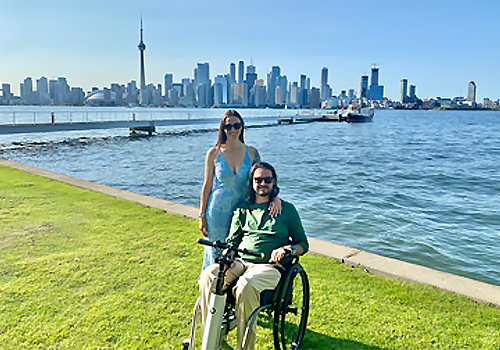 Hayward's personal history includes working as an iron worker for 10 years before the accident — good wages but hard labour. And it offered little in terms of personal satisfaction.
"I just did it for the money," he says. He enjoyed the camaraderie of his co-workers, but for the most part, he was unhappy and unfulfilled.
"After my accident I promised myself that whatever I ended up doing, I would do something I love. I wasn't going to spend any more time doing things that didn't bring me any joy in life."
Hayward is finding plenty of joy in connecting with his professors, and "having access to some of the brightest people in the field."
"They turn you on to some amazing material and help guide you through really complex issues," says Hayward. "They also give you a space to ask questions."
He's also grateful for not only their insight and expertise, but for their ability to navigate through an ocean of misinformation that's constantly being distributed.
"There's so much nonsense out there," he says, referring to endless stream of half-truths and spins on social media. "Having access to these folks and having them guide you to sources you can rely on is priceless."
What also makes his learning experience so enjoyable is U of T's accessibility for students with disabilities — something he believes the University is criticized for unfairly.
"Before school, I heard, 'U of T is an old school, it's not really that accessible,'" says Hayward. "That's a myth, and it's a shame because it really is accessible."
To start, he's quick to praise Michelle Morgani, an accessibility advisor on U of T's Accessibility Services team.
"Michelle has been my advisor since day one," says Hayward. "She helps me get funding. She helps me get educational assistance. She helps me get assistive tech, she does it all."
He admits it took some time to get comfortable moving around campus in a wheelchair, noting, "There are physical barriers I have to deal with once in a while, but probably 95 per cent of the classrooms are fine. It's not ideal sometimes, but they're workable."
Occasionally, there's the odd classroom with doorways that are a little too narrow for him to enter easily with his wheelchair, or a lack of space for him to place his wheelchair without blocking a walkway.
"But there are lots of spaces for people with disabilities, especially for wheelchair users," he says.
My experience at the University has been one of the best of my entire life. After my accident, my life flipped upside down. I had to find a new direction and a new way to contribute, and the community at U of T welcomed me, and that made the transition easy. School has given me purpose.
Newer classrooms have designated seating areas, adjustable desks and accessible washrooms, all of which make it easier for Hayward to focus on his studies.
He has also offered his input in several accessibility projects, including taking part in a work-study position with the Faculty of Kinesiology & Physical Education's Sports and Recreation Diversity and Equity Team from 2020 to 2022.
"It's a work in progress for sure, but the University is taking steps to involve people like myself with disabilities, which is a great indication of their commitment to going beyond code and asking individuals with disabilities to consult," he says.
But like most students, Hayward isn't just all work and no play. He balances his academic demands with being active. Really active.
An avid snowboarder before his accident, Hayward is now a sit skier.
"It's a real physical challenge, just the balance point on the ski and turning and having the strength takes a lot of practice," he says. "But sit skiing has been my opportunity to get back on the mountain."
He's recently tried wheelchair rugby and loves it.
"That's been the best community that I've found thus far. It was designed for quadriplegics. Most of the guys I play with are Paralympians and they have so much to offer in way of insight."
He's also looking forward to trying hand-cycling this summer, and he and his partner, Meghan, also love sailing. And occasionally back on land, Hayward plays a mean game of bocce ball.
"It's fun, easy and affordable," he says. "And for me, it's a good option to bring people together that have a range of abilities so that everyone can play."
But before he can return to the rugby pitch, the water or the bocce ball court, Hayward has another semester to complete.
"My experience at the University has been one of the best of my entire life," he says.
"After my accident, my life flipped upside down. I had to find a new direction and a new way to contribute, and the community at U of T welcomed me, and that made the transition easy. School has given me purpose."
Categories