Toronto native Natasha Djuric came to U of T to explore communication and interactions between nature, society and agricultural systems — and to be around students as hungry to learn and grow as she was. She's graduating as a member of Woodsworth College with an honours bachelor of science with a specialty in ecology and evolutionary biology, and a minor in environmental science.
Why did you choose U of T and your program?
I wanted to be around people with a similar penchant for learning and overcoming challenges, but with different backgrounds and perspectives. I also loved the flexibility to pursue my non-STEM interests, like philosophy and Spanish.
As for my program, I think it chose me! I ended up switching my majors several times throughout my undergraduate career as I developed a stronger idea of where I saw myself. I came to U of T with interests in biology, chemistry and physics, but also in languages and society. My program of study ultimately allowed me to stay true to those interests by encouraging interdisciplinary science with a strong human impact.
Congratulations on receiving the Gold Brookfield Peter F. Bronfman Scholarship. What did it enable you to do that otherwise wouldn't have been possible? 
I've tried to make the most of the opportunities available at U of T. I was an academic link for Woodsworth College residence for two years and a student mentor for the Ecology & Evolutionary Biology Peer Mentorship program. I've also been working with the U of T Trash Team since my first year. I've participated in some incredible research both on campus and in the field. I spent my summers working on invasive plants in Colorado, exploring Ecuador's biodiversity and monitoring fish populations in Sudbury. I also worked extensively with microplastic pollution in agricultural systems for my second- and fourth-year thesis projects.
The scholarship has really given me the courage and financial stability to seek sources of knowledge outside of a classically academic setting. I was able to delay graduate school by a year and will be working directly with farms and the surrounding communities to better understand non-academic expertise and perspectives around how humans relate to land.
Can you tell us about your work with the U of T Trash Team? 
The U of T Trash Team is a wonderful outreach group with a focus on scientific literacy around plastic pollution. The Trash Team was founded in my first year, and it's since blossomed into a really inspiring group of volunteer undergraduates, graduates, postdocs and more. We deliver classroom programs for middle schools, host community clean-ups and engage in meaningful dialogue with the people of Toronto and beyond. Many of the team members study microplastics, which puts us in a powerful position to directly communicate scientific research with people outside the field at our events and make positive change. I'm really proud of how far we've come, and it's been wonderful seeing the impact my research can have outside the lab.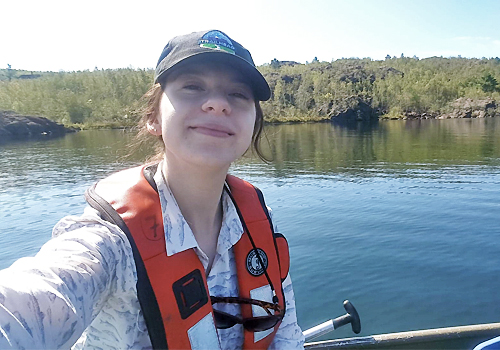 How did you keep busy outside the classroom?
I loved exploring Toronto's parks, neighbourhoods and seemingly endless array of incredible restaurants. Reading at Queen's Park was also always enjoyable! I also had fun swimming at the Hart House pool with friends or going snowboarding over Reading Week.
What would you say to your first-year self if you could? 
Don't let your previous expectations for yourself and your undergraduate trajectory get in the way of your growth. After all, you can't make a road map for a place you've never been. Instead, focus on acquiring the tools to deal with adversity — problem solving, creativity and resilience — and let the rest come with time.
What's next for you, post-graduation? 
I'll be interning at the Hawthorne Valley Farmscape Ecology Program. I'll be looking at how agricultural systems can better integrate with natural landscapes and human settlements. I'm also excited to continue experimental farm research on a larger scale and to participate in more community outreach and student engagement at the farm.
---
Congratulations to U of T's Class of 2021! 
Celebrate Convocation 2021 with us and on social media by using the hashtag #UofTGrad21 and tagging @UofTArtSci in your posts.
Categories