In celebration of International Women's Day, A&S News revisits some of the stories of students in the A&S community who've made extraordinary contributions during this unusual year. They're now leading the way toward a better future, at U of T and beyond.
---
Anowa Quarcoo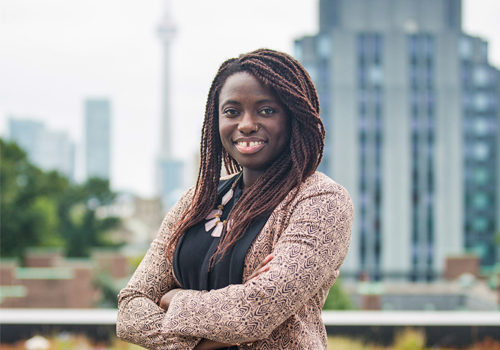 When she enrolled in the Master of Global Affairs/Master of Business Administration at the Munk School of Global Affairs & Public Policy, Anowa Quarcoo sought to complement her experience in communications with work that "had meaning and could impact people."
She found her passion working at the intersection of technology and social issues. While at Munk, she co-authored a report on how Tanzania successfully distributes medication to rural areas, and worked with Kenya-based digital convenor Africa's Voices. She is currently the co-founder of Civic Tech Toronto, a group that uses technology to address or examine civic issues. 
Says Quarcoo: "Don't wait for someone else to make the changes you want to see in the world — you should be the change you want to see."
Riley Yesno & Jessie Stirling
Last month, two University of Toronto students — including one in the Faculty of Arts & Science — received the President's Award for Outstanding Indigenous Student of the Year.
The recipients — Riley Yesno, a fourth-year student at Victoria College, and Jessie Stirling of the Faculty of Law — were recognized for their contributions to the University as well as to their broader Indigenous communities. Yesno's longtime community advocacy work has included serving on the Prime Minister's Youth council; Stirling is currently completing her articles and serves as president and chair of the board of directors at Aboriginal Legal Services.
"You've brought a spirit of engagement and community spirit to our university, enriching our entire academic community, and you inspire us," U of T President Meric Gertler said in his remarks during the ceremony.
Ikran Jama
The University of Toronto's Ikran Jama was one of 11 Canadians to receive a Rhodes Scholarship to study at the University of Oxford next year.
A member of Victoria College, Jama is completing a double major in criminology and socio-legal studies and international relations with a minor in African studies in the Faculty of Arts & Science. The daughter of Somalian refugees, she is interested in researching how the law affects the lives of immigrant and refugee youth and hopes to one day apply her studies to advance criminal justice reforms at home and abroad.
"I've had to overcome a lot of barriers to even get to this stage in my studies and this award is a sign to me and anyone in the same position that we can always achieve incredible things," Jama said.
Sarah Qidwai
When the global pandemic cut short her research trip to the U.K. in March, Sarah Qidwai tweeted an idea about a new online community for scholars feeling isolated and disconnected. The enthusiastic response convinced her to create the Virtual History of Science, Technology and Medicine group (Virtual HistSTM), a digital community focused on diversity and accessibility for academic discussions, conferences and events.
Within just a few months, the group had attracted hundreds of members from all over the world, and planned a full slate of events.
"It ended up snowballing into something much bigger than any of us who were involved could ever have imagined," says Qidwai, a PhD candidate at the Institute for the History & Philosophy of Science & Technology in the Faculty of Arts & Science.
Qiyu Zhou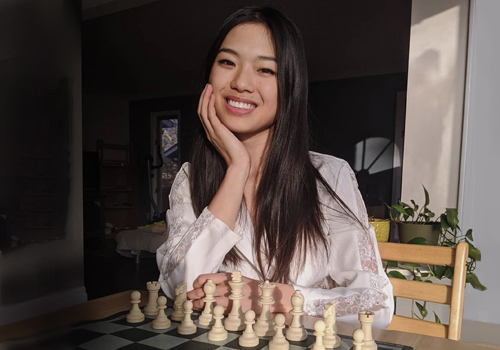 Arts & Science student Qiyu Zhou, is quickly becoming the Canadian face of online chess — a pastime that has catapulted in popularity during the pandemic.
A member of Trinity College and a third-year student double-majoring in economics and statistics, Zhou has been playing chess since the age of four. Growing up in Finland, she was the youngest-ever winner at the Finnish National Chess Championship, at age five. She now holds the title of Woman Grandmaster and has been on the national chess team for six years.
Lana El Sanyoura
One evening last June, Lana El Sanyoura received an assignment unlike any other she's faced over the last four years: an invitation to come to Ottawa and join Prime Minister Justin Trudeau in an address to the class of 2020 — right across Canada.
The multiple award-winning Victoria College student recently completed an honours bachelor of science degree with a specialization in computer science and a major in cognitive science. She says she felt a weight of responsibility to share words of hope with fellow students graduating at an extraordinarily challenging time.
"We are faced with an unprecedented pandemic, systemic injustice in various forms and an unstable climate that is changing life as we know it," El Sanyoura said in her remarks. "So let's ask ourselves: How can we use our education, our tools as graduates and our voices to make a difference?"
Categories