For physics undergraduate student Sebastian Ibarra Mendez, monitoring levels of methane in the GTA is a natural extension of a project he began in high school in Colombia.
As a student in Cajicá, Ibarra Mendez developed a methane detector for homes — not unlike a smoke or carbon monoxide alarm — designed to alert users of harmful levels of the gas leaking from domestic stoves. He won a national competition with the idea, which he has dubbed the Air Keeper, and is working to perfect the design and take it to market.
Now entering his fourth year of a physics and statistics major with a minor in computer science, Ibarra Mendez has been measuring methane leaks of a different kind as a Climate Positive Energy (CPE) summer undergraduate researcher.
He and Mishaal Kandapath — a former CPE summer researcher — have been monitoring levels of methane throughout the GTA by towing a gas analyzer behind a bicycle. The mobile device measures the concentration of methane along different routes, revealing plumes or hotspots with higher-than-normal emission levels. 
"Kilogram for kilogram, methane traps over twenty times more heat in the atmosphere than carbon dioxide so it's very important to track," says Ibarra Mendez.
"Measuring levels in different locations helps identify methane emitters," he says. "It allows the City of Toronto to better focus its efforts on methane emission reduction and it can be used to test existing policies designed to tackle the problem."
As the data shows, plumes are associated with water treatment plants where the breakdown of biodegradable materials produces methane. The data collected by the team helps identify excessive emissions and can be used by the plant operators to mitigate the problem.
Active landfill sites also emit methane and plumes from these locations show up in the maps. But what also shows up are landfill sites no longer in use that continue to outgas at significant levels. "It made me realize that you can close a landfill site, but it's still going to be a source of methane," says Ibarra Mendez.
Recently, the team even detected a major leak from a Toronto hospital which resulted in measurements of 300 parts-per-million. "The concentration of methane in your home is about 2 parts-per-million — so 300 is a lot of methane," he says.
The research is part of the ongoing GTA Urban Emissions project headed by Debra Wunch, an associate professor in the Faculty of Arts & Science's Department of Physics and School of the Environment.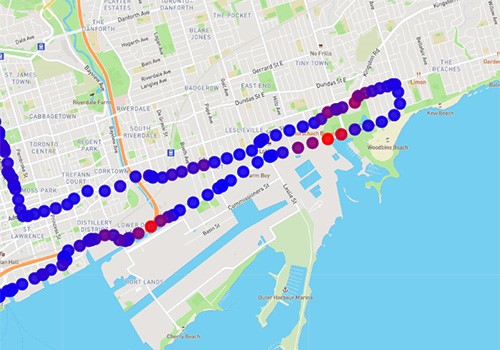 The project is just part of Wunch's overall research as a member of the department's Earth, Atmospheric, and Planetary Physics group. Throughout her career, she has focused on measuring atmospheric greenhouse gases to gain a better understanding of the flow of carbon within the Earth's land, oceans and atmosphere.
"With the bike measurements, we can identify facilities in the city that emit methane," she says. "And then, with five remote sensing instruments in permanent locations, we get the bigger picture of city-scale emissions — I can't tell you if it's a particular building or road, but we can see the amount of methane being put into the atmosphere by the city as a whole. And then, we also get measurements from satellites which show us how much Toronto is producing relative to other cities around the world."
Among other criteria, the Climate Positive Energy (CPE) summer undergraduate research program provides funding for undergraduate students conducting research in climate and sustainability topics that are "focused on achieving a just and equitable net-zero future."
"With this in mind, we planned our routes so they covered neighbourhoods that varied by household income," says Ibarra Mendez. "By using this methodology, we ensure that the data being collected doesn't benefit just specific target areas or groups, but rather supports everyone across the GTA."
Not only has the research been a natural extension of the methane alarm he began working on in high school, it also lets Ibarra Mendez enjoy another of his interests: cycling.
"Yes, I really like cycling," he says. "And we've covered over 160 kilometres so far. So, for me, it's the perfect job!"
Categories