Chelsea Rochman joined the Department of Ecology & Evolutionary Biology in the Faculty of Arts & Science as assistant professor in 2017. Her work in the Rochman Lab is driven by tireless commitment to reducing aquatic waste in Toronto, exploring innovative litter-capturing technologies and engaging the public on the issue of plastic pollution. In her search for partners who shared her vision of a cleaner future for Toronto's waterways, she encountered PortsToronto — and a lasting collaboration was born, resulting in a generous $150,000 pledge from PortsToronto last year.
"We've gotten closer every year and started working together in more capacities," says Rochman, when describing the partnership.
PortsToronto — a government business enterprise that owns and operates Billy Bishop Airport, the Port of Toronto and the Outer Harbour Marina — is dedicated to protecting and preserving Toronto's waterfront by supporting sustainable transportation infrastructure, marine safety, environmental protection and community programming.
Over the last several years, PortsToronto has been an active supporter of the U of T Trash Team, a community outreach group founded by Rochman, who serves as head of operations and program lead of scientific programming and application; Susan Debreceni, program lead of volunteer engagement and community programs; and Rafaela Gutierrez, program lead of social science and educational programs. The team of dedicated students and volunteers focuses on engaging the public and decreasing plastic pollution through a variety of programs, including litter cleanups and sustainability workshops.
"PortsToronto staff come to our cleanups every year," says Rochman. "Now we're talking about further things we can do together down the road to continue to get litter out of the water and also communicate with the public."
"The year 2021 marks the 110th anniversary of our organization and more than a century of PortsToronto's stewardship of our city's great waterfront," says Geoffrey Wilson, CEO of PortsToronto. "In tandem with our own sustainability efforts, collaborating with the U of T Trash Team was a natural step for us in our ongoing mission to preserve and protect the waters of the Toronto Harbour for future generations. Lending our partnership, support and infrastructure to this dedicated team of researchers has and will continue to lead to innovative, evidence-based solutions to tackle the serious issue of plastic pollution in waterways here at home and throughout the Great Lakes."
One strategy for reducing aquatic pollution is the use of floating trash bins called Seabins, which can collect more than four kilograms of waste per day — as much as 1.4 metric tonnes per year — including debris and microplastics as tiny as two millimetres in size. Seabins are a crucial aspect of the partnership between the U of T Trash Team and PortsToronto.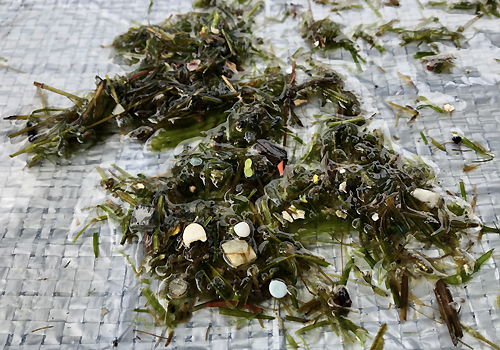 "PortsToronto owns and operates the Seabins," says Rochman. "The U of T Trash Team does research in Lake Ontario to inform where in the Toronto Harbour would be useful to have Seabins, and then we quantify and characterize the impact — how much debris we're capturing and what type of debris it is, which can be used to inform policy."
In the summer of 2019, PortsToronto launched two of their Seabins in Toronto's Outer Harbour Marina, and the U of T Trash Team studied the results. In just 19 hours, the bins collected nearly 2,000 pieces of plastic, many of which were less than five millimetres in size.
Last year, the COVID-19 pandemic delayed the full-scale launch of the Seabins, but together the U of T Trash Team and PortsToronto persevered and ultimately piloted three Seabins at the Outer Harbour Marina.
"Within the three bins we captured hundreds to thousands of pieces of small debris every week," Rochman says. "We also did visual audits where we had people from our team walking along the harbour and visually looking at where there were hotspots of litter accumulation within the slips. And that informs where the Seabins can go next year.
"We also standardized our protocols for how we quantify the debris. We spent a lot of time trying to figure out the best method that can be shared with other people who are also tracking litter so that we can all have standardized data. Those methods are being used by people as far as California and Vancouver."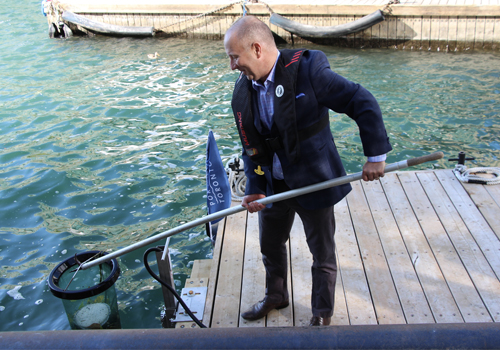 The team even created an app called Data Trapper, which allows users to test these methods and share their data.
Rochman says PortsToronto's recent gift has helped the U of T Trash Team build a foundation by allowing them to transition volunteers to full-time paid positions — but the support of PortsToronto has had a profound impact on the U of T Trash Team since they first began working together in 2017.
"They believed in us," Rochman says. "They gave us that confidence to build who we are."
And it's just the beginning. Rochman says she's looking forward to what PortsToronto and the U of T Trash Team will be able to accomplish together in the future.
"We hope to increase our impact in the harbour, increase awareness and try to spread the litter diversion beyond the Toronto Harbour," she says. "We plan to have four Seabins along the waterfront that are actively trapping and diverting litter out of Lake Ontario. We also plan to do a design competition with PortsToronto to think about the type of technology that could be placed near the mouth of the Don River to divert the litter that's coming in from upstream. And then raising awareness and increasing waste literacy among the public is one of our main goals to share lessons learned more broadly."
The fight against aquatic pollution is far from over, but thanks to the innovation and determination of the U of T Trash Team and PortsToronto, there is hope for a cleaner future for Toronto's waterways.
Categories