On June 2, U of T celebrated the Class of 2020 with the first convocation in the University's 193-year history in which all degrees were conferred in absentia — and it all started with a rousing Arts & Science watch party.
Nearly 300 A&S faculty and staff logged on to celebrate students in a pre-party hosted by Dean Melanie Woodin.
"It's wonderful to be together 'virtually' for Convocation 2020 and celebrate our graduating class," she said, while enjoying her popcorn and connecting with faculty and staff. "While I can't see everybody, I really appreciate you making time to get together with me in this way. Many of us participate every year in convocation and really look forward to it. Since we can't be on campus, I'm thrilled we've found a way for our community in A&S to mark the day."
The watch party featured trivia and a sneak peek of a special video message from students, faculty, staff and alumni to the Class of 2020, which was shared with students post-convocation. You can enjoy the congratulations video here and learn some fun facts about U of T's seven colleges here.
After the A&S pre-party, it was on to the main event, at which the Class of 2020 was commended for remarkable resilience and determination in completing their final few months during a pandemic.
"I am delighted to salute you, the graduating Class of 2020," said U of T President Meric Gertler.
As he offered his warmest congratulations in a virtual ceremony, YouTube comments were peppered with heartfelt congratulations to daughters, sons, cousins and even parents. Students congratulated fellow students — and took a moment to pat themselves on the backs, too. They graduated from their living rooms, basements and backyards — and, in at least one instance, a bathtub with a cocktail.
In the days leading up to Convocation 2020, we spoke to alumni about their roads to success. They told us heartwarming stories about returning to finish degrees started 25 years earlier, insights gained from 10 weeks studying in Singapore and uncovering the past through archaeological digs. You can read all our graduate stories here.
Extraordinary times call for extraordinary celebrations. Here are just some of the ways A&S grads rose to the challenge in inspiring ways.
It would take a lot more than a global pandemic to stop Dildeep Kullar's family and friends  — in the form of drive-by celebrations — from throwing her a surprise graduation party.
On May 15, Kullar woke up to a graduation cap and gown hanging from her closet door, a gift box containing a white dress and an invitation from her immediate family to attend a graduation ceremony two days later.
Graduation music played as she came downstairs on May 17. Her mom proudly greeted her as the officiant, proclaiming, "Congratulations to Dildeep Kaur Kullar for completing a double major in criminology & sociolegal studies and philosophy, and graduating with an honours bachelor of arts from the University of Toronto."
There was cake, heartfelt cards and bouquets from family, as well as a speech by her mom that brought Kullar to tears.
"I've felt a roller coaster of emotions all weekend, from the moment my family gave me an invitation to my own graduation, to the moment I saw all my friends and cousins drive by my house to celebrate with me, and the countless events in between," says Kullar, a member of Woodsworth College who is heading to law school in September. "Three words have been replaying in my mind all weekend: thankful, grateful and blessed."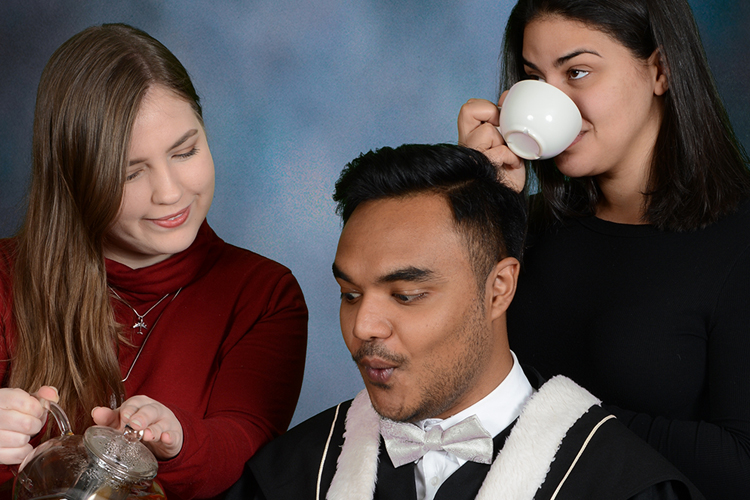 "The inspiration for my photo came from wanting to stand out and do something entirely different from the rest, but also staying true to my brand," says Ahamed, who is graduating with an honours bachelor of science with distinction with a double major in human biology and nutritional sciences. "As a residence don at Innis College, I was known as "Pal" — everyone's best friend, just a friendly figure running around in a blue robe offering residents tea and cookies. Naturally, I thought the photo would be a good fit."  
Ahamed received the University of Toronto Student Leadership Award and is currently serving as one of the orientation coordinators for the 2020 Orientation Week for Innis College. He hopes to pursue a master's degree in biomedical engineering or a doctor of pharmacy at U of T.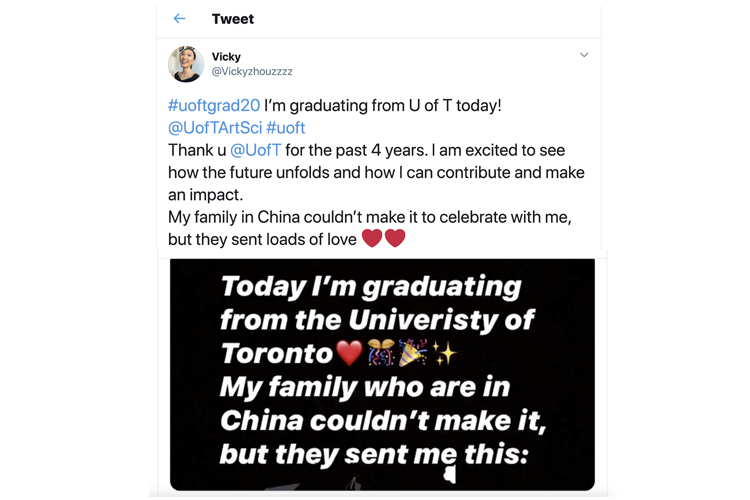 Yang Zhou's family in China couldn't celebrate her graduation with an honours bachelor of arts in sociology, political science and linguistics in person, so they sent her "loads of love" in the form of a heartwarming video instead.
"#uoftgrad20 I'm graduating from U of T today! @UofTArtSci #uoft," Zhou tweeted the day of Convocation. "Thank u @UofT for the past 4 years. I am excited to see how the future unfolds and how I can contribute and make an impact."
And U of T's newest graduates were immediately welcomed into their  alumni family.
"It's Virtual Convocation Day@UofTArtSci! Congrats to all the grads and welcome to the amazing @uoftalumni Family! Connect with us! Alumni are happy to mentor you & guide you on your next steps! #UofTGrad20," tweeted Lucianna Ciccocioppo, a proud alumna of Trinity College.
Categories