Feeling closed in by social distancing? A new series of free, online astronomy courses is set to blast families into outer space. 
Discover the Universe (DU) and the Faculty of Arts & Science's Dunlap Institute for Astronomy & Astrophysics are partners in offering free educational resources for elementary and secondary teachers across Canada. In response to the COVID-19 pandemic, DU has launched the Astro at Home program to provide educational fun for families at home. The daily mini-courses — which are offered in both English and French — are aimed at kids eight to 12 and cover a range of topics, from the evolution of stars to black holes.  
Families can tune in to the 30-minute classes every day at 2 pm EDT to participate live and ask questions in the comments section. The Astro at Home resource page features helpful links, photos and recordings of previous courses. 
"It's so much fun," says Julie Bolduc-Duval, coordinator of DU. "We get tons of questions and the kids come back every day. It's nice to see that it's working. Obviously, there was a need and we responded to that." 
The response has been staggering. On the first day, thousands of viewers tuned in to Astro at Home. On average, between 400 and 500 families join the live broadcast in French each day and 150 families tune in to the English lesson — plus hundreds of viewers who later watch the recordings on YouTube. 
"It's a really great tool to keep kids engaged and learn about the universe in a fun and interesting way," says Carolyn Creed, a Woodsworth College alumna and mother of Matteo and Luca Ciccocioppo pictured above. 
Bolduc-Duval says DU was prepared to respond quickly to school closures because it offers a variety of online, bilingual workshops and webinars throughout the year. The first Astro at Home course was posted on March 17 — just days after announcements of school closures in Ontario and Quebec.  
"We're used to delivering content online," says Bolduc-Duval. "So once we realized schools were closed, we thought, 'Let's do something for the kids.' That was really the goal — to give half an hour as a break for parents and to provide something educational and fun for the kids.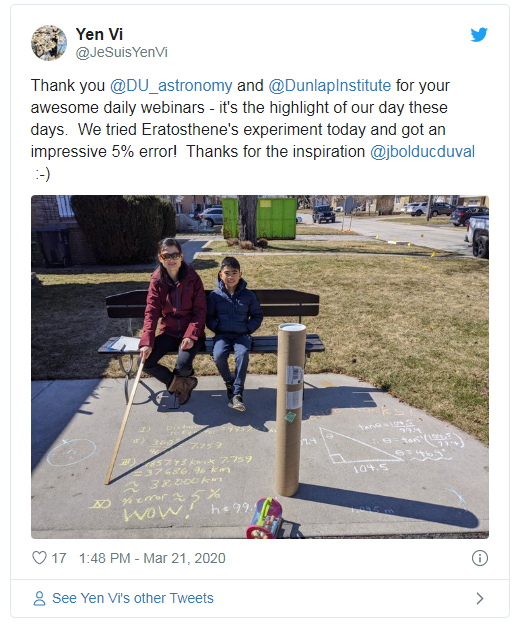 "We're a very small program, but we collaborate closely with the Dunlap Institute, so I knew a lot of people who could help deliver content." 
The Dunlap Institute has also launched Cosmos From Your Couch, a free evening public lecture series, in response to the COVID-19 pandemic.  
"I'm thrilled that so many people of all ages have tuned into our lessons," says Bryan Gaensler, director of the Dunlap Institute. "We know how hard it is to be stuck at home for long periods and that people are looking for opportunities to develop hobbies, learn new things and keep their children engaged during this difficult time. 
We also recognize that there are somewhat fewer online educations in French compared to English, so it's important to us that we offer Astro at Home in both languages. We can't do much about the virus itself, but we can help keep people happy and stimulated during this difficult time." 
Categories