Twenty-four undergraduate students in the Department of Ecology & Evolutionary Biology (EEB) showcased their research projects and competed for the department's Corey A. Goldman Prize for Best Research Poster at the recent annual EEB Undergraduate Research Fair.
The prize – named after former EEB Undergraduate Associate Chair Corey A. Goldman – recognizes the top students within the department for excellence in their fourth-year independent research projects. Winners in four categories were awarded a cash prize by a judging panel of faculty members and postdoctoral fellows.
Although not yet eligible for the prize, several third-year students also had the opportunity to showcase their projects and practice communicating their research to a wider audience at the fair.
Students' research projects explored diverse topics in ecology and evolutionary biology, ranging from genome analysis, to CT scans of eggs inside of lizards, microplastic environmental pollutants and field ecology conducted at the Koffler Scientific Reserve at Jokers Hill. Students used an array of organisms for their research, including fruit flies, dinosaurs, leeches, duckweed and malaria.
"The EEB department is exceptionally fortunate to be able to benefit from U of T's outstanding undergraduate talent in helping to drive the scientific discovery taking place in our faculty research labs," says Professor and EEB Undergraduate Associate Chair Asher Cutter. "EEB's research project courses are a great way for undergrads to get a taste for the excitement of figuring out something new about how the world works."
Cole Brookson presents his research on the differences in patterns of parasitic sea lice infection across three species of juvenile Pacific salmon. Photo: Diana Tyszko.
Edita Folfas, who completed her research under the supervision of Assistant Professor Luke Mahler, won the Corey A. Goldman Prize for her research on sexual-size dimorphism in mainland and island Anolis lizards. Photo: Diana Tyszko.
Matthew Coffey's research explored tissue damage in the plant Queen Anne's Lace resulting from frost events over time. Photo: Diana Tyszko.
Lauren Lawson explains her research on how the temperature of artificial incubators affects the growth of turtles to EEB Associate Undergraduate Chair Asher Cutter. Photo: Diana Tyszko.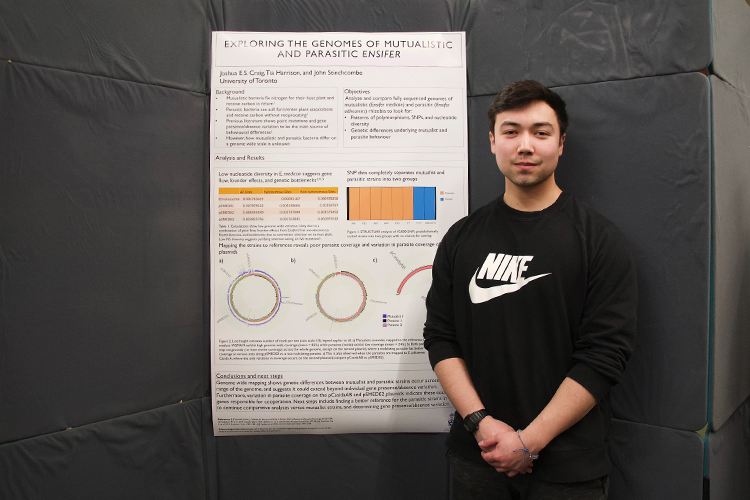 Joshua Craig was awarded the Corey A. Goldman Prize for his study of the genetic differences between mutualist and parasitic species of a bacteria called rhizobia. Photo: Diana Tyszko.
Categories