With the Black Lives Matter movement gaining traction in the United States and Canada last spring after the deaths of George Floyd and Breonna Taylor in the U.S. and Regis Korchinski-Paquet in Toronto, Markus Dubber, director of the Centre for Ethics, in the Faculty of Arts & Science felt like he had to act.
After programming talks for the centre's Ethics of COVID and Ethics of Black Lives Matter series earlier in the spring, Dubber launched the Centre's Race, Ethics and Power (REP) project last fall.
The project includes an Emerging Scholars series, undergraduate and graduate student reading and working groups, as well as public facing flash events. The centre also introduced six undergraduate and graduate fellowships and brought on two research associates to help run the project.
"It wasn't just that I wanted to focus on the subject matter," said Dubber. "I also wanted to give people of colour an opportunity to build this project."
Enter Vasuki Shanmuganathan and Christopher Smith, both PhDs and the REP project research associates, with backgrounds in race, colonialism and health, as well as Black diaspora cultural studies, Black expressive cultures and practices, and queer and feminist theory respectively.
"Seeing this project connect and engage with ongoing and current race matters as part of the greater community is different in design and approach," said Shanmuganathan. "Being so close to the heartbeat of ongoing issues on the ground and providing a platform for discussions makes the centre a remarkable space to work, learn and be in."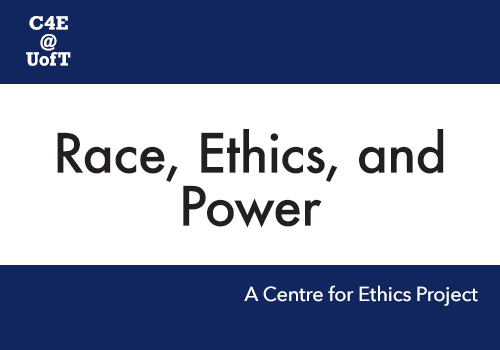 Alongside the centre's Critical Race Studies: Interdisciplinary Perspectives series, which features interdisciplinary talks from established scholars in the field, the Emerging Scholars series brings together Canadian and international emerging scholars — graduate and doctoral students — whose work is at the cutting edge of race, ethics and power research, examining underrepresented histories and providing fresh perspectives.
"We want to challenge who we perceive as doing scholarly work and include presenters who combine academic and creative approaches converging on themes of race, ethics and power," said Shanmuganathan.
To date, presentations have explored topics from Black LGBTQ+ identity politics in Brazil to "surface, abstraction and skin" in Black contemporary art.
Flash events have included a conversation with co-executive producers of the HBO television series Lovecraft Country, Jonathan Kidd and Sonya Winton-Odamtten.
"The speakers chosen for this series illustrate that concerns regarding race, ethics and power extend beyond theoretical debates normally assumed to happen in the university classroom," said Smith. "These conversations are already occurring on the ground and in all institutions."
Beyond the Emerging Scholars series, Shanmuganathan and Smith also run an REP reading group and working group for undergraduate and graduate fellows of the centre and the REP project specifically.
The reading group, which includes graduate and undergraduate students from a range of disciplines, discusses publications related to race, ethics and power with the hope that students will learn how to pose strong research questions and consider how these learnings can be applied to their own writing and life.
"The purpose of the group is to foster a critical conversation across disciplines by engaging the work of each speaker," said Smith. "Each of the fellows is at a different stage academically, so a key function of the group is to enable each other to work through complex ideas and arguments by each author."
Tsitsi Macherera, a fourth-year student double majoring in ethics, society and law and book and media studies, and a member of Woodsworth College, is an undergraduate fellow at the Centre for Ethics. She says the project has given her a greater awareness of the ethical impasses and questions present in other scholarly disciplines and a greater appreciation of interdisciplinary scholarship.
"I've been really energized by the discussions, especially the opportunity they present for engaging with people from different areas of the University," said Macherera. "My time in the group has made me better appreciate the communal aspects of learning.
"I think the centre was purposive in making room for emerging scholars who are touching on a lot of age-old issues in fresh ways. It's always energizing to see scholars expanding the boundaries of their disciplines to include necessary conversations about race."
The working group, which prioritizes REP fellows, acts as a research hub which Shanmuganathan says provides fellows with "a space to discuss research, benefit from mentoring and better navigate their learning process."
Farhia Farah — an REP graduate fellow and second-year master's student in the Department for the Study of Religion — focuses her research on Islam and gender from a sociology of religion perspective and explores the themes of ethics, race and power.  She says she was drawn to the interdisciplinary nature of the project.
"I appreciate how the centre is big on collaboration and innovation, and in facilitating cross-disciplinary conversations between fellows who are from a variety of backgrounds. It allows us space to grow and engage with questions and ideas we may not necessarily have the space, time or funding for in other departments," said Farah.
For Shanmuganathan and Smith the goal is to give students an opportunity to talk about race, ethics and power and participate in these discussions regardless of discipline.
"We hope that both the reading and working groups allow students to feel they are being supported in their work and are able to connect with others in REP. This is especially important during these uncertain times when we are only able to meet online," said Shanmuganathan. "Community is centred in the REP project."
For more information about the Centre for Ethics's Race, Ethics and Power Project and a list of upcoming events, visit the Centre for Ethics website.
Categories
Tags