Imagine exploring outer space to better understand Earth's place in the universe, traveling back through the history of Black dance in Canada, experiencing the intersection of artificial intelligence and humanity, and saying hello to a hologram of renowned Canadian author and alum Margaret Atwood — all on the same night.
The Faculty of Arts & Science's closest friends, supporters, faculty and staff did just that and much more on April 26. They came together to celebrate the global impact the faculty is having around the world as it advances solutions to the world's monumental and complex problems. Set amid the beautiful backdrop of historic Hart House on U of T's St. George campus, guests learned about some of the most cutting-edge research at Arts & Science, and how the Faculty will advance its priorities through U of T's Defy Gravity campaign. Hundreds of guests engaged with interactive installations, enjoyed performances and had curiosity-driven conversations with globally renowned U of T scholars and teachers.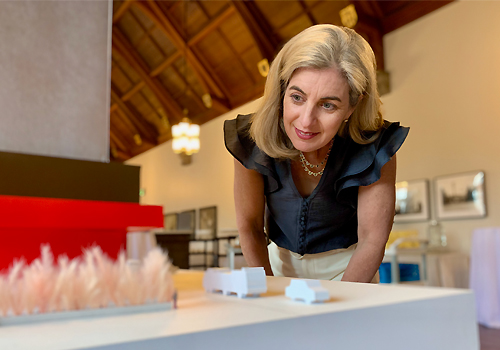 "I am inspired each and every day by our exceptional students and our groundbreaking research," Melanie Woodin, dean of the Faculty of Arts & Science, said in her opening remarks after a spectacular Indigenous performance by John Hupfield from Wasauksing First Nation, Deanne Hupfield from the Temagami First Nation, and Nathan Roy from Wikwemikong First Nation.
"That's why I'm excited that each of you is here with us tonight to celebrate the impact Arts & Science will have around the world throughout this campaign. We're going to turn ideas into action."
Through its Defy Gravity campaign, Arts & Science will advance an inclusive, healthy and sustainable future, drive scientific discovery and support student experiences and success. Much of this exciting work is already happening at Arts & Science — from propelling leading-edge breakthroughs in artificial intelligence to safeguarding democracy and ensuring all talented students have the opportunities they need to succeed.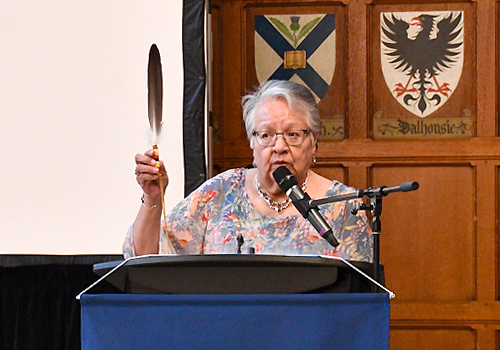 "As society grapples with growing threats to health, climate and social equity, the world is again looking to U of T to make discoveries, advance knowledge and improve lives through our spirit of excellence, leadership, diversity, passion and generosity," said Claire Kennedy, Defy Gravity campaign co-chair. "And the Faculty of Arts & Science is at the forefront of helping generate crucial global solutions. This Faculty really is the beating heart of this extraordinary university."
The opening remarks also included powerful words by Elder Eileen Antone, a Dean's Advisory Council member and a special advisor on Indigenous affairs. Antone held up a special Eagle feather, given to her earlier in her teaching career by an Elder, to emphasize the importance of building relationships.
The goal of the evening was to provide an in-depth view of the breadth and depth of the Arts & Science story.
"As Indigenous folks, we're often very much attuned to the way that what we say is echoed in others," Tyler Pennock, a professor with the Centre for Indigenous Studies, told the audience.
"I invite you to do the same — to pay attention to the texture of these stories, and to pay attention to the way in which these stories interrelate. And together we have a new text for us to continue moving on and moving forward with. I invite all of you to explore the stories that Arts & Science will continue to offer."
For Arts & Science supporters, the evening offered an important opportunity to learn more about Defy Gravity's priorities.
"As a donor, I'm always interested in what is happening at the University, especially involving students. As an alum, I think it's important to support our students as they move through the system — whether they're doing undergrad or graduate studies and their doctorates or whatever it is — just to help them through that and be part of that," said Rose Kelly, a monthly donor.
The celebration's research-based installations and performances — including Indigenous storytelling, long-lost Holocaust songs rescued from Nazi-occupied Europe and an opportunity to explore virtual worlds and much more — offered a powerful cross-section of this global impact to come. Examples include the BMO Lab's voice-to-text-to-imagery technology, which transforms a user's speech into vibrant, AI-generated images on a screen.
"We sit right at a sweet spot between hard artificial intelligence research and deeply embodied humanist inquiry," said David Rokeby, director of the BMO Lab, who demonstrated Voice Scroll.
The Lab, he explained, transforms technologies that have recently crept into the mainstream — such as ChatGPT and text-to-image models — into experiences that can be poked, prodded and played with to find their true potential. The BMO Lab is just one example of how Arts & Science researchers are exploring AI's implications for individuals and society as a whole.
 "In the future, where AIs are likely going to be even more present in our lives, the ways we can interact with them and critique them from our own position as embodied, thinking, feeling humans are going to be critical to successfully building a livable human future," said Rokeby.
Alum Lorraine Gauthier said she particularly loved seeing artificial intelligence in action. She even tried the technology herself, creating a scene that drew from installations she'd already enjoyed that night — such as the pop-up planetarium — as well as personal experience and random thoughts, such as surfing in Bali and military ships.
"These days we're reading and hearing a lot about AI and trying it firsthand was inspiring," she said. "As an older graduate of the school, it's really exciting to know this important technology is being used and experimented with by today's U of T students before it becomes a regular part of all our lives."
Guests were also treated to a powerful performance by Yiddish Glory, a Grammy-nominated project of Anna Shternshis, director of the Anne Tanenbaum Centre for Jewish Studies, and others. Yiddish Glory brings long-lost lyrics to life — rare first-hand accounts of Nazi violence against Jews during World War II and even songs with a sense of humour.
"Yiddish Glory brings these stories to life to give voices to people who sang through the unimaginable violence and create a performance piece that combines rigorous historical research and artistic performance," Shternshis said.
Alumni certainly felt the impact.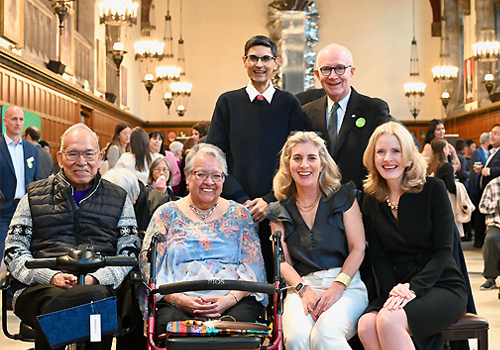 "I think it's so amazing that the music was preserved all this time but also, so, so tragic and so moving, the stories that were told. It's also wonderful that people found humour in those dark times. But as I said, very tragic," said alum Michael Scott. "As an alum, I really enjoy being involved in the faculty and any opportunity to learn what U of T is doing and what U of T students and faculty are doing is great. I really like volunteering at events whenever I can, helping out and learning about the faculty."
The two floors of installations also included demonstrations of the U of T Trash Team's efforts to rid the Toronto waterfront of micro-plastics, a virtual reality demonstration and a pop-up planetarium.
"This event is amazing because it allows the public and alumni to see the growth of the institution and prospective aspects of what may come in the future. I brought my kids because I think it's amazing for them to see what possibilities exist for them and the different fields of study that they may not have been exposed to," said alum Agnes Gajewski.
"When I get publications from U of T, which I do regularly, I'll read the latest research and I love it. For me, it's an interest, but for my kids it's more than that. It could become their lives."
The evening offered a wide range of experiences, thanks to the faculty's tremendous depth and breadth across the humanities, social sciences and sciences.
"What is distinct about the faculty is its ability as the Faculty of Science and the Faculty of Arts, to bring these things together," said Randy Boyagoda, an English professor and the evening's MC. "This makes possible forms of research and teaching and discovery that are really not possible in many places in the world."
Categories