In some ways, David Moore's destiny was etched in stone from an early age.
"I started collecting rocks when I was five years old, so I was probably predestined to be a geologist," he jokes.
That simple pastime developed into a lasting interest in Precambrian geology and mineral deposits, and took Moore to the University of Alberta for an undergraduate degree and then to the University of Toronto to earn his master of science in geology in 1977.
Now, after a decades-long year career in geological exploration, Moore has made a $100,000 gift to create the David and Virginia Moore Graduate Scholarship in Exploration Geology. He hopes to inspire the next generation of earth science students and support their learning outside the classroom.
"I want to encourage a strong interest in the field aspect and the inquisitive nature a person must inherently have to be interested in exploration, geology and mineral exploration, as well as the field-based studies that are essential," he says.
"We do so much with artificial intelligence and machine learning systems these days in mining and mineral exploration, but it really all comes down to field-based studies and your observations in the field. I hope this scholarship inspires an interest in the keen observation and critical thinking required to put together the puzzle that helps people find mineral deposits."
The Moore Graduate Scholarship will help create a new generation of explorers focused on sustainable practices, says Sarah Finkelstein, chair of U of T's Department of Earth Sciences.
"This scholarship will support exceptional graduate students pursuing graduate degrees in geoscience with a focus on resource exploration," she explains. "As we confront the climate crisis and move toward net zero emissions, the need for sustainable resource development has never been greater. This scholarship will support students as they seek answers to fundamental questions using cutting-edge field-based, analytical or big data approaches."
Moore recalls learning a great deal from strong professors and fellow students at U of T with a wide range of interests. He immersed himself in their interests, gaining crash courses in magmatic nickel, ocean floor research and structural geology from the discussions he had with colleagues.
"U of T really opened up my interest and mind to just the whole range of things," he recalls. "A lot of the students were pursuing something completely different from my own experience."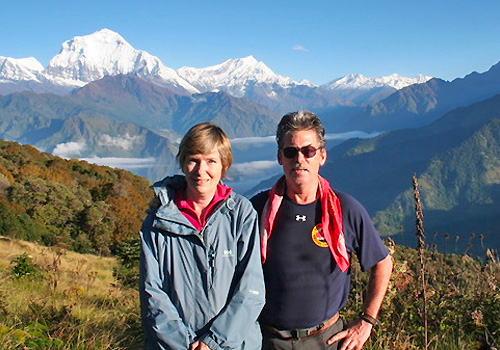 After university, Moore had a 30-year career with Teck Resources and associated companies before serving as president and CEO of Serengeti Resources from 2004, through to its merger with Sun Metals and the launch of NorthWest Copper in 2021. With Serengeti, he led a team that raised more than $50 million in exploration funds and discovered two significant mineral deposits. For the discovery of the Central Zone of Kwanika discovery, the Association for Mineral Exploration British Columbia co-awarded him the prestigious 2010 Prospector of the Year award.
"I've had such a great career — with the strong support of my wife Virginia —and U of T was a big part of it," says Moore. "If I can encourage future interests along those lines to help us find the minerals we need in this world, then I'm pleased to do that."
These types of scholarships are important, says Finkelstein, because they support outstanding students with financial need, broaden access to opportunities for advanced research and ensure students can focus on their research as they complete their degrees.
"This award helps remove financial barriers to participating in earth sciences graduate programs, thus promoting inclusive excellence in the geosciences," she adds. "They are a very tangible way alumni and friends of the department show their wonderful support of our students, and help maintain the strong sense of community at U of T earth sciences."
Categories