Students in computer science will learn how to design software, develop computer applications such as databases and graphics and investigate mathematical problems. They will train to meet an increasing demand for graduates with scientific knowledge and creative skills to excel in the industry. A computer science degree will introduce students to tomorrow's technological world.
Applying to Computer Science
OUAC Admission Code: TAD (Computer Science)
Supplementary Application Form Required: Yes
Admission Category Prerequisites: English and Calculus
Approximate Admission Range: Low 90s
Supplemental Application for Computer Science Admission Category
The supplemental application will be found in applicants' JOIN U of T account after they have applied through the OUAC.
It comprises four short-answer questions
Applicants will be asked to reflect on personal experiences and qualities
The questions are not specific to computer science
It is not timed
Applicants are strongly encouraged to apply and submit all requested documents, including the supplemental application, as early as possible. See the recommended early application deadline here.
Deferrals 
Offers of admission to the Computer Science admission category at the Faculty of Arts & Science, St. George campus are not eligible for deferral.
Alternate Admission Category Form
Applicants applying to the Computer Science admission category in the Faculty of Arts & Science have the option of selecting an alternate admission category for consideration on the JOIN U of T portal after completing their OUAC application.
Selecting an alternate category does not affect students' eligibility to their first choice of admission category. You can select from the four other admission categories at Arts & Science: Mathematical & Physical Sciences, Life Sciences, Social Sciences and Humanities. Computer Science and Rotman Commerce are not available as alternate choices. If you are admitted to an alternate admission category, you may be waitlisted for your first choice and reconsidered at a later time, space permitting.
Please note that selecting an alternate admission category does not guarantee admission. To be considered for your alternate choice, you must meet eligibility requirements and the minimum overall average, including in any prerequisite courses.
Transfer students
Students with previous post-secondary (at the University of Toronto or another post-secondary institution) are not eligible to apply directly into the Computer Science admission category or program of study.
More information on pursuing a program of study in Computer Science as a transfer student can be found on our Transfer Student Admission webpage.
Exceptions to the above include:
Dual-enrolment secondary school students who are completing post-secondary courses at part of their high school diploma
Students who completed programs or certificates not eligible for transfer credit such as religious studies, and technical programs such a photography, culinary arts, etc. If in doubt about eligibility, please contact the Office of the Faculty Registrar.
Admission Requirements by Curriculum:
Admission to the Computer Science admission category is not the same as the Computer Science program of study. Students apply to a program of study, or programs, of study at the end of first year.
However, all students admitted to the Computer Science admission category are guaranteed admission in the Computer Science specialist, major or minor program of choice after first year, provided that they meet the conditions of the first-year guarantee.
Step 1: Search for your desired program of study (e.g. major in data science) in the table below
Step 2: Find the high school subject prerequisites for your desired program of study listed under Subject(s) Required in Addition to English
Step 3: These prerequisites subjects allow you to enroll in introductory first year courses needed for your program of study selection at the end of first year. You can find these courses listed under Program Area in the Academic Calendar
Program List
After first year, you can apply to one of the two programs listed below. Whichever path you choose, you'll be on the cutting edge of in-demand fields like artificial intelligence, game design, statistics, human-computer interaction and more.
Legend: C: Calculus and Vectors
Meet Faculty and Students
Hear what Computer Science students and faculty have to say about their programs.
Supportive communities
Connect with faculty and peers
Make connections
Our professors are passionate about helping students learn
Why Study Computer Science at Arts & Science?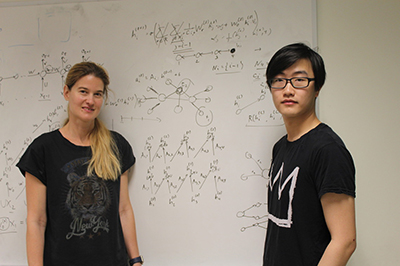 Award-Winning Faculty and Research
Computer Science research is ranked #1 in Canada and our faculty is globally renowned. We're home to two Turing Award winners and to members of acclaimed computing societies, including nine Association of Computing Machinery fellows and eight Fellows of the Royal Society of Canada.
A Path to Success
Within two years of graduation, 95% of graduates who are in the labour market are employed. The demand for computer scientists is expected to rise in new and emerging fields like artificial intelligence, data science, cloud computing and analytics — just to name a few. Computer Science alumni Zain Manji founded his own technology company, Lazer Technologies, which builds digital products for renowned companies. He also co-developed Find My Vaccine, an app that's been used by more than 125,000 Canadians! Learn more about careers in Computer Science using Career Navigator.
My two majors at U of T — computer science and economics — were a great pair. On the computer science side, you learn how to build a product so that users love it. — Zain Manji