English Language Learning (ELL) supports all U of T undergraduates enrolled in the Faculty of Arts & Science whose first language is not English (multilingual students), as well as native speakers seeking to improve their English language ability. Our mini-courses and other activities are designed and taught by U of T professors, and they are free. Whether you are a:
New international student
Student who has lived and studied in Canada for a number of years
Student whose environment outside of school is not primarily in English
 Native-speaking student who finds formal, academic English challenging
Take one of our new mini-courses, open to students in all colleges. Participate each term in a seven-week series of communication workshops (Communication Café) and a three to six week writing activity online (Reading eWriting). There are no fees for these activities.
ELL takes a holistic approach – encouraging students to immerse themselves in English to improve their reading, writing, speaking, critical thinking, and listening. All of these language areas are interconnected, so improving all of them together can lead to faster progress in learning. ELL has a friendly atmosphere and welcomes students of all ages, backgrounds and levels of English. 
---
English Language Learning Mini-Course
Mini-courses take place over a short period of time, usually three or five days. They are free and open to all undergraduates in years one to four in the Faculty of Arts & Science. There is no academic credit for these courses. Course details and registration instructions are available in the sections below. 
Co-curricular Record (CCR) notations will be given to students who attend two out of three sessions and complete the exercises. All work is done during the course meeting; there is no homework or grade. This course will not affect your GPA. Please register only if you are reasonably sure you will participate. 
To contact the course instructors, write to: ell.newcollege@utoronto.ca.
---
Communication Café
Speaking and oral presentation practice, suitable for all levels. No registration and no fee – just come! Students from all University of Toronto colleges are welcome to attend any session. New students may join at any time. (Faculty of Arts & Science undergraduates only.)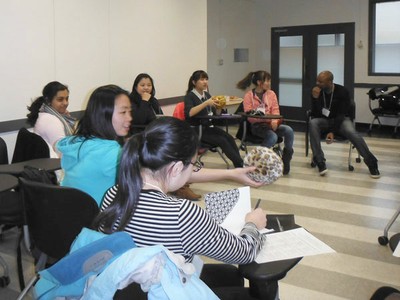 Our activities help students whose first language is not English to feel confident expressing their ideas orally. Vocabulary building and development of critical thinking are emphasized. Topics may include:
Canadian literature, history, and politics
persuasive presentations, interviews, and debates
scientific discoveries
business ethics and personalities
vocabulary games and dramatic role-play
art and photography
Café workshops will give you practice in speaking at length, arguing a point, and participating in group discussions. Our cross-cultural atmosphere is very welcoming. Native speakers of English may also participate, and many students returning to university after an absence find our activities helpful. New members are welcome at each meeting. Come to one café, or come to all!
Attend regularly to earn a Certificate of Participation, which will be noted on your Co-Curricular Record. To earn the certificate, students must attend a minimum of six café sessions over one or more terms. You may attend more than one session per week. You may also attend cafés at any location, or change the location where you attend at any time. We have different instructors and different peer mentors at each location, so come and meet us all. The certificate recognizes the following:
contributions to student life (e.g., welcoming new participants, fostering positive interactions among students, etc.)
qualities of good leadership (e.g. problem-solving and encouraging others, using creativity and humor, etc.)
improvement of language skills over the term or year
---
Reading eWriting
"Meet" with an ELL instructor online to work on your academic reading and writing!
Reading eWriting is a series of 6 emails which you write to a writing centre instructor, in response to a reading of your choice. The goal is to strengthen the speed and ease with which you read, reason, and write. This method is an effective way to build reading strategies and vocabulary. Since there is no grade/penalty, the method enhances your ability to develop ideas more rapidly without feeling "blocked." Try it and see!
Reading eWriting will be offered in Winter 2019 as a free, three to six week program. Session #1 starts on January 11, 2019, and Session #2 starts on February 1, 2019.  You may register for one or both sessions. 
Registration opens on November 12, 2019.
---
Join our Facebook groups to receive updates!
Go to Facebook and search:
ELL at the University of Toronto
English Language Learning Student Association (ELLSA)
Follow us on Twitter: @ELL_program
Join the ELL Distribution list
To get current information on ELL programming and events, subscribe to our distribution list. To subscribe to the list, send an e-mail message to listserv@listserv.utoronto.ca. In the BODY of the message type a command of the form: subscribe ELL-L firstname lastname (You can use either upper or lower case.) You will receive a reply asking for confirmation.
You may also join our Facebook group "ELL at the University of Toronto."
Instructors
Leora Freedman is the Coordinator of the ELL Program and Associate Professor in the Teaching Stream.  She holds a Master of Fine Arts degree in fiction writing from the University of Arizona and has taught many college and university courses in English as a foreign language, English literature and rhetoric, and professional/ technical communication.  She is currently a member of an international research group studying the role of reading in students' experience of higher education.  Her chapter based on teaching at U of T recently appeared in What is College Reading? (Horning, Gollnitz, & Haller, eds). Leora is a novelist and short-story writer; her most recent novel was a finalist for the 10th Annual National Indie Excellence Award in the US.
 Paola Bohórquez is an Assistant Professor, Teaching Stream in the ELL Program. She holds a PhD from York University in Social and Political Thought and has taught many college and university courses in academic and professional writing, rhetoric, composition and applied linguistics.  Paola's dissertation, which was nominated for a Social and Political Thought Dissertation Award, was titled Living Between Languages: Linguistic Exile and Self-Translation.  Recently, she was the course director for the New College One Program, "Travelling Words: Language and Diversity."  Paola's current scholarly work focuses on innovative methods for teaching academic English to multilingual students.
You can contact the ELL instructors at ell.newcollege@utoronto.ca.
Acknowledgements
The English Language Learning Program is funded by the Faculty of Arts & Science. Begun at New College in 2008, the program has expanded to support students in all 7 colleges. We also gratefully acknowledge the help of Dr. Elaine Khoo of the English Language Development (ELD) program at the University of Toronto, Scarborough, on whose innovative model the ELL program is based. The ELD website contains many useful resources for language learning.
---
Resources for Students
If English is an additional language for you, it's important that you continue to advance your knowledge of the language while you are taking your courses. To some extent this happens naturally while you are immersed in English at U of T, but there are specific actions you can take to speed and enhance this process. Likewise, even if English is your first language, you can benefit from using these techniques to become more proficient in language use.
Reading Online
Becoming as effective a reader as possible is at the heart of success for any university student. Your goal should be to read in English each day and to keep up with the reading for your courses, even if you read some materials more closely than others. You can also take advantage of the Reading eWriting - List of Links to find interesting, relevant online reading material. If you have even fifteen minutes to spare, try going to Arts & Letters Daily. You'll find a large collection of links to topical articles in good publications. Reading articles in the media helps to build vocabulary and gives you a sense of the English-language culture surrounding you. This in turn makes it easier to understand course material and to find conversation topics in common with English-speakers.
Effective Academic Reading
Reading strategically can help you to advance your knowledge of English vocabulary and to absorb typical patterns of argument in academic reading material. This in turn will help you to benefit more fully from your course work and to write more effectively. The following collection of handouts is designed to introduce you to some strategies for critical reading.
Effective Listening
Do you need more listening practice? Try watching movies in English (with the subtitles turned off) or watch videos on You Tube. Don't feel you're wasting your time on popular culture; it has much to teach you about English usage and the patterns of thought that underlie much of what you read and hear at the university. Popular culture is also entertaining, so it motivates you to spend additional hours immersed in English. Try watching a movie or You Tube video on a subject of interest and writing down or typing what you think you're hearing. Discuss what you've watched in English with friends or acquaintances at the university. The following PDF file has further tips for listening practice:
Strengthening Listening Comprehension
Effective Writing
In this section, you'll find advice about writing which is relevant for students in the humanities, social sciences, and sciences. In particular, the handout on "Essay Structure" is aimed at students who want clarification about some of the frequently seen elements of a university-level essay. You can also try using the "Guide for Revision" as a method for rethinking your paper after you've written a draft. Remember that the requirements for writing assignments vary, so read carefully any instructions given by your professor or TA. Try to start your assignments early, so you can write a draft and then put it aside for a while. Many people are not initially aware of how much thinking time goes into a good paper. Use strategies like active reading and summarizing (detailed at the links above, in the Effective Academic Reading section), as ways to increase your skill in writing on the material prior to writing a graded paper.