Four staff members from the Faculty of Arts & Science are this year's recipients of the Outstanding Staff Awards. Established in 1999, the awards recognize employees who have achieved excellence in support of the Faculty's mission of teaching and research.
Congratulations to this year's recipients:
Laurane Harding, School of the Environment — Dean's Distinguished Long Service Award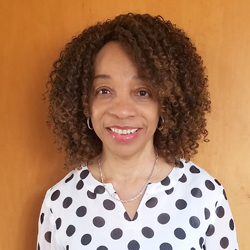 Laurane Harding has been a model of dedication, passion, caring, good humour, as well as a fount of knowledge for the more than 44 years she has served the School of the Environment and all of its previous incarnations.
As the business officer for these units, she has been a steadfast cornerstone through institutional change around environmental programming in the Faculty. She has expertly managed the significant administrative complexity that comes with the school's cross-appointments and its relationship with other units.
Throughout the years, she has played a key role in creating a caring community and in enabling the school and its faculty to achieve excellence in teaching and research. As colleagues attest, she has been the "heart and soul" of the school. The award is a fitting recognition of her dedication as she looks to retirement in 2020 and a new chapter in her life.
Yvonne MacNeil, University College — Dean's Outstanding Administrative Service Award  
Yvonne MacNeil began her career at U of T in 1984 and became chief administrative officer of University College (UC) in January 2012 after joining the University of Toronto in 2000. At UC, she has enhanced the work lives of staff, improved academic and student life programs, and been instrumental in creating a rich learning environment.
In particular, she played a pivotal role and was "the driving force" as operational leader of the college's multi-year, multimillion-dollar revitalization project which resulted in new library space and a conference centre.
She was also instrumental in overhauling the college's food services, as well as the summer programming and summer residence occupancy — initiatives which, among other benefits, greatly improved the college's fiscal health. Through her tireless efforts toward these and other initiatives, and because of her optimism, good humour and leadership abilities, she has earned the trust and respect of the entire UC community.
Lisa Matchett, Cell & Systems Biology — Dean's Outstanding Technical Service Award 
As a teaching lab technician, Lisa Matchett plays a pivotal role in ensuring that students' laboratory experience in the Department of Cell & Systems Biology is as rewarding, well-run and safe as possible. She has done that in exemplary fashion, through her technical skills and expertise, creativity, resourcefulness and commitment to faculty, TAs and students.
Her commitment to the department's teaching mission — along with her contributions to shaping course content and developing a curriculum — have helped build and maintain the quality of undergraduate programs.
What's more, she helped manage the daunting move to new labs in the Ramsey Wright building and has long served as a co-chair of the Ramsey Wright Joint Health and Safety Committee. The regard in which she is held is expressed in a colleague's view that "we need more people like Lisa."
Dana Patterson, Human Biology Program — Dean's Student Life Award 
As the Human Biology Program's undergraduate coordinator for 14 years, Dana Patterson has served students in countless ways — from choosing courses, to enrolments, to graduation requirements and more. Perhaps more importantly, she has created a culture where students are supported and provided the help they needed.
She has skilfully and patiently advised thousands of students and played a key role in making research opportunities available for them and also spearheaded the unit's first International/Indigenous Course Module grant, which has subsequently led to others.
Students are grateful for her dedication, acknowledging her success in helping them find the right research projects and supervisors and making them feel welcome and heard. In the words of the program's director, Ashley Bruce, "She is the glue that holds the unit together."
Categories