Savanna Pan is the kind of person who goes the extra mile. After taking a two-week summer course on artificial intelligence, she signed up to continue learning with the organizers, a nonprofit called AI4ALL that offers AI programs to teens from underrepresented minorities. But Pan wasn't done yet.
Together with a friend, she helped start their own organization to extend the project to younger kids. "We started IlluminAIte," says Pan, who is in her first year of computer science studies at U of T. We had to figure out everything from scratch during the pandemic — we applied for a grant, started a website, bought Zoom, and trained instructors. We planned all the workshops and events, and we also did mini competitions."
In combining leadership skills and a love of tech, Pan is an exemplary recipient of a 2021 Schulich Leader Scholarship. Now in their 10th year, the awards recognize Canadian high-school graduates who exemplify academic excellence, community leadership and a passion for STEM — science, technology, engineering and mathematics.
Philanthropist Seymour Schulich founded the awards in 2011 through the Schulich Foundation. The four-year scholarships are valued at $80,000 for science, technology or mathematics students, $100,000 for engineering students, and include membership in the growing Schulich Leaders Network of successful alumni. In 2021, the Schulich Foundation awarded Schulich Leader Scholarships to 10 University of Toronto students, including Pan.
Students passionate about science and technology offer hope for a solution-focused future
"Solutions come from thinkers who leverage the transformative power of great ideas," says Meric Gertler, president of the University of Toronto. "Seymour Schulich embodies that ideal, and the scholarship program he established enables our emerging innovators to shape new frontiers in science and technology. On behalf of the University of Toronto, I would like to extend a warm welcome to our newest Schulich Leader Scholars, and to thank Seymour Schulich for his vision and generosity."
If you have an idea, and you see a potential in solving a problem, then you should chase that.
A passion for STEM unites all the Schulich Leaders. Another 2021 recipient, Kevin Qu, got hooked on science when he first went fishing with his dad. "I loved it," says Qu. "And as I grew up, my first academic interest was toward ichthyology and biology. When I was eight years old, I could identify most fish that you could pull out of the water in Ontario."
Like Pan, Qu soon expanded his horizons — in his case, to include programming, then engineering. "I took on an internship with a company called Brain Power," he says. "They build tech with augmented reality for autistic kids. It was really touching for me because I have a brother who has autism. I was able to both code and engineer things, but for university, I chose engineering. My dad pointed out that in engineering, real-world application and theoretical ideas all come together. I want to try out entrepreneurship, focusing on what I'm good at, what I'm interested in, or what I most want to fix."
That kind of thinking appeals to Anisha Latchman, also a 2021 Schulich Leader. "When I was considering my options," she says, "computer science stuck out because I thought it was so cool and fascinating to have a solution in your head, and be able to code that into existence."
She adds: "When you try to think of realistic ideas, you limit yourself to the materials around you. But you have to think bigger than what you currently have. It's like a long-term investment mindset: if you have an idea, and you see a potential in solving a problem, then you should chase that."
Leadership is a journey rooted in helping others
Seymour Schulich is both a successful entrepreneur and one of Canada's most generous philanthropists, with giving that includes donating $200 million to the Schulich Leader Scholarship endowment. His book, Get Smarter: Life and Business Lessons, is full of mentoring advice for young entrepreneurs, and he counts making a difference in the lives of young people among his proudest achievements.
Helping the people I teach to reach their own potentials really taught me what true leadership is.
The scholarship recipients see leadership in the same way — as something rooted in giving back. Pan started coaching after being a competitive figure skater for many years. "For me," she says, "leadership is not just about the ability to do well, but also to inspire and encourage others. Helping the people I teach to reach their own potentials really taught me what true leadership is."
Latchman has worked as a science reporter for CBC Kids, and now makes her own videos on STEM topics. She says creating her stories is really fun, but it is also something bigger. "When I make a video, I can share and help other people out. Something I hope to accomplish at U of T is just inspiring little girls to give coding a shot. I think everyone needs a role model to open doors, or just show them doors that they might not have known existed."
"Our world is in a time of rebuilding and reconciliation," says Sandy Welsh, the University's Vice-Provost, Students. "Collectively, it is time to ensure people of every background are empowered and included in the meaningful change we hunger for. These inspiring students have shown they have the ability, the courage and the commitment to lead the way. The University is deeply grateful for Mr. Schulich's support, which will free the Schulich Leaders to focus fully on the opportunities they will have here — opportunities to learn, engage, create and collaborate."
Scholarships make a difference to students
"Being able to win the scholarship out of so many nominees — it felt special," says Qu. "I feel like with the financial liberty that I now have, I'm able to do a lot more. I can try out what it's like to be an entrepreneur. I'd like to thank Mr. Schulich for giving the youth across the country an opportunity to have a more enjoyable university experience: to pursue what we set out to do."
I'd like to thank Mr. Schulich for giving the youth across the country an opportunity to pursue what we set out to do.
"If I didn't get the scholarship," says Latchman, "I'd be commuting over an hour each way every day. But being able to be on campus puts me in a much better place to learn and build relationships. Some see community as competition, but I see it as a force to propel and look out for one another. The Schulich Network has already been so cool, so open and willing to share opportunities and advice. I think that's one of the biggest parts, honestly."
"Financially," says Pan, "the scholarship really helps, because my sister is only one year younger than me, so my family has to afford university for us both. The scholarship also served as a reassurance that I'm in a good position and mindset to enter university studies. It was a huge honour, but also I feel very recognized. It's really inspired me to become a better leader and to impact others through dedication and passion."
Meet the 2021 University of Toronto Schulich Leaders — including four from Arts & Science
Lisa Bera, Engineering Science
With a passion for robotics design, Lisa Bera sees technological innovation as a key to saving lives from natural disasters. The engineering student is excited to kickstart her career at U of T, with a special interest in innovations to help global populations living in high-risk areas.
Lucas Crupi, Mechanical Engineering
Lucas Crupi didn't just start a robotics club at his high school — he inspired both his teachers and his peers with his passion for the subject. He's looking forward to meeting more alumni of the Schulich network, and launching his career in mechanical engineering at U of T.
Jacob Kolyakov, Computer Science, Innis College, Faculty of Arts & Science
Jacob Kolyakov is an athlete deeply involved in competitive soccer, and a passionate coder with dreams of working in artificial intelligence and data science. He won CTO and Company of the Year in a technology startup program for teens for a project to educate youth about sustainable investing.
Anisha Latchman, Computer Science, University College, Faculty of Arts & Science
Former CBC Kids reporter Anisha Latchman loves making fun science videos for kids, while also working one-to-one as a tuto —including virtually during the pandemic. Her twin goals: to design inclusive, ethical software, and to empower girls and racialized communities to join the STEM movement.
Andrew Magnuson, Engineering Science
From founding his high school's Computer Science Society to participating in a teen innovator program, Andrew Magnuson is on his way towards his ambition: to break ground in the field of machine intelligence. A musician, debater and Model UN alumnus, he brings a well-rounded mind to the task.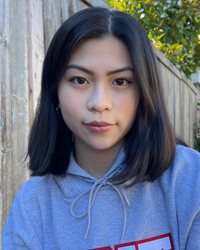 Savanna Pan, Computer Science, Innis College, Faculty of Arts & Science
Multi-talented Savanna Pan coaches snowboarding and figure skating, sings, plays piano and makes videos. Great time management was key as, in addition, she founded a reading club for immigrant kids learning English and helped lead a program to teach AI
Kevin Qu, Engineering Science
Kevin Qu's accomplishments include founding a youth leadership group that created community events from a basketball tournament to a hackathon. His ultimate goal: to found a startup that builds sustainable tech, as well as assistive technology for people with developmental disabilities.
Youssef Soliman, Computer Science, University College, Faculty of Arts & Science
The top-scoring robotics and computer science student at his high school, Youssef Soliman even designed software to help his fellow students analyze their own grades. He teaches coding and works as a freelancer hacker identifying security bugs for major North American companies.
Leanne Tran, Computer Science, Mathematics and Statistics, U of T Mississauga
Leanne Tran can't wait to explore topics like game development and ethics at U of T Mississauga, but her dreams also include innovating technology to fight cancer and expand space exploration. A fundraiser for cancer research, she has also founded a STEM group for female-identifying and non-binary youth.
Emily Zhou, General Engineering
A dedicated volunteer, Emily Zhou has organized community fundraisers and served on her school's student council. And she also found time to dance, play piano, and create a prototype app with business plan. She looks forward to learning about the breadth and depth of tech innovation at U of T.
Categories