The Arts & Science community is so proud of its Class of 2021, which includes 5,014 undergrads and 514 graduate students, that it just couldn't wait for the official convocation celebrations to start on June 23 — so it gathered early at the Arts & Science Watch Party.
"Today is your day — and we are thrilled for you," Melanie Woodin, dean of the Faculty of Arts & Science, told the gathering of more than 670 viewers. "I can truly say this is one of my favourite times of the year. I'm especially honoured to be celebrating this class. You have really persevered to get to this day, and I'm so proud of all our graduands. There's always excitement and hope in the air as our remarkable graduates go forward to make a positive impact in this world, and this is important now more than ever."
Woodin shared a sneak peek of a special video that featured a touching message from students, faculty, staff and alumni. The video is also being shared directly with graduates post-convocation. (Members of the A&S community had also flocked to Arts & Science's Capsule hub to offer video welcomes, congratulations and advice.)
After the A&S Watch Party, the celebration moved to the main event: Spring Convocation 2021.
"That's it; you're done — warmest congratulations!" said Meric Gertler, U of T's president.
While all degrees were again conferred in absentia due to COVID-19, Gertler assured the Class of 2021 it will be invited to campus to celebrate in person when it's appropriate to do so. He recognized hard work, accomplishments and perseverance in reaching this milestone, and welcomed A&S' newest grads into the extraordinary family of 600,000 U of T alumni in more than 190 countries around the world.
"Alumni are the University's living legacy and our greatest ambassadors," Gertler said. "We have no doubt the University of Toronto's high international standing can be attributed to generations of dedicated and very talented faculty and staff members, but we also understand this reputation has been built by our alumni — a group that now includes each and every one of you."
Gertler also offered congratulations to this year's honorary degree recipients, including for A&S degrees that recognized dedicated public service for more than 30 years, commitment to advancing the world's understanding of globalization and more. When accepting her degree, Anne Innis Dagg, a pioneering researcher and one of the world's foremost experts on giraffes, urged the Class of 2021 to "never stop reading, writing, watching and thinking."
Honorary A&S degrees also went to Geoffrey Hinton, the "godfather of deep learning;" Allen J. Scott, who taught for several years at U of T in the 1970s; and Shirley Hoy, a champion of ethics and collaboration in public service. After the honorary degrees, Gertler invited Justice Harry Smith LaForme to speak to the Class of 2021. LaForme received an honorary Doctor of Laws from U of T in recognition of his outstanding service as an exemplary advocate for Indigenous rights, land claims, education and self-government.
As he looks back on this impressive career, including as the first First Nation judge on the Ontario Court of Appeal, LaForme says he always worked passionately and never forgot who he was, where he came from and how he wanted his people to benefit from his efforts. To the Class of 2021, he offered this advice.
"My message to you is find that subject you feel passion for and tirelessly work at it with dedication," he says. "If you do so, you too will be able to say, 'I would do it all over again.' All of you will be part of the necessary changes that are coming. Some in a small way. You are our future and I'm reassured by that. Be the zealous guardians of all of us and know this, I have faith in you."
In the weeks leading up to the big day, we spoke to a number of A&S grads about their U of T experiences — although "adventures" might be an even better word. They spoke about exploring Ecuador's biodiversity; resurrecting the dormant LGBTQ2S+ journal Hardwire; and life events that change the course of studies. You can read all our new graduate stories, which feature plenty of advice for students just starting their own U of T adventure.
With the ceremony over, it was time for the newest members of the A&S alumni family to celebrate — and celebrate they did! From dinners with family and friends to grad photos on campus, graduates recognized this tremendous milestone with style.
Andrea Chiappetta, who earned his honours bachelor of arts in political science and Canadian studies as a member of Woodsworth College, visited U of T campus pre-convocation to have photos taken. While there, he filmed a special and impromptu episode of What's the Point?, his ongoing Instagram and Facebook mini-series that features short lessons and observations about his time at U of T.
"One of the lessons I learned is that people you meet at university will change you — above all the academic rigour and all the extracurriculars," Chiappetta says in the video. "And one piece of advice I have to give is: meet as many people as possible, forge new friendships and be yourself. You will not regret it."
On convocation day itself, Chiappetta celebrated with his grandmother, parents and brother at a special outdoor lunch. Post-convocation, he'll be returning to his role as outreach director for Barrie-Innisfil Member of Parliament John Brassard, working with constituents and community partners to bridge the gaps in the region.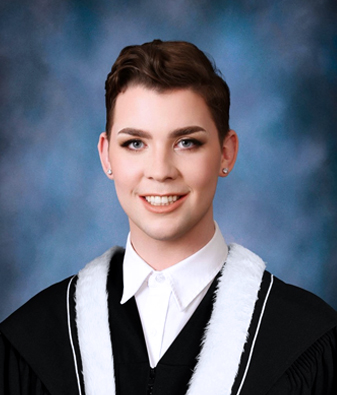 After earning an honours bachelor of arts in sexual diversity studies, Brian Wilson will be celebrating with family by ordering dinner and watching the virtual convocation together.
"As a first-generation university graduate, I am very proud of myself for completing my degree," says Wilson, who is considering law school next year. "My parents always told me to stay in school, and so having done that feels incredible."
Viki (Yichen) Tao, who earned her bachelor of commerce through the Rotman Commerce program, says she'll be celebrating with family.
"We will probably just reminisce about my struggles, my journey and my accomplishments over some delicious homemade food," says Tao. "For me, the degree marks the official beginning of adulthood in the corporate world. It's also a big validation for me since I remember thinking that I wouldn't be able to excel in university during my first year. It means that everything is possible when I put heart into it."
Beyond her new role as a consultant at an executive search firm, she says her future plan is to "just keep hustling."
---
Are you an A&S grad who's celebrating? How ever you're marking the milestone, we hope you'll celebrate with us. Use #UofTgrad21 to share your memories and be featured in the A&S Convocation hub.
Categories