Whether out on the deck or dock, comfortable in your living room or planted on a park bench, there may be no better time than the summer to unwind with a good book — and Arts & Science alumni have plenty of good reads to offer.
Here are a few titles to enjoy under the summer sun.
Giller-nominated alum follows story collection with new novel
From the Giller-nominated author of Frying Plantain comes River Mumma, alum Zalika Reid-Benta's novel about a millennial Black woman who on is a quest through the streets of Toronto.
CBC Books called the novel a "magical realism take on the quarter-life crisis." Reid-Benta graduated in 2012 with an honours bachelor of arts degree, majoring in English and cinema studies, and minoring in Caribbean studies, as a member of Victoria College.
Her first book, a collection of short stories, was long-listed for the 2019 Scotiabank Giller Prize and short-listed for the 2020 Trillium Book Award. River Mumma will be available August 22. 
"In short stories, every word has to mean something so you can get your message across quickly," Reid-Benta said at the time. "Now that I'm writing a novel, I have a lot more freedom to let myself go."
When the past returns to haunt the world all over again  
There was a time when the world held its collective breadth and waited for the moment an accidental missile launch or war-hungry leader would plunge the Soviet Union and the U.S. into a nuclear conflict that would destroy us all.
With fears rising about what Russia might do with their nuclear arsenal as the war in Ukraine escalates, Arts & Science alum and author Susan Colbourn's new book, Euromissiles — The Nuclear Weapons That Nearly Destroyed NATO, seems timely.
Colbourn, who attended Trinity College and is now associate director of the Program in American Grand Strategy at Duke University, shares Cold War history lessons aimed at a new generation being exposed to the no-win scenarios of a world with nuclear weapons.
 'The Circus Train' inspired by time at Arts & Science
Amita Parikh's The Circus Train tells the story of Lena Papadopoulos, the daughter of an illusionist at a travelling circus. Lena's life takes a turn when she rescues a mysterious orphan. As the circus tours Europe during World War II, Lena finds her love of science and medicine makes her feel out of place.
Parikh, who earned her honours bachelor of science in 2006 as a member of Victoria College, says her studies at U of T directly tie into Lena's love of science and medicine. Lena's visits to anatomy museums were inspired by Parikh's time in Grant's Museum of anatomy in the basement of U of T's Medical Sciences building. Lena's polio was informed by Parikh's studies of how the polio vaccine was developed and how the virus affected children.
When she can, Parikh gives back by mentoring aspiring writers. She's developing a scholarship that aims to help increase access to educational opportunities for underrepresented writers.
 A clear-eyed vision of our dreams about the future
If he hadn't been bitten by the writing bug hanging around the student newspaper while attending University College, acclaimed Toronto freelance writer and A&S alum John Lorinc might have been researching black holes or mathematical problems for a living.
Lorinc's latest book Dream States: Smart Cities, Technology, and the Pursuit of Urban Utopias won the 2022 Balsillie Prize for Public Policy and was shortlisted for the Donner Prize.
Critics laud the book for adding an engaging, clear vision for the future that counters starry-eyed, tech-driven schemes that miscalculate basic human equations.
 A coming of age story about a turbulent childhood
Cody Caetano set out to write Half-Bads in White Regalia: A Memoir with the goal of creating a book for his generation of readers and writers — something that would make his family proud. The memoir has done that and more, becoming an instant national bestseller.
Half-Bads in White Regalia is a coming-of-age story about Caetano's turbulent childhood. After his Anishinaabe mother and Portuguese father divorced and went their own ways, Caetano and his siblings were left to fend for themselves. Caetano finds a way to tell his story with humour and warmth.
Caetano, who is an off-reserve member of Pinaymootang First Nation, earned his master of arts in English in the Field of Creative Writing program in 2019. It was during his master's degree that Caetano began to turn the bones of his story into what would eventually be Half-Bads in White Regalia.
Margaret Atwood returns with collection of short stories      
Renowned author and U of T alum Margaret Atwood returns with her first short fiction offering in nearly a decade. Old Babes in the Wood is a collection of 15 short stories, some previously published in New York Times Magazine and The New Yorker.
The stories explore family connections and struggles that deal with love, loss, alienation, miscommunication and even fantastical characters, resonating with society's distinctive struggles of 2020s culture.
Aside from being a world-renowned writer, Atwood is among U of T's biggest champions and most generous donors since earning her honours bachelor of arts degree in 1961 as a member of Victoria College.
A devastating discovery launched a search for her biological father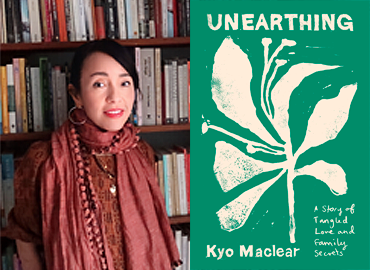 When alum Kyo Maclear's father died, a DNA test showed she wasn't biologically related to the man she grew up calling "dad." In her latest book, Unearthing, Maclear chronicles her journey to find the truth about her past as she explores questions about the meaning of family.
Maclear earned her honours bachelor of arts in fine art and art history in 1992 as a member of University College. A former writer for The Varsity, she befriended well-known activist Naomi Klein while at U of T. Together they founded an open format student discussion group called Free School at UC.
Her memoir, Birds Art Life, was a finalist for the 2017 Hilary Weston Writers' Trust Prize for Nonfiction and won the 2018 Trillium Book Award.
Alum's captivating novel is a love letter to Toronto  
In the summer of 1971, four strangers engage in a series of promising group therapy sessions, only to see their lives descend into chaos. The individuals connect outside their sessions under unexpected and catastrophic circumstances that propel each of them into deepening crisis.
In her debut novel, Back to the Garden, author Megan Mueller (writing under her late mother's maiden name Wykes) tackles a bygone era of Toronto's history. This includes the burgeoning folk scene, growing opposition to the Vietnam War, as well as themes of human rights, mental illness and bullying, lending this story increasing relevance.
Mueller earned her honours bachelor of arts in 1988 as a member of Victoria College. Currently, she is a communications officer at Hart House. Her volume of poetry, Colour Theory, was published in 2016. Her next novel, Sunshine, is slated for publication in 2024.
Love your neighbourhood with this child-friendly book  
Dear Street is geared toward the younger readers in your house — including those tired of the grumbling and complaining they hear from adults.
In Dear Street, Lindsay Zier-Vogel, who earned her honours bachelor of arts in English in 2005 as a member of Victoria College and her master's in creative writing in 2007, tells the story of a girl writes love letters to her neighbourhood — her street, local park, a maple tree and even the snow — and hides them for others to find. She is delighted to see the love spread.
Published by Kids Can Press, Dear Street was inspired by Zier-Vogel's international Love Lettering Project, in which participants write love letters to their communities and hide them for strangers to find. An explanation of the project at the end of the story encourages readers to write their own letters to their communities.
Categories