Graduate students in four disciplines — Astronomy & Astrophysics, Ecology & Evolutionary Biology, Physics and Public Policy — will benefit from a generous million dollar donation from the estate of Mary (née Stirrett) Martin. She and her husband Ron were community pillars known for their warmth, generosity and staunch belief in the power of education to understand the world around us and solve practical problems within it.
"We are thrilled that the Faculty of Arts & Science will match the gift," says Mary and Ron's daughter, Anne Martin, "which doubles the impact of the graduate scholarships."
There is perhaps no example of one family's ties to U of T more remarkable than that of the Martins. Since the late 1800s, some 60 members of the Martin/Stirrett family have studied at U of T, including each of Mary and Ron's four children, and their six grandchildren.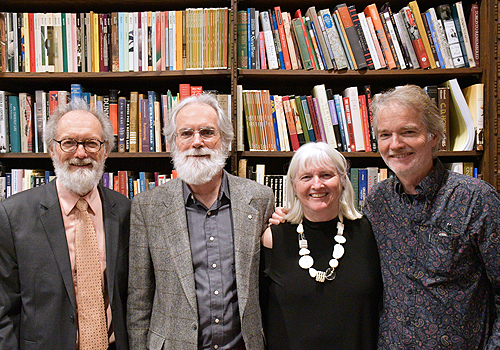 One of the couple's sons, John Martin, is a professor emeritus in the Department of Physics, while another, Peter Martin, is a professor in the Canadian Institute of Theoretical Astrophysics. Their other two children, Anne Martin and Jim Martin, both obtained degrees at U of T before going on to diverse careers in, respectively, public policy and education. The four disciplines receiving this gift reflect the Martin children's areas of study and/or careers.
So far, an impressive five generations of Martins have attended U of T. Ron's father, Henry Martin, was one of the family's earliest ties to the University, having studied theology in the early 20th century before becoming a minister with the United Church. And the ties extend well beyond the classroom: Mary's uncles Jack and Jo Jo Stirrett won the Grey Cup with the U of T team in 1920. Mary and Ron were married at U of T's Emmanuel College in 1944; both donated their bodies for medical teaching and research and their ashes are buried beneath the U of T memorial stone in St. James' Cemetery.
Their marriage inaugurated a life of learning, adventure, hard work and a deep commitment to giving back to their communities, both locally and globally. After retiring from dentistry in Owen Sound at the age of 53, Ron used his skills in homebuilding and his "immense resourcefulness," says daughter Anne, to create a new dental clinic in Vancouver's Downtown Eastside. They provided dental services for this underserved community and many other remote settlements in the Canadian Arctic and rural Jamaica and St. Lucia.
"Mom was always his unwavering and indispensable partner in these ventures," says Anne, "feeding many guests, acting as dental assistant, mixing the cement and wielding the paint brush throughout her life."
Mary and Ron's lifelong love of travel and desire to learn about global cultures and peoples meant they connected with communities all over the world. They voyaged in an entirely self-directed and budget-friendly manner, often with little more than a couple of backpacks.
Mary and Ron's lifelong belief in the value of education and their family's multi-generational commitment to U of T means future generations of scholars will have the chance to make a deep impact on the world.
Professor Randall Hansen, interim director of the Munk School of Global Affairs & Public Policy, calls the Martin Scholarships "an act of unusual generosity."
"The scholarships will underpin our ability to attract the very best students from all backgrounds and all walks of life," says Hansen.
These students will analyze and create public policy at all levels of Canada's civil service, one of the best in the world. "We, and our students, owe Mary and Ron Martin a great debt."
Donald Jackson, professor and chair of Ecology & Evolutionary Biology, says the Martin donation "demonstrates the tight connection the family has with the institution, but also shows the importance they see in what the University can do regarding education and impacts on our broader society. The family's generosity is appreciated greatly and the impact will be felt for generations."
David Cameron, dean of the Faculty of Arts & Science, says the donation "represents all the great qualities that we see in our donors: a quiet civic mindedness, a passionate love of learning, and a desire to invest in the next generation—a great commitment to Canada."
No doubt the gamut of fields supported by Mary and Ron's generosity will foster a bright new generation of scholars whose passions for discovery, problem-solving and community involvement will mirror the Martins' own.
"Because they knew that students with higher education would be best prepared to make a difference in this world," says Anne about her parents, "these graduate scholarships are a natural fit."
Categories