For a week in August, the University of Toronto became the quantum research capital of the world.
Over a hundred leading experts, postdoctoral fellows and students from around the world met at the ninth biennial Centre for Quantum Information & Quantum Control (CQIQC) conference. The gathering was held at the Fields Institute on the St. George campus and was organized by the Faculty of Arts & Science's CQIQC research nexus.
"The conference has always been a wonderful opportunity to bring together leaders and young researchers from all sorts of different sub-areas in the field for a week in Toronto," says Aephraim Steinberg, a professor in the Faculty's Department of Physics and lead organizer of the conference.
"It's very exciting for us because we get to talk to people in our own specialty or in different specialties. It's a chance to get a broad view of what's exciting and what's going on in the field."
CQIQC — pronounced "see-quick" — is the interdisciplinary umbrella organization for quantum research at U of T. It promotes research collaborations in theoretical and experimental activities; educates and trains students; runs a variety of programs such as postdoctoral fellowships, summer internships for undergrads, visiting professorships and awards; and runs a successful seminar series.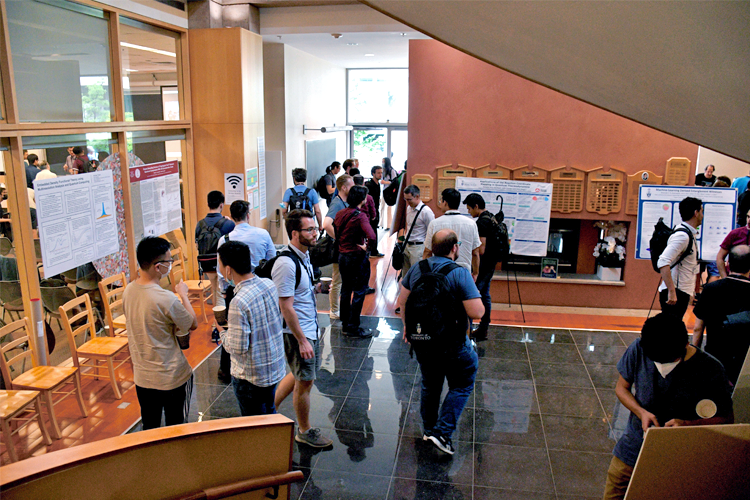 "Our members are from science and engineering departments and are working on both fundamental and applied aspects of quantum science and technology," says Dvira Segal, the centre's interim director and a professor in the Faculty's Department of Chemistry.
"The centre's ambition is to advance quantum research and education in Canada and establish U of T as a world-class research institute in the quantum field. We foster and facilitate interactions and collaborations between various research groups within the University and internationally, as well as promote partnerships with industry."
The great interest from students and young people, including undergrad students, and the large interest and presence from industry reps and startups were striking. These outcomes are hopefully a sign of a growing and maturing field, and feels very encouraging for the future!
The interdisciplinary conference featured five days of invited and contributed talks exploring all topics quantum — which the centre has made available on the conference website.
Experts from Stanford, MIT, Harvard, Duke University and other institutions — as well as scientists and entrepreneurs from startup companies — shared advances they've made in quantum computing and quantum supremacy — the latter, the term used to describe when a quantum computer solves a problem that can't be solved by a classical computer in a reasonable amount of time.
Others talked about the ramifications of quantum advances on the cryptography that protects our digital and network transactions. Some discussed the practical challenges in building quantum computers and the quantum algorithms they run. Still others explored more fundamental topics in quantum physics, including the nature of quantum phenomena and what makes them quantum.
The conference also provided students from around the world with an opportunity to share their research with attendees in discussions and poster sessions, and a chance to network with leading researchers in the field.
Daniela Angulo Murcillo is a graduate student in the quantum optics group in the Department of Physics. She presented a poster, Measuring the Atomic Excitation Time due to Narrowband Resonant Photons that are Transmitted, which described work she and collaborators are conducting under the supervision of Steinberg.
"I truly enjoyed this conference because of the variety of subjects involved — from foundational topics like contextuality to technological applications like quantum computing," says Murcillo.
"I was inspired to explore new subjects by passionate scientists telling us about their work — reading about boson sampling is my new hobby! I was also able to discuss my work with other students and professors, and their questions tested me to find different strategies to explain my research."
Frank Corapi is also a graduate student in the quantum optics group. He presented a poster, Towards Quantum Simulation with p-Wave Interacting Fermions, describing research he and collaborators conducted under the supervision of Joseph Thywissen, a professor in the Department of Physics.
"I greatly enjoyed my time at the conference," says Corapi. "Discussing my research with some of the other attendees provided me with new perspectives on concepts I'd been thinking about for a long time. The various talks and posters were also quite interesting, and the entire experience left me with many ideas to bring back to the lab."
For Steinberg and others at CQIQC, the conference continues to be one of the ways the centre is fulfilling its mission.
"CQIQC has been around for more than 20 years, and we've been running this conference for almost the entire time," says Steinberg.
"We're undergoing continued growth and are always bringing in more students and faculty who are pushing the boundaries of this area — and we're proud the conference has become one of the international mainstays of the quantum information meeting circuit."
And according to Anna Dyring, CQIQC's Quantum Strategic Initiative Lead and one of the conference organizers, "The great interest from students and young people, including undergrad students, and the large interest and presence from industry reps and startups were striking. These outcomes are hopefully a sign of a growing and maturing field, and feels very encouraging for the future!"
Categories