When sisters Erika and Stephanie Savage learned they were among this year's Arbor Awards recipients, there was no question the University of Toronto alumnae would attend the ceremony — even if meant flying from Los Angeles.
"We shared U of T and now we're both in L.A.," said Erika, who worked with pop music megastars like Lady Gaga as a music industry executive after graduating in 1995.
Now in the beauty business, Erika spoke to U of T News at the 30th annual Arbor Awards gala on Thursday, held at the Carlu in downtown Toronto. The awards, the highest honour granted by the university, recognize U of T's most outstanding volunteers.
"We both feel that our education defined our journeys — not just in terms of our careers, but also our life paths," added Stephanie, who graduated in 1990 and became an executive producer and screenwriter behind hit shows such as Gossip Girl, Runaways and the Dynasty reboot.
"It's about understanding just how important that is and how you stay connected to that for your whole life."
The sisters, whose mother flew in from Calgary to attend the event, mentor current and former Innis College students who aspire to join the entertainment industry. They've helped create a vibrant L.A. nexus in the worldwide diaspora of U of T alumni, connecting with fellow grads such as award-winning director and screenwriter Dawn Wilkinson.
Speaking at the event, U of T President Meric Gertler thanked the sisters and more than 100 other recipients for their ongoing contributions, from mentoring young women in engineering to playing the Soldiers' Tower carillon and building connections with local, regional and global communities.
"This year's Arbor Award winners represent the excellence and diversity of the U of T community across our three campuses," said President Gertler, noting that U of T is ranked as one of the world's top universities.
"Our success is due in no small measure to the excellence and dedication of our Arbor Award winners, past and present."
Barbara Dick, U of T's assistant vice-president of alumni relations, lauded both past and current recipients for their impact on the entire university community, including students, staff, faculty and alumni.
"It has truly been our honour to recognize and celebrate you, our most loyal volunteers, over the past three decades and take pride in the fact that you have chosen to give us your most precious non-renewable resource — your time."
Award-winner Glen Boothe (left), who works for the Division of University Advancement, is one of many volunteers who has been particularly generous in that regard. Boothe has organized U of T's Black History Month Luncheon for 17 years.
"I think of volunteerism as a boundless form of giving back to the community that you're part of — and the less obvious part: giving back to yourself," Boothe told U of T News.
"It's hard to put a value on what I get back in terms of doing this, and having people appreciate it and getting to know my culture. They feel good about themselves and that in itself is a domino effect that makes them feel they want to do good for other people too."
Echoing those themes, David Palmer, vice-president of university advancement, noted that U of T's Boundless campaign set records for philanthropy and alumni engagement.
"The campaign's tremendous success was in large part due to our dedicated alumni and the loyal volunteers like those of you in attendance tonight who played a vital role," said Palmer.
"Your volunteerism is fundamental to the success of the University of Toronto."
One such volunteer is Christopher Thompson (right), past president of the U of T Mississauga Student Union and the U of T Mississauga Alumni Association. Thompson — one of the first in his family to receive a post-secondary education — mentors youth who want to pursue higher education.
"I never expected to go to university, much less become president of the student union and alumni association," said Thompson, who graduated in 2012 and is now the executive director of a youth charity he started called Skills For Life Inc.
"Getting involved and giving back has enriched my own career and personal growth."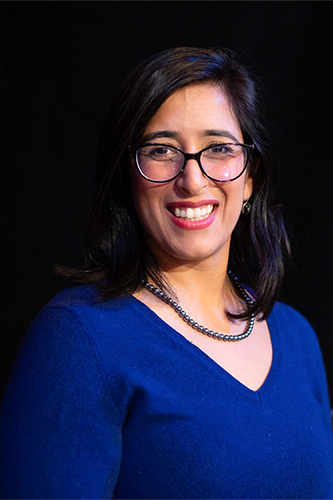 Niya Bajaj (left), another winner of the award, graduated in 2008 with a degree in sexual diversity studies and has since mentored hundreds of students through programs such as Backpack to Briefcase, the Next Steps Conference, Dinner at New College, Career Mentorship at New College, and Ten Thousand Coffees.
"It is important to volunteer because people did it for me," Bajaj said.
"I was very lucky to have a lot of really amazing mentors and I love that I get to be that person for somebody else."
U of T Chancellor Rose Patten — a past recipient of the award herself — told this year's honourees that volunteering at U of T was one of the most rewarding experiences of her life.
"You energize the entire U of T community with your passion for this vital institution and all its wonderful diversity," Patten said.
Categories