As COVID-19 continues to grip the world, so too does a pandemic of misinformation about the nature of the virus and how best to combat it.
A group of U of T graduate students and postdocs decided to fight the virulent spread of falsehoods and unscientific claims by creating a website called COVID-19 SciForAll that provides a better understanding of the development of vaccines and other treatments.
The team created the website with funding from a U of T Global Student Engagement Award, given last summer to collaborations of U of T students for projects addressing different aspects of the pandemic.
The goal of the awards program was to help foster a "global and community-oriented mindset" during a time when students are being affected by the world-wide crisis.
SciForAll explains the discipline of structural biology used to study proteins, as well as COVID-19 proteins and how they function. For example, it explains how structural biologists can study a faulty protein and use that knowledge to design drugs or vaccines to fight it.
The team that built SciForAll was co-led by Amir Arellano Saab, a PhD student in the Department of Cell & Systems Biology in the Faculty of Arts & Science, and Katrina Hass who is in the MSc program in Biomedical Communications at the Institute of Medical Science.
"We created SciForAll because there's a massive amount of scientific data about COVID-19 being generated every day," he says. "But most of this data is hard to understand and not accessible to the general public. We created the website so people could learn about the importance of structural biology and how we can employ it to develop vaccines and treatments against diseases like COVID-19."
SciForAll also has a section for young children — the Kid's Zone — which explains how the disease got its name, provides resources like instructional colouring pages, and shows kids how to protect themselves and others.
Gabrielle Carelli Yamamoto led a team that distributed packages of hygiene products and information pamphlets to vulnerable communities in Sao Paulo and Porto Alegre, Brazil.
The project was called Soap for All and the packages contained supplies purchased with funds from the award including hand sanitizer, liquid detergent, hand soap, sanitary pads, sanitary water, toothpaste and rolls of toilet paper.
Carelli Yamamoto is an economics specialist who is also studying statistics. Her partner in the project was Lorenzo Kogler Anele who is studying mathematics and computer science. Both are members of University College.
"Lorenzo and I are both originally from Brazil," says Carelli Yamamoto. "And Brazil is one of the countries hit hardest by the pandemic, with a high level of fake news.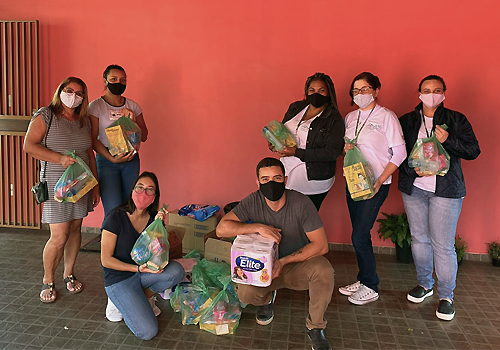 "The country suffers from severe income inequality where, for example, 15 per cent of families living in slums in Rio de Janeiro do not have soap in their houses. Also, there are many low-earning jobs like cleaning and construction that people cannot do from home, and many entrepreneurs who own shops, or sell goods from their homes or the streets, who were greatly impacted.
"So, we came up with Soap for All to provide the most vulnerable communities with the tools necessary to fight the pandemic."
Carelli Yamamoto and her team identified five different communities, then contacted community leaders to coordinate distribution. In all, they distributed 430 kits.
Adam Lam is a materials science specialist student with Innis College who, along with computer engineering student Mubtaseem Zaman, created a website called Tracking COVID-19 Grants. The platform helps individuals, families and small businesses find financial aid from a variety of sources in the face of job losses or career setbacks.
"We were worried about our job prospects at the time due to the COVID-19 pandemic," says Lam. "And we figured we could make others' lives less difficult."
The website identifies a wide variety of sources of support including: the Canada Emergency Student Benefit (CESB) and the Ontario Emergency Assistance Program; the National Council of Canadian Muslims' COVID-19 Relief Effort; BMO's Celebrating Women grant program; Modest Needs grants for individuals and families living just above the poverty line; and many more.
"We'd very much like to keep it active and research new entries," says Lam. "Especially with the ending of the Canadian Emergency Response Benefit."
Among the other winners are projects led by A&S students including one designed to ensure fall orientation activities were accessible to all incoming first-year students at U of T, regardless of where they were in the world; a media-monitoring project examining reporting about COVID-19; a project exploring how the pandemic has affected religious expression in Canada; plus, a variety of podcasts that examine different aspects of the pandemic or feature the stories of members of marginalized or migrant communities.
The Student Engagement Awards were supported by the Office of the Vice-President, International; the University of Toronto Mississauga; the University of Toronto Scarborough; the Faculty of Arts & Science; the Faculty of Applied Science & Engineering; the Rotman School of Management; OISE; and the Centre for International Experience.
Categories