After 25 years of recognizing outstanding student leaders with an award in his name, Gordon Cressy still insists on taking photos with each of the winners.
Since the Gordon Cressy Student Leadership Award was established by the University of Toronto Alumni Association and the Division of University Advancement in 1994, about 4,000 U of T students have been recognized for their outstanding extracurricular contributions – to their college, faculty, school or to the university as a whole.
A quarter century later, Cressy, a former vice-president of development and university relations at U of T, is still passionate about education and U of T's exceptional alumni. He told the almost 200 winners who attended a ceremony on April 22 to speak to loved ones about what this award means.
"Tell them it's not just a plaque hanging on a wall," said Cressy, a former Toronto city councillor. "Tell them it's a commitment to actually stop sitting on the sidelines. It's about getting involved and making a difference."  
The Cressy winners have provided support to fellow students, raised funds for causes, organized arts and cultural events and encouraged diversity and inclusion at every opportunity.
For U of T President Meric Gertler, the accomplishments of the winners speak to the "dedication and excellence" of the graduating class at U of T.
"To those being honoured tonight, let me say that we are immensely proud of your achievements and we are especially impressed by your amazing ability to combine co-curricular distinction with such strong academic performance," said President Gertler.
"As you'll soon hear, tonight's recipients have seized the opportunity to lead and to serve. They've contributed in countless ways."
U of T News spoke to seven students about the honour (photos of individual winners by Perry King).
Diane Hill, U of T Scarborough
A proud Oneida First Nation member, Hill was an Indigenous program developer at U of T Scarborough, which involved taking part in committees for the implementation of the calls to action from the Truth and Reconciliation Commission of Canada.
Hill said she considers her 2016 TedX Talk, in which she discussed funding inequities in education for Indigenous communities, a highlight of her work. "It was a good opportunity to share my grandfather's story and the story of my community and be an advocate for Indigenous Peoples."  
Going forward, she wants to continue to show leadership in spaces where groups like Indigenous Peoples are under-represented. "Being able to advocate for your community and Indigenous Peoples is especially important because you're able to give back but also be a leader for the next generation."
Suleyman Demi, Ontario Institute for Studies in Education
A PhD candidate in OISE's department of social justice education, Demi served as vice-president of the OISE Graduate Students' Association (GSA) and vice-chair of the U of T Graduate Students' Union.
Demi said he appreciates the Cressy Award recognition. "It's a wonderful experience. Your work and effort has been recognized so it's a feeling of accomplishment.
"It encourages us to do more, because it's about service, through sacrifice and giving back to community. We are privileged to be in this institution. When we are here, our responsibility is to go back to our community and make the changes that are needed."
Sherice Robertson, U of T Mississauga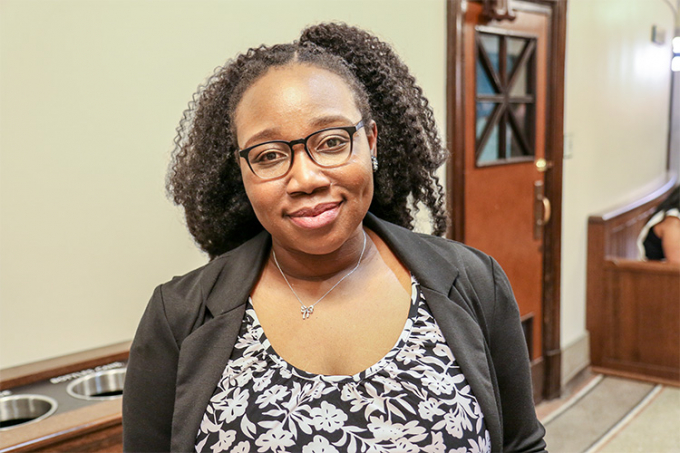 While completing her undergraduate degree, Robertson worked with the International Education Centre to help visiting foreign students find their place at U of T Mississauga. She said receiving the Cressy Award gave her the opportunity to look back and reflect on her contributions.
That was solidified during the awards ceremony, when her qualifications were announced. "When I heard it being read out, it felt good to see that I contributed so much to my community overall and I did something during my time here that was worthwhile."  
Solomon McKenzie, Faculty of Law
A Juris Doctor candidate, McKenzie has dedicated considerable time and energy to strengthening the voices of diverse student communities. He served as president of the Students' Law Society, was on the executive of the Black Law Students' Association and is formerly the president of Out in Law U of T, a group for LGBTQ people and their allies at the Faculty of Law.
For McKenzie, the key to strengthening those voices was through collaboration and support – from family, friends and the law school community.
"It's really exciting to be recognized for all the work, for not just me but what a whole team has been doing," he said. "I feel very lucky to be in this situation, but also very appreciative of everyone who helped out on the cool projects I've been doing for the last couple years."
James Chapman, Innis College
Studying political science and urban studies motivated Chapman to get involved in media and politics. He was the editor-in-chief of the Innis Herald and co-chair of the U of T New Democrats.
Chapman said he is proud to receive the honour, and appreciated his time being an active Innis College community member. He added that he was in awe of his fellow Cressy recipients.
"It's nice, being at U of T for four years, being involved at the school, to have a chance to have that recognized," he said.
"I hear others going up who've done amazing things – resettling Syrian refugees, expanding blood donation drives – and I think, 'Wow, people are doing some amazing things on campus.'"
Umme Juthi Jamila, Ontario Institute for Studies in Education
In OISE's department of leadership, higher and adult education, Jamila was herself a leader. The Master of Education student was the vice-president of the department's student association.
Jamila was grateful to be nominated, and thankful for the opportunity to volunteer and serve her peers at OISE.
"Listening to the speech that was given by the president, it was very encouraging," she said.
The message she is taking away from this win was clear. "This is not the end. It's basically, try to do more out there and don't be afraid of being yourself and bring something different to the table."
Nivetha Chandran, U of T Scarborough
Among her many achievements, Chandran served as co-president of the UTSC Biology Students' Association. The human biology and health studies student feels honoured to be recognized with a Cressy, but she also sees the award as a show of support from the university – which made her feel welcome as a first-year student.
"It's not just an accomplishment, per se. It's more an accomplishment of the community, the inclusivity and the good qualities they're fostering," she explained. "It's all about finding that right balance (between studies and extracurricular activity), and that balance couldn't have been found without that support."
Categories