As he climbed through the ranks of high-powered Bay Street accounting firm KPMG, Arts & Science alumnus Robert Davis didn't see a lot of role models who looked like him — so he decided to do something about it.
The recently elected chair of the board of directors for KPMG in Canada and his life partner established the Robert Davis and Joseph Chen Access and Diversity Bursary at A&S. They also created a bequest to ensure their legacy of financial assistance to promising students continues long after they are gone.
"We have done well financially over the years and felt it was time to give back, especially to Black and inner-city youth who do not have the role models and visibility into Bay Street to see the possibilities out there for them," says Davis, who earned a bachelor of commerce degree in 1989 as a member of New College.
"We really wanted to focus on a segment of our society that just wouldn't generally have the same opportunities as many straight, privileged white men."
Davis was nine years old when his family emigrated from Jamaica to Toronto, and by the time he was in high school, he had already discovered an affinity for accounting, an interest he pursued at U of T.
"I think the courses I took at U of T and the bachelor of commerce program in general set me up for success," says Davis, who joined KPMG right after graduation and qualified as a chartered accountant in 1992.
He left KPMG in 1999 to pursue other opportunities but returned in 2005 and soon made partner. By then, the company was putting more emphasis on inclusion and diversity. Davis made sure to be part of it.
"I've always had a bent for the people side of our business and a strong passion for inclusion and diversity (I&D), so when we started our national I&D council in 2014, I was one of the first members," says Davis.
Then I put my hand up for a few years before a spot opened up on our board and became deputy chair last year. And when an opening came up for chair this year, I put my hand up again.
In addition to being chair of the board, he is also the firm's chief inclusion and diversity officer, a title that will soon change to include "equity" as well. 
Davis says he's also been vocal about encouraging colleagues to consider what they can do to address inequity in society, especially in the wake of George Floyd's murder in the U.S. by a police officer and the global rise of the anti-Black racism movement.
He says many of his partners have started scholarships at their alma maters to encourage diversity and more people are receptive to the idea things have to change, especially when it comes to systemic barriers that create an uneven playing field.
KPMG LLP matches up to $1,000 a year per donation by Canadian employees, although Davis says the program is still underused and needs to be more broadly advertised to staff.
"We've certainly noticed over the past year or so, folks with privilege have started to realize some of the barriers for a certain segment of our population to getting into university and building a career," he says.
It's a matter of awareness and education to make sure people understand that it's not a hardship to give back. And frankly, I think it's an obligation.
But scholarships and financial access to education are just part of the process, says Davis. He started making it a point to meet with his scholarship winners to impart tips, advice and insights.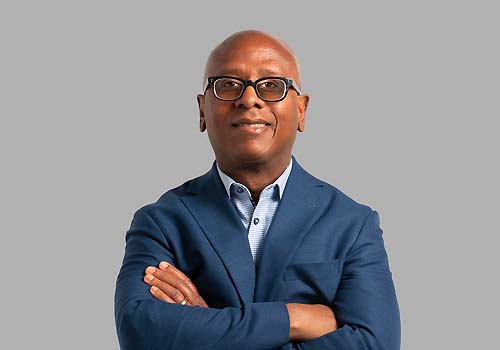 "The light bulb probably went off for me a few years ago. If underrepresented groups don't see people that look like them in leadership, they just don't believe in it, even if financial assistance makes it theoretically possible for them," he says.
"On the other hand, it's easier to believe if they see someone like themselves in those roles because it takes more than just a university degree to be successful in business."
In his experience, there are more people ready to help than stand in the way but unfortunately, barriers still exist, says Davis.
"You've got to be persistent. You will hit roadblocks, but you can't give up. Not everybody is on the bus, and you have to recognize there is racism out there. But you can't let people like that dissuade you," he says.
If you or your spouse work for a company that provides matching gifts, your contribution to U of T could have twice 
the impact
.
Categories