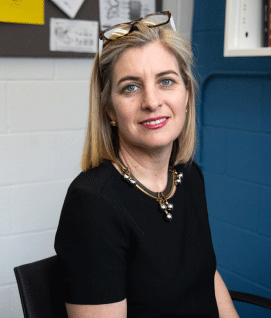 Melanie Woodin
Professor Melanie Woodin joined the University of Toronto in 2004 as an assistant professor in the Department of Zoology and became a full professor in 2017 in the Department of Cell & Systems Biology. In her research, she works to understand how the brain functions, studying neuronal circuits and the mechanisms underlying learning and memory. At U of T, she has served as the Associate Chair of Undergraduate Studies for the Department of Cell & Systems Biology; as Director of the Human Biology Program; and as Associate Dean, Undergraduate Issues & Academic Planning.
The Vice-Dean, Interdivisional Partnerships, is responsible for the development, implementation and ongoing monitoring of the Faculty's interdivisional relationships and partnerships. The Vice-Dean's responsibilities include oversight and management of all interdivisional teaching agreements, including all financial, teaching and Strategic Mandate Agreement implications.
The Vice-Dean's mandate is to build strong relationships between the Faculty and its 14 partners within the University, including other Faculties and Schools; and to optimize cross-divisional educational opportunities for students and ensure that they can fully leverage the breadth of the University's offerings. 
Professor Woodin has been appointed the incoming dean of the Faculty of Arts & Science and will begin her five-year term on July 1, 2019.
Contact
Email: vicedeaninterdivisional.artsci@utoronto.ca
Natalia (Natasha) Kolos, Assistant to the Vice-Dean(s), Academic Planning & Strategic Initiatives
Email: natasha.kolos@utoronto.ca